In his latest global news for local truckers, FRANK BEETON unpacks the latest regarding the Sitrak joint venture, advances another prediction regarding Mercedes' Actros replacement launch, rediscovers Ford's involvement in trucking, and describes Volvo's MethaneDiesel technology.

For some time, Global Focus has been reporting on developments around the partnership between the MAN SE Group and Chinese manufacturer Sinotruk, also known as the China National Heavy Duty Truck Group Corporation (CNHTC).
Following more than a quarter of a century during which the Chinese company held manufacturing licences from MAN subsidiary Steyr, the German group acquired a 25%-plus-one-share interest in Sinotruk (Hong Kong) Limited in July 2009. The value of the MAN investment was €560 million, and the accompanying long-term strategic partnership agreement included technology, management and engineering exchanges, as well as access to Sinotruk's extensive Chinese sales network. In terms of the agreement, MAN was to license its TGA truck, D08, D20 and D28 engines (Euro 3, 4 and 5 compliant), chassis and axle technology for production by Sinotruk.
At the Auto Shanghai motor show in April this year it was announced the new truck brand Sitrak would be used for marketing products from this partnership in Asia, the Middle East, Africa and the Commonwealth of Independent States. Annual forecast volumes, by 2018, have been set at 160 000 units for the domestic Chinese market, where these trucks will be branded Shandeka, while export sales are expected to account for an additional 40 000 units.
The first product to be revealed was designated Sitrak T7H, combining Sinotruk components and state-of-the-art MAN technology, and this has been set for production at Jinan in December. No further technical details were revealed at the unveiling, but it was interesting to note that the three-axled truck-tractor on view did not exhibit any obvious MAN characteristics. The emphasis was on the strength of the relationship between the MAN and CNHTC Groups.
However, as MAN has already established a precedent for marketing joint venture products through its international network with the Indian CLA Series, it seems highly likely that Sitrak products will make a fairly early appearance outside China, once production has been established. With Africa as a designated target market for the brand, MAN will have the choice of using this product line to compete with the value brands that have been entering the market on this continent from sources in China and India.
NEW MERC IS COMING
Hardly was the ink dry on last month's Global Focus copy, when "spy shots" of the Mercedes-Benz' next-generation flagship were all over the overseas media. In our examination of Daimler's new Euro 6 compliant global heavy duty engine programme-derived OM 471 diesel, we advanced the logic that this six-in-line power unit would prompt the development of an all-new cab layout for Mercedes-Benz' flagship model. The chances are slim of the current Actros cab being adapted to accommodate the new engine, given that it was originally tailor-made for lower profile V-format engines.
Predictably, Mercedes has made every effort to disguise the new model while under test, but the available images confirm that it has a considerably higher-profile cab than the current Actros. This will presumably provide the space for the new upright engine, while also accommodating the greater cooling demands of engines like the OM 471, which feature both Exhaust Gas Recirculation (which leads hot exhaust gases back into the engine's induction system) as well as exhaust after-treatment, to meet the stringent demands of Euro 6 compliance.
Despite the camouflage carefully applied to the photographed test units, it was possible to discern some distinctive elements of the new design.
The first is a fairly steep front-to-rear upward slope in the dividing line between the mudguard upper surfaces and cab floor, hinting at the direction of the air flow over the engine. This might suggest some concentration of cooling elements at the rear of the cab, where they will intrude less into the space available to the crew.
There were also hints of transparent apertures in the doors, just aft of the leading edges, which may indicate something akin to the long-standing Japanese practice of providing extra visibility to the driver by way of additional sighting windows in the lower door panels.
When considering the importance of the new flagship of the world's leading truckmaker, and its potential impact on the global road transport scene, it seems highly likely that Daimler will plan some spectacular way of drawing maximum attention to its launch. In this context, it is significant to remember that Mercedes-Benz last held the title of "World's Most Powerful Truck" back in 2004, with the Actros Black Edition.
Since then, that model's 460 kW (612 hp) output has been well and truly surpassed by various MAN, Volvo and Scania models, with the current title being held by the latter's 537 kW (730 hp) V-8. Surely, regaining this crown would be a fitting accolade for the new Mercedes premium truck, although it is clear that the OM 471 would require considerable tweaking above its published 375 kW (510 hp) top power rating to take the title.
However, we are sure that Daimler would be well equipped to develop a suitable strategy to overcome this obstacle, and could use a "Europeanised" version of the 15,6-litre Detroit Diesel DD16 to achieve the requisite output for a limited edition model. This derivative of the HDEP family has a 450 kW (600 hp) rating, which may provide a more suitable starting point for an assault on the title. As we said last month, keep a close watch on announcements ahead of the 2012 Hannover IAA Show.
FORD CARGO LIVES ON
At the beginning of the 1980s Ford was a significant force in the South African truck market. Its D Series cruiserweights, built in the United Kingdom, had a loyal following in the local distribution and public sectors, while the Louisville heavy haulers from Kentucky, USA, competed strongly with other brands offering the same Cummins/Fuller/Rockwell driveline aggregates that were highly popular with longhaul truckers.
However, by the end of that decade, Ford was out of the local heavy truck business, and was only offering a badge-engineered Mitsubishi Canter for nominal participation in the medium commercial segment.
What went wrong? The advent of stringent local content requirements for trucks demanded that Atlantis diesel engines and, in some cases Astas gearboxes, had to be engineered into any products wishing to remain in the local market after 1981. Early in the piece, Ford decided that the Louisville, without its characteristic American driveline, just didn't work, so it was discontinued. Then, the D Series came due for run-out, so all the local engineering effort was directed at the Cargo range that was to replace it.
This product had just established itself when, in 1985, Ford merged its South African operations with Anglo American's Amcar, and Samcor was born. This new grouping then held both the Mitsubishi and Ford truck franchises, with a great deal of direct product overlap. Possibly spurred on by Ford's decision to progressively sell its European truck operation to Iveco, Samcor elected to concentrate on the Mitsubishi range, and the Cargo was withdrawn from the local market. With this development, Ford's heavy truck presence in South Africa, to all intents and purposes, came to an end.
Despite the sale of Ford's European truck interests to Iveco, and the subsequent disposal in 1997 of the Louisville Line to Daimler, who renamed it Sterling, the Cargo name and shape has not died. It still lives on in vehicles sold by Freightliner in the US, who took over the Sterling version when that brand was axed in 2009, and Ashok Leyland in India, who obtained rights to the design through its earlier relationship with Iveco. Even more surprisingly, Ford has continued producing recognizable Cargo products, under various nameplates, at Ford operations in Turkey, Brazil, Argentina and Venezuela. This information has all emerged in research since our attention was drawn to an announcement, in May, that a completely new Ford Cargo series was being launched in South America.
This 11-model line-up, which will be manufactured by Ford do Brazil at São Bernardo do Campo, is the subject of the first new truck launch by the manufacturer in the region in more than 25 years. It comes in 4×2, 6×2 and 6×4 configurations, covering the Gross Vehicle Mass spectrum from 13 to 23 tons, with Gross Combination Mass ratings up to 56 tons.
Power is provided by Cummins ISBe4, ISBe6 and ISC diesels ranging from 125 to 235 kW (170 to 320 hp), driving through Eaton 6, 8 and 12-speed transmissions. Drive axles are sourced from Arvin Meritor, and the single-drive models feature two-speed differentials. The S-cam wheel brakes are full air actuated, and all models are equipped with load sensing valves.
The distinctive, attractive and modern forward control cab used on the new Brazilian Cargo has its design roots in a unit developed by Ford Otosan in Turkey for its own highly individualistic Cargo-branded product line-up, with subsequent intervention by Ford's development centres in the USA and Great Britain.
It comes in both day and sleeper versions, and the interior has been optimised for driver ergonomics, comfort and convenience. The power units offered on this range at launch comply with Euro 3 emissions standards, but these will be replaced by Euro 5-compliant units later this year.
Global Focus continues to be intrigued by these geographically isolated efforts by regional offshoots of major motor manufacturers to remain in the truck business, after their parents have apparently abandoned the sector or were never really interested in it in the first place.
We have frequently alluded to the enigmatic Nissan Atleon, built by Nissan Motors Iberica in Spain, for selected European markets. Dating back to 1980, the Atleon range bears no relationship to any other Nissan, UD, Renault, Volvo or Mack product, and its continued existence has long been the subject of discussion.
The Volkswagen Caminhöes e Ônibus operation, in Brazil, was another seemingly isolated truck empire, until it was acquired by MAN AG in 2009, and became part of a considerably more truck-oriented branch of the expanding global Volkswagen family. Interestingly, this Volkswagen operation originally started off as part of a South American joint venture with Ford called Autolatina, which was dissolved in 1995, and that outcome neatly closes the loop on this particular story.
A major consideration is the availability of proprietary truck components from the likes of Cummins, ZF, Arvin Meritor et al, which allow relatively limited volume manufacturers to create unique products without incurring prohibitive development costs. If the available market provides a profit opportunity, which clearly is the case in South America, and the bulk of demand is fairly tightly clustered around a narrow range of similar applications, why not stay in the truck business?
With this new South American Cargo, and a Turkish operation building a related product powered by its own unique in-house engine, however, the obvious question arises as to why global Ford was so keen to sell off its other truck interests? Now that the Premier Auto Group (Jaguar, Land Rover, Volvo and Aston Martin) has been disposed of, does the new "One Ford" global strategy envisage a return to a broader international truck market? Time alone, will tell.
VOLVO LAUNCHES METHANEDIESEL
Volvo Trucks has launched a new extended range version of its FM model that runs on a variable combination of diesel fuel and up to 75% methane. Utilising a conventional 13-litre diesel engine equipped with gas injectors, and a special fuel tank to keep the gas liquefied and chilled to -140degC, this truck is claimed to have a potential operating range of
500 km, while grossing 40 tons. Power output is 345 kW (460 hp), with torque delivery of 2 300 Nm, while the exhaust system incorporates a specially modified catalytic converter.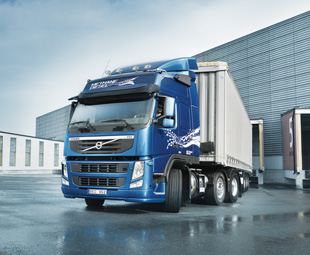 Volvo says that this methane-diesel technology results in equivalent durability to a normal diesel unit, and similar driveability, while reducing CO2 emissions by up to 70%. If the gas supply depletes, the fuel system switches over automatically to an all-diesel mode. This development creates greater potential to use gas-fuelled trucks in heavy longhaul operations than has hitherto been the case. Compared with conventional gas-powered spark ignition engines, Volvo claims that this technology is 30 to 40% more efficient, and uses 25% less fuel. The methane component can be made up of either biogas or Liquefied Natural Gas.
Sales of the FM MethaneDiesel will initially be restricted to Europe, with first deliveries to the Netherlands, United Kingdom and Sweden, where gas supply infrastructure is well developed. Volvo estimates a sales potential of about 400 units/annum within two years.
---
Global FOCUS is a monthly update of international news relating to the commercial vehicle industry. It is compiled exclusively for FOCUS by Frank
Focus on Transport
July 2, 2011
Published by