100 not out! Global Focus scores a ton!!
FRANK BEETON has written about numerous important industry highlights over the past nine years. In this 100th edition of Global Focus, he recalls some of the key issues, and adds up-to-date comments on subsequent developments.
WELCOME TO GLOBAL FOCUS
This is the first in a new series of monthly features written exclusively for FOCUS. Our objective will be to keep you, our reader, fully informed on the latest developments taking place in the fascinating transcontinental world of trucks and buses.
The information that you can expect to find here will cover technical developments, emerging new propulsion technologies, environmental legislation, new and interesting products and components, market sizes and participants, manufacturer groupings, relationships and realignments, and anything else that will help South Africans to better understand the dynamics in the global industry that may have an impact on local vehicle and equipment suppliers, and users, in the future.

This is how we welcomed readers to the new column at the beginning of 2006. Apart from spinning off bus-related news into a separate Global Bus feature, we've kept pretty close to the objectives we set ourselves back then.
Often, we have stuck our necks out to predict future outcomes and trends, and have dared to comment on the wisdom, or otherwise, of decisions taken in distant boardrooms. Fortunately, these observations have usually been fairly accurate, so most of our readers are still talking to us!
Paccar – A change of direction?
During 2005, some questions emerged relating to the future sustainability of the "traditional" American line-haul truck with its "conventional" bonneted cab, and preferred selection of outsourced driveline aggregates. In the midst of all this speculation stands Paccar Inc.
The first clue that something was changing was the emergence, during 2004, of DAF's new 12,9-litre engine with prominent Paccar branding. At the RAI Show held in Amsterdam during October, 2005, the second Paccar-branded engine to emanate from DAF, the 9,2-litre PR series, was introduced to the public.
This Euro-5-capable, six-cylinder in-line power unit uses the SMART high-pressure fuel injection system, developed jointly by Paccar and Delphi for the 12,9-litre MX unit, and passes its exhaust gases through a DeNox catalytic converter. Available power outputs, at a maximum rotational speed of 2 200 r/min, range from 183 kW (250 bhp) to 265 kW (360 bhp), and the maximum torque rating will be 1 450 Nm delivered between 1 000 and 1 700 r/min.
Right back in Global Focus 1 we predicted a significant change in direction for Paccar in terms of engine selection, and we were spot-on. Today, Paccar's own large-displacement engines remain standard issue in DAF heavyweights, and are offered as baseline equipment to Peterbilt and Kenworth buyers.
The MX and PR engines are also manufactured in both Europe and North America. The trend towards "in-house" engine fitment is now firmly entrenched in the American premium hauler market.
Cummins Expands Cooperative Business
One of the main questions still engaging the minds of truck market observers and analysts concerns the future position of specialist driveline aggregate manufacturers, such as Cummins, Caterpillar, Eaton, Dana and ArvinMeritor, in an era when the major truck manufacturing groups are working increasingly towards sourcing the maximum number of the components making up their products from within their own families.
This scenario has been largely driven by the need to comply with the increasingly stringent and expensive environmental legislation taking root in much of the developed and developing world. There can be little doubt that global players such as DaimlerChrysler and Volvo have moved into offshore acquisitions, particularly in the United States (US), to expand their total volume production bases, and that the indefinite continuation of the traditional North American "component truck", offering an almost unlimited selection of engines, gearboxes, axles and suspensions, is not in their corporate game plans.
Clearly, the specialist aggregate suppliers need to develop effective counter-strategies if they are to continue to prosper in such an environment. Cummins Inc. has entered into cooperative ventures with Scania AB, Shaanxi Heavy-duty Trucks, Dongfeng, Kamaz, Iveco, New Holland, Westport Innovations and Tata Motors.
These arrangements range from technology sharing, to joint component production facilities, to joint production and marketing of engines, and provide for varying degrees of visual Cummins identification on the finished product. At the end of the day, however, they all impact on Cummins's global bottom line results.
The flipside to the increasing adoption of "in-house" engine fitment by premium truck manufacturers, was the move by independent engine builder Cummins to reduce its dependence on the share of their business which it had traditionally enjoyed.
As the years rolled out, Cummins increased its focus on smaller displacement engines and emission-control technologies, and entered into numerous off-shore joint venture relationships. It even agreed to make Paccar-branded engines for that group's lighter vehicle ranges. That strategy appears to have worked.
GM sells its stake in Isuzu
The relationship between General Motors (GM) Corporation and Isuzu Motors dates back to 1971, when GM purchased an initial 34-percent shareholding in the Japanese vehicle and engine manufacturer. Since then, the arrangement has been restructured a number of times, with GM's participation building up to a high point of 49 percent. This has been mainly as a result of a number of subsequent equity injections that were required to support specific product and component programmes, executed by Isuzu, on behalf of the global GM family.
At the end of 2002, following a period in which Isuzu had experienced substantial financial losses, the relationship was completely rearranged, with GM writing off its 49-percent shareholding, and subsequently investing US$ 80 million for a 12-percent holding in a financially restructured Isuzu. Several projects and operations were then grouped together into a joint venture named GMI Diesel Engineering Limited, which ring-fenced activities mainly related to the manufacture and supply of diesel engines to GM operations located around the world.
Now, at the end of March, 2006, comes the news that General Motors has been actively seeking buyers for some of its remaining 7,9-percent stake in Isuzu. The reports named industrial group and trading house Mitsubishi Corporation (which already holds 0,2 percent of Isuzu shares), trading house Itochu Corporation (0,7-percent shareholder) and Mizuho Corporate Bank Limited (2,8-percent shareholder) as the interested potential buyers.
Subsequently, the sale of GM's entire Isuzu shareholding to these three entities has been confirmed, accompanied by a statement that the two vehicle manufacturers would continue to cooperate in the mutual supply of vehicles to each other (Isuzu is more of a supplier to GM than vice-versa).
GM's exit from holding a financial stake in Isuzu in 2006 raised many eyebrows, but was echoed in Ford's sale of nearly all its Mazda shareholding in 2010. These events were a portent of hard times ahead for the North American giants, with both GM and Chrysler entering Chapter 11 bankruptcy protection in 2009.
Isuzu was obliged to re-organise its US truck business as a result, but has subsequently retained some ties with GM through a light commercial product-related joint venture.
Toyota used the opportunity to take a 5,9-percent stake in Isuzu, but has shown little appetite to develop any product-based relationship – seemingly to protect Hino's interests. Rumours of some financial re-engagement between GM and Isuzu still surface from time to time.
European vans are good (shared) business
If anybody finds the complex relationships between vehicle manufacturers difficult to follow, our advice is: stay well away from any attempt to unpack the European van scene! Integral panel vans are big business on that continent, and, according to recent reports, growing fast.
In the United Kingdom (UK) alone, during 2005, the van market between 2,8 and 6,5 t gross vehicle mass totalled 144 561 units, a four percent increase on the previous year, which, in turn, was 20 percent up on the 2003 volume.
The potential confusion arises because most of these vans tend to look very similar, with short noses and square rears, and vehicle manufacturers have identified this category as a low-risk area for cooperative ventures.
Hence, we have the Mercedes-Benz Sprinter, and Volkswagen LT with common structures (although the engines are different), the Sevel joint venture which builds the front-wheel-drive Fiat Ducato, Citroën Jumper and Peugeot Boxer models (again with some variation in power plant offerings), and the General Motors Europe/Renault (and therefore, by association, Nissan) arrangement which produces the Vivaro/Trafic/Primastar, and Movano/Master/Interstar ranges.
In 2006, we made the first of our many forays into the European van community. Since then, we have provided regular updates as new generations of product emerged. Most of the alliances still hold, although Mercedes-Benz and Volkswagen are headed for "divorce" in 2016.
This may well lead to new alignments, particularly as Daimler and Renault-Nissan are progressively rolling out increased levels of model-specific cooperation, and Fiat has shown some signs of changing allegiance from Peugeot/Citroën to Renault. The Mercedes-Benz Citan light van has already sprung out of the Renault Kangoo/Nissan 200 family, and Toyota has started van collaboration with Peugeot/Citroën. Watch this subject for future developments.
MAN and Scania … Can it happen?
Since the period around the advent of the new millennium, when the final shape of the newer major motor industry conglomerates such as DaimlerChrysler and Renault-Nissan-Volvo became apparent, there has been a feeling among observers of the heavier commercial vehicle element of the industry that at least one more major gathering together of manufacturers was still to take place.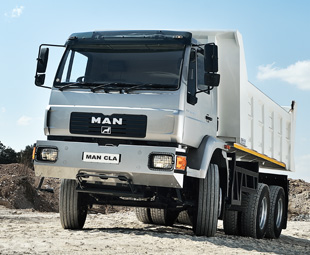 Currently, there are just a few "independent" players left in the trucking arena, including Fiat-owned Iveco, Scania (18,7 percent owned by Volkswagen), MAN (which has recently formed a technological alliance with also-independent Navistar International in the USA), Tata (which bought bankrupt Daewoo's truck interests), Hino (owned by Toyota, and cooperating to a limited extent with Scania) and Isuzu (recently "divorced" from equity ownership by General Motors, but with business links still retained).
On Monday, September 18, 2006, MAN shook up the trucking world when it declared its interest in acquiring Scania for €9,6 billion, with the precondition that it wished to gain control of at least 90 percent of the Swedish truck maker's shareholding, before executing the buyout. Based on historic performance, the resulting conglomerate would have become Europe's biggest truck maker with roughly 28 percent of the continental market, edging out global leaders DaimlerChrysler and Volvo in this key geographic area.
The offer was timed for maximum impact, with the industry gathering for the opening of the IAA show in Hannover, arguably the most important heavy commercial vehicle exhibition in the world, later that same week.
Almost immediate rejection of the offer was forthcoming from the Scania board, as well as its major shareholders Investor AB, and Volkswagen (which controls 34 percent of Scania's voting rights). The sole positive voice was that of Renault, a five percent shareholder, possibly as a hangover from Volvo's EU-blocked 1999 bid to acquire Scania.
This was only the beginning of a long and often bitter power struggle, which involved MAN, Scania, Volkswagen and even Porsche. Bids and counter-bids were made, and rejected, until Volkswagen eventually decided it had enough of the bickering, banged heads together, and took control of the lot!
Full control of MAN was achieved in 2012, and Scania in 2014. The Volkswagen group now threatens to become the world's largest vehicle manufacturer and a very significant force in the commercial vehicle business. There is still work to be done on optimising the global footprint, however.
Daimler Chrysler's global engine platform breaks cover
DaimlerChrysler has released some preliminary information regarding its planned global engine platform for heavy trucks. Intended to eventually replace the separate ranges of engines currently manufactured by Detroit Diesel, Mitsubishi Fuso, and Mercedes-Benz in Germany and Brazil, the worldwide Heavy Duty Engine will initially be built as a 14,8-litre unit by Detroit Diesel at Redford, Michigan, for fitment in Freightliner products.
Manufacture of this version is scheduled to start during 2007, following a $US 275-million upgrade of the Redford plant. This will be followed by a 12,8-litre version for the European market, which is scheduled to enter production three years later at Mannheim in Germany. While manufacture of the base engines for world markets will continue at Redford and Mannheim, final dressing and adaptation to local market requirements will be carried out at Kawasaki, Japan, and São Paulo, Brazil.
Ultimately, the six-cylinder in-line HDE family will be extended to include 9,9, 12,8 and 15,6-litre displacement units, developing from 185 to 480 kW (248 to 644 hp), and up to 3 000 Nm of torque, and is intended to replace eight different engine types being produced globally by group companies.
DaimlerChrysler was subsequently dissolved, and Mercedes-Benz, Freightliner, Fuso and Western Star grouped together as Daimler Trucks. The Heavy-Duty Engine Platform (HDEP) was a very significant development, for a number of reasons.
First, it explained the rationale behind removing Detroit Diesel from the global "loose engine" business to become a sole supplier to the Daimler brands. Second, it supported the view that global truck-making partnerships would only work if large-scale component rationalisation was the goal. And, third, it reflected a strategy to break down regional preferences which enabled the global strategy to work.
The strategy is still rolling out, but its success is ensured and major competitors, such as Volvo, are following suit.
Volvo buys (all of) Nissan Diesel
In the June 2006 Global Focus, we detailed Volvo AB's new shareholding arrangement with Nissan Diesel Motor Company. In essence, Volvo had purchased a 13-percent controlling stake in Nissan Diesel out of the previous Nissan Motor Company shareholding, and had taken a four-year option to procure the six-percent balance still remaining in Nissan's corporate hands.
Then, on September 25, 2006, Volvo exercised its option to buy the balance of the Nissan stock, and also agreed to buy additional preferred shares in Nissan Diesel held by Mizuho Corporate Bank, Nissan Motor, Resona Bank, and Mizuho Trust and Banking.
Upon conversion of all these shares to common stock, which was due to take place between April 2008 and April 2014, Volvo's shareholding in Nissan Diesel would have reached an eventual level of 47,4 percent, making it by far the largest individual shareholder.
It was also announced that Nissan Diesel was to be fully integrated into the global Volvo Truck family, although it would retain its individual corporate and product identity, presumably in much the same way as Renault Trucks and Mack had done when they had been absorbed into the Volvo Group. Then, on February 19, 2007, came the announcement that Volvo had decided to expedite the process, by offering just over $US 1 billion for all the remaining Nissan Diesel shares.
Subsequently, Nissan Diesel's board of directors expressed its support of the offer, and, subject to the necessary approvals from the anti-trust authorities, Volvo should secure 100 percent effective ownership of the Japanese truck maker by the end of March, 2007.
We had long been puzzled by Volvo's apparent lack of interest in Nissan Diesel. It first appeared that this relatively small, but highly competent, Japanese truck manufacturer, had become an orphan of the complex Renault-Nissan-Volvo merger and reorganisation process that started as far back as 1999.
However, all that was to change, and, after the transaction described above, the company was renamed UD Trucks Corporation in 2010 (presumably to break the previously too obvious Nissan linkage). It has since been fully integrated into the Volvo AB family, and commenced a progressive process of repositioning to fit better into the group dynamic.
Ford Cargo lives on
At the beginning of the 1980s Ford was a significant force in the South African truck market. Its D Series cruiserweights, built in the UK, had a loyal following in the local distribution and public sectors, while the Louisville heavy haulers from Kentucky, USA, competed strongly with other brands offering the same Cummins/Fuller/Rockwell driveline aggregates that were highly popular with long-haul truckers.
However, by the end of that decade, Ford was out of the local heavy truck business, and was only offering a badge-engineered Mitsubishi Canter for nominal participation in the medium commercial segment.
Despite the sale of Ford's European truck interests to Iveco, and the subsequent disposal of the Louisville Line to Daimler, that renamed it Sterling, in 1997, the Cargo name, and shape, has not died. It still lives on in vehicles sold by Freightliner in the US, that took over the Sterling version when that brand was axed in 2009, and Ashok Leyland in India, that obtained rights to the design through its earlier relationship with Iveco.
Even more surprisingly, Ford has continued producing recognisable Cargo products, under various nameplates, at Ford operations in Turkey, Brazil, Argentina and Venezuela. This information has all emerged in research since our attention was drawn to an announcement, in May, that a completely new Ford Cargo series was being launched in South America.
We still don't know the full extent of the importance of this thread, which first surfaced in mid-2011. We subsequently discovered that it had links to Ford's truck-related activities in Turkey and China, and suspect that it signals a rekindling of the manufacturer's involvement in the broader global truck market.
Ford has changed its global profile substantially since adopting its "One Ford" strategy in 2006, and has also moved significantly forward on the integral panel van front. Watch this one carefully!
Navistar – The Good, the Bad and the Uncertain
Like many people in the South African truck industry, Global Focus continues to be puzzled by the uncertainty surrounding the fate of International trucks in South Africa. Navistar's recent litany of ill fortune started with the termination of its long-running arrangement with the Ford Motor Company to supply PowerStroke diesel engines for the latter's F-Series Super Duty pickups and van models.
Just prior to that settlement, however, the industry was abuzz with news that iconic yellow metal manufacturer Caterpillar Inc. had agreed to cooperate with Navistar on engine platforms, and the introduction of a Cat-branded vocational heavy-duty truck in the North American market.
This resulted in the formation of a 50/50 joint venture, named NC², which was also intended to pursue global commercial truck opportunities overseas, with target markets identified as Australia, Brazil, China, Russia, South Africa and Turkey.
Shortly thereafter, plans also emerged for global cooperation with Jianghuai Automobile Company (JAC) in China, recognising the growing importance of China as a market and manufacturing base for both trucks and engines, and the consolidation and expansion of the Mahindra Navistar Automotives Limited joint venture in India, which had first been established in 2005.
However, in September 2011, there was a surprise announcement that NC² was to become a wholly owned Navistar subsidiary, which, presumably, ruled out subsequent direct involvement from the Caterpillar company, other than its continued sourcing of the Cat-branded vocational trucks for the North American market, and the offshore use of "Cat" branding on certain products, namely a series of International-built truck tractors for the Australian market.
Subsequently, Navistar International Corporation also announced the sale of its shares in Mahindra Navistar Automotives Limited, and Mahindra Navistar Engines (Private) Limited, to its erstwhile Indian partner, Mahindra & Mahindra Limited. Thus, over a short period, a highly promising global expansion strategy seemed to have disintegrated, with only the JAC arrangement, covering the Chinese manufacture of Euro-5 MaxxForce engines, still in force.
By 2014, we had become aware that Navistar International had very serious corporate issues related mainly to non-compliance, by some of its engines, to US emission requirements.
As detailed above, an ambitious earlier strategy of global expansion through joint ventures had unravelled, and we even lost the iconic International brand as a supplier of new trucks to the South African market.
We continue to be puzzled by Navistar's efforts to build a presence for Cat-branded trucks in Australia, while the 100-unit per month South African business was just allowed to fade away. Maybe the final chapter in this most unfortunate saga has yet to be written!
---
Global FOCUS is a monthly update of international news relating to the commercial vehicle industry. It is compiled exclusively for FOCUS by Frank Beeton of Econometrix.

Focus on Transport
March 2, 2015
Published by