GAVIN MYERS drove the Hyundai H1 2.5 Automatic Bus and found there is nothing even remotely offensive about it.
Why change a winning recipe? That old adage must've been plastered around Hyundai's offices when the H1 fell due for its mid-life refresh. As we discovered earlier this year at the local launch of the revised model, the humble H1 leads the local multi-purpose vehicle sales charts – so Hyundai can be forgiven for sticking to its guns.
Indeed, the styling updates are subtle, with a mildly revised front bumper and grille and new 16-inch alloy wheels. The interior updates are more substantial. The dashboard is more modern and upmarket in look and feel, and houses a new electronic climate control and a Bluetooth-equipped sound system.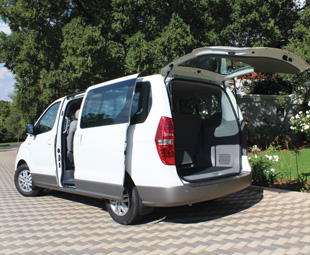 On the point of features, the new H1 comes with everything you need. Features include rear park-distance control; cruise control; electronic stability program; anti-lock brakes with electronic brakeforce distribution; and driver, passenger and side airbags.
The 2.5 Bus also features full leather upholstery and the middle row of seats is adjustable, so occupant comfort is high. Given the H1's 5,15-m length and 1,92-m width and height, space, is also abundant. There is 842 litres of cargo space behind the rear seats.
To cart around nine passengers and 800 litres of cargo requires a bit of power. The 2,5-litre variable-geometry turbodiesel engine delivers 125 kW at 3 600 r/min and 441 Nm between 2 000 and 2 250 r/min.
Despite the small torque band, the engine delivers its grunt around town in a smooth manner. Coupled to the five-speed automatic gearbox, the overall ride is quiet and refined. When overtaking, though, the gearbox does tend to give too much slip and cause the engine to rev a bit too high instead of making full use of the torque.
Hyundai claims the H1 2.5 Automatic Bus will consume 9,8 l/100 km in combined driving.
On the road the H1 feels heavy, but, in spite of its size, it is stable and compliant thanks to its McPherson front and five-link rear suspension.
It is priced at R599 900, which includes a seven-year/200 000 km warranty, five-year/150 000 km roadside assistance and a five-year/90 000 km service plan.
Part of the reason the H1 has always been such a winning recipe is that it offers such a lot of value for almost all buyers. It's a likeable bus that covers all the bases rather well.
Focus on Transport
June 7, 2016
Published by