A Chinese STAR with South African power behind it
In 2010, things weren't looking so good for Powerstar. It was make-or-break time. In 2012, a major restructure brought some radical changes. The strategy worked and there was a huge turnaround. CLAIRE RENCKEN gets the lowdown from Mark Beukes, general manager: sales and aftermarket at Powerstar.
Beukes starts by giving some background to the company's history. From 2006 to 2009, it was owned by Super Group. In December 2008, Super Group announced the sale of its industrial products division. In early 2009, Norinco Motors – Beiben's holding company and the supplier of Powerstar vehicles – expressed an interest in purchasing the Powerstar business.
The deal was finalised on April 13, 2010. "However, from 2010 until 2012, we were left licking our wounds and trying to claw our way back," explains Beukes. "We needed to re-establish our credibility."
The first step was to focus on strengthening the dealer network. "One of the first things we did was to decentralise and split into two regions – coastal and inland," explains Beukes. "We also started hosting regular dealer conferences – we now have two every year (one for sales and one for aftermarket). Furthermore, we provide intensive technical training, based on a syllabus we have developed ourselves."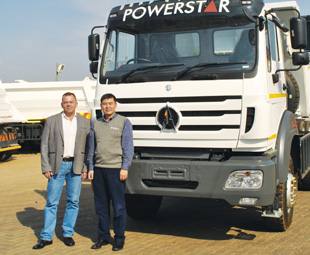 Next, Powerstar worked hard on setting the company apart from other Chinese manufacturers, by taking a basic Chinese product (the Beiben workhorse) and fine-tuning it, here in South Africa (based on component failures), into a more upmarket vehicle.
"Basically, we upped the local content of the vehicles to improve their reliability. So, our pricing went up and we became a second-tier supplier," Beukes elaborates. "We then also had the confidence to extend our warranty to three years/300 000 km."
This is how the VX range was born. This range comprises the 1627 4×2, 1729 4×4, 2628 6×4 short and long wheelbase, 2635A 6×6, 2642S 6×4, 3335 6×4 short and long wheelbase, and the 4035 8×4. Using the renowned Weichai engine, the VX's torque output and workhorse capabilities are excellent.
Last year, at the Johannesburg International Motor Show, Powerstar introduced its new long-haul, heavy-duty V3 truck tractor. This luxury model boasts superior cab comfort and ergonomics, with a premium all-round quality finish and appearance.
The exquisitely sculptured design lines are on par with European trends, making this a beautiful as well as a productive and reliable machine. The V3 2646 truck tractor, powered by a Weichai Euro-3 intercooled engine, has a maximum geared road speed of 111 km/h.
In terms of aftermarket service, Powerstar has a user-friendly, web-based electronic parts catalogue (EPC). This system improves communication between dealerships and the central parts department to minimise incorrect parts supply and services.
The warranty system is also web-based, which means warranties can be submitted in the shortest possible time, and Powerstar can react quickly and give better service to its customers.
This system also facilitates reimbursements to dealerships for their warranty claims via a system that can run anywhere in Africa.
When asked what he believes the key element was in Powerstar's impressive turnaround, Beukes says: "It was definitely our ability to make the conversion from the Chinese market to the world market. Their inability to do so has always been the Achilles heel of Chinese manufacturers."
The company's shareholders in Beijing have recognised that, and have realised that the Powerstar business model is one that can be applied in other emerging markets as well. The brand, which was developed here in South Africa, therefore has the potential to become an international one.
"We are also very excited about our growth in the rest of Africa. Last year we focused on East Africa, and this year we've been conquering the western part of the continent," adds Beukes.
He believes that the reason Powerstar's business approach is so successful, is that it is simple and transparent. "It's simple in that we have no grey areas – we've got the right vehicle selling for the right price, to the right niche market. It's transparent in that we're like a small family. Everyone knows what the status of the company is and what's expected of them. So we all know where we stand."
In conclusion, Beukes explains: "We've taken what we learned from European original equipment manufacturers (OEMs) and have integrated that with elements of our Chinese OEM. So we have a 'semi-corporate, semi-Chinese' culture, if you like. We don't do ties, we wear Levis to the office," he chuckles.
Focus on Transport
September 1, 2014
Published by