It was a quarter of hotly contested jostling for position among some manufacturers, record sales for others and various market conditions – both positive and negative. FRANK BEETON reports on a very interesting third quarter.
The measure of year-on-year growth achieved by the South African truck market in the first nine months of 2014 stood at 1,6 percent after the September result had been factored in. This was slightly less than the 1,9 percent margin of year-on-year growth recorded at the completion of the second quarter. In the most recent quarter-on-quarter, absolute volume comparison, the third-quarter outcome was 4,2 percent better than that achieved in the April to June period.
During the review period, the market was characterised by a surge in medium commercial vehicle (MCV) and heavy commercial vehicle (HCV) segment sales in August, driven by a re-awakening of activity in the wholesale and retail sectors of the local economy, following the ending of long-running industrial action in the mining and engineering industries. However, by September, sales of these vehicles had returned to a monthly level more typical of those seen earlier in 2014.
Strong performances by the extra-heavy commercial vehicle (EHCV) segment and, in particular, the bus segment, have ensured that the market has continued to grow in comparison with its equivalent 2013 performance, as measured at the end of the respective third quarters.
Looking at the January to September year-to-date comparison for the four market segments, MCV sales were running
6,4 percent below their equivalent 2013 level, HCV volumes were just 0,7 percent off their 2013 return, while EHCV and bus sales were 8,5 percent and 14,6 percent ahead of their 2013 benchmarks, respectively. EHCV volumes continue to be boosted by inter-Africa trade, deployment of locally purchased construction vehicles elsewhere on the continent, and the shortening of fleet replacement cycles.
Local bus volumes have been boosted by continuing deliveries of new vehicles to bus rapid transit (BRT) and integrated transport networks in a number of South African cities, as well as resumed acquisition activities by a prominent privately owned bus operator following a lengthy absence.
SEGMENTATION DYNAMICS
The premium payload EHCV segment has maintained its position as the market leader during the third quarter of 2014, albeit with a slightly reduced penetration level of 45 percent, compared to the 47,3 percent recorded in the preceding quarter.
In a mirror-image market share displacement, the entry-level MCV segment gained some market share as a result of the recovery in trading conditions (mentioned in the preceding section) and posted a penetration level of 33,6 percent in the third quarter, up from the 32,4-percent level occupied in the April to June period, when strike activity was still prevalent.
A similar set of factors supported a small recovery in the cruiserweight HCV segment, which returned a market share of 17,4 percent in the third quarter, having been placed at 16,5 percent in the April to June period. The passenger bus segment, at just below four percent total market penetration, gained some 0,2 percentage points of penetration over its second quarter performance.
It is interesting that, despite the destabilising effects of industrial action and generally unsupportive economic conditions in both the domestic and overseas scenarios, there has not been any major diversion from well-established segmentation patterns in the local truck market for some time. However, it must be noted that it is extremely difficult to predict life cycles for some of the factors that have supported the current positions of the four segments.
These include the frequently mentioned shorter replacement cycle in the EHCV segment, cross-border operation of locally purchased and registered construction vehicles, and the implementation of BRT services in metro areas.
Equally, factors such as government's open preference for increased use of the rail mode for goods transportation, and its imminent huge investments in hardware, will have to be supported by improved rail service levels before any significant modal shift becomes reality.
This situation makes accurate prediction of the segmentation pattern going forward extremely challenging, and it will be necessary for market participants to monitor this picture continuously for incipient trend shifts if costly planning errors are to be avoided.
The third-quarter review of application performance levels within the MCV segment lists freight carriers at 66,4 percent, integral vans at 29,9 percent, buses at 1,3 percent and tippers at 2,4 percent. This reflects a strengthening of the freight carrier share, up from 63,1 percent in the second quarter, and a corresponding drop, from 32,6 percent, for integral vans.
However, it should be remembered that less than perfect market reporting has led to many units that have been converted in the aftermarket for ambulance and passenger-carrying (midibus taxi) duties, being retained in the panel van grouping (it has been estimated that the frequency of these conversions could be as high as 60 to 80 percent of the panel van total). Some chassis-cab-based freight carrier units are also converted, in the aftermarket, into tippers or commuter buses, and not specified in the Naamsa statistics as such.
MANUFACTURER PERFORMANCE
Please refer to the accompanying chart, which illustrates the relative market performance and ranking of each participating manufacturer in the quarter just completed, as compared to the returns for the immediately preceding quarter.
The groupings contained in this section of the report are based on the rule that, if a manufacturer/group sells more than one brand through its distribution channels, then all sales for those brands will be consolidated in the result for the manufacturer/group.
Thus, Mercedes-Benz includes Freightliner and Fuso, Toyota/Hino contains both brands, MAN includes Volkswagen (Constellation) trucks and Volksbus passenger units, but not VW commercial vans (listed separately), while Volvo Trucks includes UD Trucks, as well as Mack and Renault.
Mercedes-Benz SA
Market leader Mercedes-Benz experienced a decline in both absolute volume sold and market share in the third quarter, finishing with slightly less than 23 percent of the total reported national volume. All three of the Group's constituent brands suffered some market share loss in comparison with their April to June outcome, with Mercedes-Benz declining by 0,6 percentage points to 16,3 percent, Freightliner losing slightly more than one full percentage point to finish at 3,6 percent, while Fuso settled at 3,1 percent share, 0,9 percentage points below its second-quarter result.
During the third quarter, the group retained top position in the premium payload EHCV category, promoted its Telligent Maintenance-based predictive servicing regime for Actros models, and re-introduced the 4×4 variant of the Sprinter van family.
Volvo Group Southern Africa
Volvo Group Southern Africa occupied its now customary runner-up market position during the third quarter, with 0,5 percentage points market penetration gain over its second-quarter return, ending with 19,6 percent overall market share.
Of the constituent brands, Volvo upped its penetration from seven to 7,6 percent in the quarter-on-quarter comparison, Renault improved from one percent to almost 1,6 percent, while UD Trucks fell slightly from 11,1 to 10,9 percent, despite registering third-quarter leadership of the cruiserweight HCV market segment, by a margin of one single unit!
The launch of the Group's new MCV brand, which will provide a replacement for the run-out UD35/40 series, has now been delayed from its original 2014 timing, to early next year, but Renault Trucks will have launched its striking new K and C ranges of construction specialist trucks locally by the time you read this. On the UD front, a new R45-million dealership facility was opened by the CMH group in Pinetown, KwaZulu-Natal.
Hino/Toyota
Toyota SA's truck specialist division staged a significant comeback during the third quarter, registering a 52,4-percent improvement in unit sales, and a 4,5-percent improvement in market share when compared to its second-quarter performance. This resulted in the recapturing of third position in the market rankings, which had been lost in the second quarter, and
14,2 percent total third-quarter market share.
The Toyota/Hino family also took leadership of MCV segment sales with its Hino 300/Toyota Dyna pairing during the quarter under review. Hino added a new long-wheelbase 6×2 model, designated 2626, to its range, thus filling an important gap in its 500-Series intermediate truck line-up.
Isuzu Truck SA (GMSA)
Isuzu Truck SA (ITSA) now appears to be locked in mortal combat with Hino Trucks over third position in the market standings. Following a second-quarter surge into this position, ITSA fell back to fourth position in the third-quarter listings, despite a 5,8-percent quarter-on-quarter sales volume improvement, and 0,2 percentage point gain in market penetration.
The resulting 13,1-percent overall market share was built on quarter-on-quarter segment gains in the HCV, EHCV and bus groupings, while N-Series MCV deliveries were somewhat lower. As you may have read in our October issue, ITSA showed off its impressive reworked Port Elizabeth-based assembly operation to the press during September.
Scania
Following two excellent quarters, Scania lost some ground during the July to September period, to the tune of 6,1 percent in volume terms, and 0,7 percentage points of market share, although the Swedish manufacturer improved its market ranking by one position to end the third quarter in fifth spot. The most recent outcome included an overall share of 6,4 percent in the growing market, and an impressive 62 bus deliveries. (Please note that, following the publication of our previous report, Scania's market ranking in the second quarter has been corrected to sixth position, following amendments to MAN's bus delivery total in the April to June period.)
MAN Group
The MAN Group lost some ground to finish in sixth position at the end of the third quarter, following an impressive April to June showing, when an adjusted market ranking of fifth had been registered (as explained above). This was accompanied by a ten-percent quarter-on-quarter reduction in sales volume, and a one-percent loss in market share, to end the July to September period with 6,3-percent penetration of the total market.
The Group retained top position in bus segment sales during the review period, with 137 units reported. The Brazilian-sourced Volkswagen Constellation and Volksbus product ranges continue to disappoint with only 13 and 31 units delivered respectively during the quarter, and the truck range, in particular, presents as a major opportunity for MAN's newly reorganised management structure to increase its influence on the HCV market segment.
Tata
Tata maintained seventh position in the third-quarter market rankings, having increased its volume by three percent over the second quarter outcome, but losing a marginal 0,05 percentage points of share in the growing market. Quarter-on-quarter volume improvements were registered in both the MCV and HCV segments, while EHCV and bus volumes declined. Overall market penetration of 4,25 percent was registered for the third quarter.
Iveco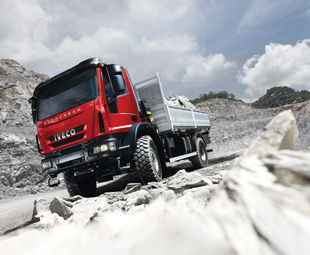 Eighth-placed Iveco retained the market ranking position it had captured in the second quarter, despite an 11,6 percent reduction in quarter-on-quarter volume and 0,6 percentage points loss of market share, to finish the review period at 3,3 percent.
Notable in the third-quarter volumes were 26 full-size bus deliveries, suggesting a return to the market by private bus operator Putco, which has an association with Iveco's new Rosslyn assembly operation through the Larimar Group, and is the brand's major South African passenger vehicle customer.
FAW
Now firmly established as the leading Chinese brand reporting sales in the local truck market, FAW held on to its tenth position overall ranking during the third quarter, on the back of a 2,6 percent increase in sales volume, and, effectively, an unchanged two percent overall market share. Early in the quarter, the first completed units rolled off FAW's newly opened Coega assembly line, while the adjacent body-building facility, which will manufacture tipper and truck mixer bodies, and customised trailers, was reportedly nearing completion.
Powerstar
Powerstar's third-quarter performance was distinguished by its first-ever recorded participation in the cruiserweight HCV segment, where it reported the sale of three units. Otherwise, the Chinese manufacturer retained 11th position in the market rankings, with 1,5 percent overall market share, which was 0,4 percentage points off its second quarter performance.
Babcock/DAF
During the July to September period, the local distributor of DAF trucks returned yet another best-ever quarterly result since entering the market under its own name in 2010. The reported sale of 104 EHCV units resulted in an overall market share of 1,3 percent, which was 0,5 percent better than its second quarter return, and resulted in promotion from 14th to 12th position in the market rankings.
The Babcock organisation recently unveiled an in-house finance company to support the sale of DAF trucks in South Africa (see page 56), and also announced that it was considering a local assembly option, provided that a sustainable annual sales volume of around 300 units could be achieved.
AMH/AAD
In comparison to its second-quarter outcome, this Imperial-owned operation gave up one position to be placed 13th during the July to September period. This resulted in a market share of 0,7 percent, 0,4 percentage points off its previous quarter return. At the mid-September opening of its Apex assembly operation, Hyundai Automotive South Africa said it was studying the possible introduction of the Hyundai Xcient heavy-duty truck range to the local market.
JMC
Chinese manufacturer JMC, which currently reports only in the MCV segment, returned an improved quarter-on-quarter performance during the July to September period, registering a 31,4-percent increase in volume sales, a 0,6-percent overall market share, and promotion from 15th to 14th position in the rankings.
Ford Motor Company
Ford made its return to this market during the third quarter of 2014 with its newly introduced Transit family of panel vans, chassis cabs and people movers. Initial quarterly sales of 40 units resulted in an overall market ranking of 16th, and 0,5 percent of total market penetration.
VDL
Bus chassis specialist VDL did not report any unit sales during the third quarter of 2014, and was, consequently, not ranked in the market standings.
European Van Manufacturers
Four vehicle manufacturers compete only in the MCV segment of this market with European-sourced integral vans and their derivatives, these being Volkswagen Commercials, Peugeot, Citroën and Fiat.
Three of these, namely Fiat, Volkswagen and Citroën, gave up market share in the third quarter in comparison with their second -quarter performance, to the tune of 0,3, 0,3 and 0,1 percentage points respectively, while Peugeot improved its penetration by
0,1 percentage points.
During the review period, Volkswagen retained its ninth position ranking overall, but Peugeot was demoted in the quarter-on-quarter comparison from 16th to 17th position, Fiat from 13th to 15th position, and Citroen from 17th to 18th position.
Non-Reporting Manufacturers
Readers should note that local sales volumes of several commercial vehicle brands, including Dongfeng, Yutong, Foton and Ashok Leyland, are not yet reported to Naamsa, and are, therefore, excluded from the comments and data contained in this report.
GENERAL MARKET COMMENTS
The ending of widespread industrial action, with the notable exception of the persistent South African Post Office strike, was instrumental in the improved showing of the truck market during the third quarter of 2014, as described in the opening paragraphs. This has supported an expectation that, despite the economic problems being experienced both at home and abroad, at least some measure of market growth can be expected to persist until the end of the current year.
At the time of writing, prospects for further decreases in the price of fuel look positive, assuming that the foreign exchange value of the rand does not weaken significantly off levels just above R11 to the US dollar, while the generally better recent performance of the local monetary unit against important truck sourcing currencies, such as the euro and Japanese yen, should help to moderate increases in vehicle, component and parts prices.
On the downside, it has recently been noted that restrictions have been placed on the movement of vehicles out of countries affected by the Ebola epidemic in West Africa, and this may have some impact on the future performance of the EHCV segment, which has been an important driver of local truck market growth, for reasons fully explained earlier in this report.
We have also noted continuing uncertainty over the Department of Trade and Industry's Medium/Heavy Commercial Vehicle Automotive Investment Scheme. There appears to be little consensus, at this point, between the government and vehicle manufacturers/importers, with the former advocating a move from semi-knocked down (SKD) to completely knocked down (CKD), including local cab assembly and/or trimming, while the latter argue that there is insufficient financial justification for such a move. Negotiations are continuing, and it is hoped that a satisfactory outcome can be found.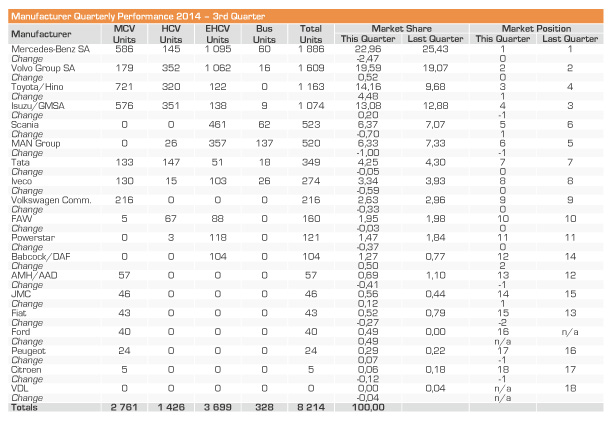 Focus on Transport
November 1, 2014
Published by