Scania's operation in Mozambique is officially up and running and ready for business! We find out what this means for the company and its customers.
Led by general manager Peter Webster, Scania Mozambique officially opened its doors in Dondo, just outside Beira, during November 2015. Though Webster has been with Scania only since February, he brings 14 years of work experience in Botswana and Kenya, as well as having spent four years in Bahrain. Over the years he gained experience working in transport logistics and truck dealerships.
While Scania had a representative in the country prior to this, the company endeavoured to formalise operations. Scania was looking for someone who had vast experience within Africa and knew what operators needed and, as fortune would have it, at the same time Webster happened to be looking for such a challenge.
Currently, though, Mozambique is a challenge.
"It's an awkward market at the moment with all the current political issues. Things are largely stagnant, as many operators are reluctant to invest additional funds right now. Maputo seems to be out of the red zone, but up north there are problems," Webster explains.
The country has other issues, too; including the unreliable supply of power. Scania Gensets therefore forms a large part of the Mozambican operation. So do its marine and industrial engines, which are supplied to the country's ports.
"We have covered all the Scania business units," says Webster. "We're operating on a similar model as in South Africa."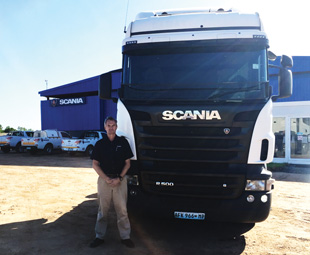 So what about the obvious Scania product; its trucks?
"In addition to general transport, a major sector for us in Mozambique is fuel transport. Operators in the fuel transport and bus sectors are especially interested in our new vehicles, while the second-hand vehicles catch the attention of those involved in general freight," he notes.
As with many African countries, Mozambican roads see vehicles that have originated from many different markets around the world.
"Most are right-hand drive and it seems they have been imported from the United Kingdom (UK). While many buyers don't realise that a UK import on African roads is not the best option, others prefer the South African versions as they are big, robust truck tractors with the correct suspension to handle the local road conditions.
"We are trying to encourage transporters to purchase locally as opposed to sourcing their own imports," Webster assures us.
No matter where a vehicle originates from, Scania Mozambique will be able to assist any Scania owner with whatever requirements they might have. "As far as we're concerned a Scania is a Scania and we can assist if needed," he adds.
Though the fledgling operation is currently manned by a small team of only five, with a two-bay workshop that can handle six vehicles at a time, there is a full spare-parts division. If a part isn't in stock and an emergency order is needed, this can be done timeously.
"As long as the customer gives us the chassis number of the Scania truck, we can source a part, no matter where the truck originates from. If the part is not available in South Africa, we can do a back order to one of the other global centres," says Webster.
The operation offers full Scania back up, including repair and maintenance contracts, and Webster hopes to introduce Scania Finance in the future. In addition, the option to set up a maintenance operation in the north of the country, in either Nampula or Nacala, is being explored, as well as Maputo, Tete and Chimoio.
"We're gaining traction and we look forward to the challenge," concludes Webster.
Focus on Transport
May 3, 2016
Published by