A (Super) ace up the one-tonne sleeve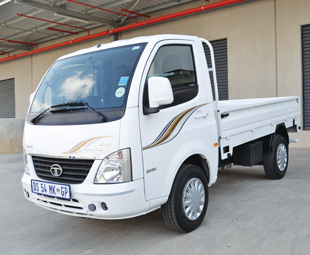 You might have read last month's feature by GAVIN MYERS about the fascinating world of the Japanese kei truck. Fittingly, around that time, Tata Motors launched a renewed version of its Super Ace mini truck; the EX2 – so he took it for a spin.
While by no means a kei truck – it has a much larger 1,4-litre engine and can carry a full tonne, for a start – the Super Ace EX2 is a mini truck with some pretty impressive credentials.
That one-tonne payload is derived from a 1 260 kg kerb weight and a 2 260 kg gross vehicle mass. It's cab-over design endows it with the longest load bay among South Africa's one-tonne pick-ups, at 2,63 m.
The load bay is 1,5-m wide, realising a total load area of 3,8 m2. The standard drop-side body is shallow, though, but has been raised to a loading height of 600 mm so is unimpeded by intruding wheel wells. Various racks and canopies can be ordered from Tata dealers.
With the EX2 Tata took the opportunity to address some concerns with the previous model. Technical upgrades include an updated cooling system with a larger radiator, a water separator added to the fuel system and a four-layer insulation package to reduce the transmission of heat to the occupants in the cab.
The cab interior has been revised, too. A change of interior colour to black gives the EX2 a much more workman-like appeal, being less likely to soil than the previous grey. A handy tray and rather wide and shallow cup holders have also been added between the seats.
Most of the plastics are hard and scratch-resistant and should wear well. The interior fittings are well constructed and of good quality, while the floor mats are rubberised for easy maintenance.
Our test unit was the R149 995 high-spec DLE variant, which features air-conditioning, electric windows, fog lamps, interior adjustment for the rear-view mirrors, grab handles and colour-coded bumpers.
These features are in addition to the DLS version's power steering, remote central locking (including automatic locking and unlocking), engine immobiliser, height-adjustable headlights, lockable fuel cap and battery guard.
The Super Ace is powered by a 1,4-litre turbodiesel engine that produces just 52 kW of power at 4 500 r/min and 135 Nm torque at 2 500 r/min. Although our test unit wasn't even through its running-in period yet, the Super Ace feels a lot stronger than these figures suggest, with the torque available on tap in most gears.
Claimed fuel consumption is 7,2 l/100 km on the combined cycle. The engine drives the rear wheels through a five-speed manual transmission which, again, needed to be run in – although the snappy gearshift did smooth out a bit as we covered more mileage.
The light kerb mass and cab-over chassis design results in the ride (unladen) being quite jiggly. Softer front springs might help smooth the ride. This setup and the Super Ace's small dimensions result in fantastic manoeuvrability, though. No ABS brakes or airbags are fitted.
On the road there are a few niggles. The small cab means the range of seat adjustment is minimal (as is the ability to store anything sizeable behind the seats), which results in a bolt-upright driving position. This is not uncomfortable, though taller drivers will find their far-forward visibility impacted as a result of the high seat position, especially with the sun visor in use. There is also no dimmer on the rear-view mirror and the rear window reflects light quite harshly at night.
Despite its cute looks and mini-truck size, the Super Ace EX2 is an honest workhorse that presents an appealing alternative to the traditional single-cab bakkie – especially if the extra load length is a requirement. In fact, it is the only cab-over one-tonner on the market (the Hyundai H100/Kia K2700 weigh-in at 1,3 t), which further allows it to carve out a niche for itself.
Tata covers the Super Ace with a three-year/100 000 km warranty, three-year/60 000 km service plan and three years of roadside assistance, which – with its competitive price, revised specification and up-rated mechanicals – should add to its appeal.
Focus on Transport
August 16, 2015
Published by