African airfreight: Up in the air?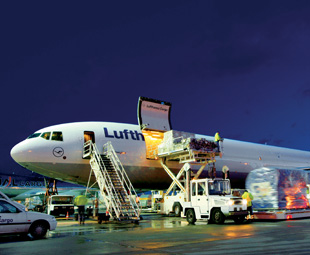 Jules Verne's adventure novel Around the World in Eighty Days is a wonderful read, but the timeframe is rather long-winded for the 21st century … Our planet has shrunk, and fast. JACO DE KLERK investigates air transport on the African continent
Verne's epic, published in 1873, might have had a different title if he had conceptualised the storyline a few decades later – but it wouldn't have been as interesting.* The Wright brothers, Orville and Wilbur, are credited with inventing and building the world's earliest successful aeroplane – making the first controlled, powered and sustained heavier-than-air human flight craft on December 17, 1903 (before this, people were just gliding around).
From 1905 to 1907 the two American siblings developed their flying machine into the first practical fixed-wing aircraft, and air travel has boomed exponentially since then. According to Time magazine's online newsfeed, three billion people flew safely on 37,5 million flights last year.
However, Air Cargo Africa (ACA) 2013 – a biennial international air logistics conference and exhibition, held in Johannesburg this year – states that air cargo plays a significant role in the global economy: it adds job opportunities, plays a growing role in the competitiveness of goods in world markets and is very important to landlocked countries.
So one would expect that Africa – which houses 15 landlocked countries and is becoming a major player in the global economy – would be abuzz with air cargo activities. ACA states, however, that the continent remains an untapped market.
ACA notes the areas that require improvement for air cargo to become a recognisable industry in Africa and across the globe. These include supply-chain efficiency, infrastructure development, security enhancement, technology advancement and simplification of operations.
But all hope is not lost. Priyo Patra, director of events and marketing of STAT Media Group – organiser of ACA, says: "It has been estimated that the industry will grow by 5,2 percent in 2031 and that Asia will be a major driver of this growth."
According to communication from ACA, China's US$116 billion (R1 146 billion) trade with our continent is double that between India and Africa. It points out that investments by the Indian private sector stand at around US$5,5 billion 
(R54 billion), however, investments in African development projects are estimated to be around US$500 million (R4 940 million) over the next five years. The Chinese investments, which are largely driven by expansion in Asia-Africa trade, stand at around US$60 billion (R593 billion).
It comes as no surprise that there has been a significant boost in air cargo traffic between Asia and Africa due to this investment in African infrastructure. At the same time, as ACA points out, global demand for our continent's energy resources, minerals and other commodities has soared – generating more wealth in various parts of Africa.
ACA notes that our continent's share of global air transport goes mainly through three hubs: Johannesburg, Nairobi and Addis Ababa. So South African Airways, Kenya Airways and Ethiopian Airlines are Africa's major airlines.
But as Ram Menen, senior divisional vice president at Emirates SkyCargo, told Air Cargo Week: "Western and central Africa are catching up. They're leap-frogging technology and their growth will be a lot more sustainable."
One of these advancements is from the passenger side of Arik Air's air transport. The company, which is western and central Africa's largest commercial carrier, has introduced a new mobile booking service to further enhance its passengers' flying experience.
Michael Arumemi-Ikhide, Arik Air's global chief executive officer, explains: "The popularity of mobile commerce has increased massively in Africa of late and we decided to introduce the service to empower our customers."
He adds: "Mobile penetration far exceeds the reach of the internet in Nigeria and other western African countries and this new mobile gateway enhances our customers' ability to search, select, book and pay for our services. The adoption of such innovations positions us as a 21st century operator, using cutting-edge technology to improve ease of service and customer interaction."
The announcement follows Arik's decision to partner with mobile commerce firm SlimTrader to provide the service as part of a raft of changes that are expected to take place in the coming months.
So, although Africa's airfreight industry remains relatively untapped, it is bursting with potential and innovation – which bodes well for Patra's advice: "Air cargo and travel is the oil that greases the world economy and we need to continue to find ways to grow these industries."
* The story starts in London on Tuesday, October 1, 1872. Phileas Fogg, a rich English gentleman living in solitude, gets involved in an argument with his fellow members at the Reform Club over an article in the Daily Telegraph stating that it would be possible to travel around the world in 80 days, as a new railway section had opened in India.
He accepts a wager for £20 000 (roughly R23 933 500 today) from the other club members that he'll make the journey in the time stated. On his journey, Fogg buys an elephant, meets the love of his life, leads a mutiny, burns the wooden parts of a ship to keep the steamer going and gets arrested. However, he makes the deadline and wins the wager … But things would have been a lot easier if had undertaken this adventure 31 years later and had known the Wright brothers.
Focus on Transport
November 1, 2013
Published by