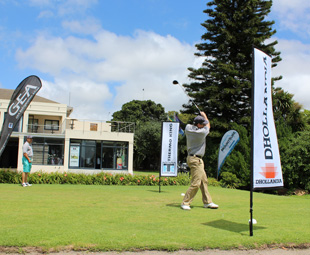 Summer is finally in full swing. GEA Southern and Eastern Africa Africa took full advantage of the glorious sunny days as it hosted its annual Golf Day at the Rondebosch Golf Club (in Cape Town) on October 29. It wasn't only about fun and games, however, as the company did something special with this year's proceeds …
All were excited that this year's Golf Day took place in Cape Town, even though the wind led some golf balls astray, but the breeze wasn't the only thing that filled the air … the excitement (and competitive spirit) was palpable right from the start.
All the proceeds (around R25 000 in total) from the day were donated to The Friends of the Children's Hospital Association. The organisation provides non-medical support to patients, their parents and caregivers at the Red Cross War Memorial Children's Hospital.
GEA also took the opportunity to communicate some new developments within the Group. In 2014, the company generated consolidated revenues in excess of €4,5 billion (around R67,8 billion), more than 70 percent of which came from the food sector, which is a long-term growth industry.
It is no wonder that, in June 2015, operational sales and service activities were brought together into one organisation. Country organisations now offer the entire range of GEA products and services and are the central point for customer contact.
"GEA has been going through quite a few changes in the last couple of months," explains Pieter Stemmet, GEA Southern and Eastern Africa's director heard of finance (Middle East and Africa).
"Most people will know the company for the Thermo King refrigeration units, or a technician coming to your site to do some service work. The company has, however, been through a big process during the last couple of months. We call this the One GEA – where we basically went through a global alignment to bring all the businesses together."
You can read more on One GEA, and the company's Golf Day, in our upcoming December edition.
Focus on Transport
November 5, 2015
Published by