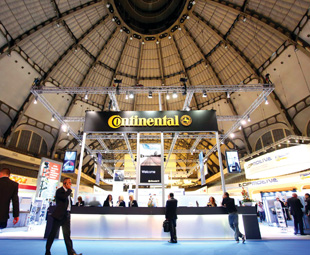 … and ready to go! Automechanika Johannesburg 2013 is happening next month. Here is a small preview.
The inaugural Automechanika Johannesburg was hosted early in 2009 and was the biggest launch show held since the Automechanika brand went global in 1997. In 2011 the event took on a new dimension and this year things are set to get even bigger.
Again held at Johannesburg's Nasrec expo centre – from May 8 to 11 – the 20 000 m2 expo will host over 600 exhibitors from 20 countries, showing local and international products and innovations from the aftermarket arena. The categories will include: parts and systems; accessories and tuning; repair and maintenance; IT and management; servicing and car washes; safari and off-road vehicles.
The highlight of this year's expo promises to be the Truck Competence conference, a new focus area for Automechanika Johannesburg. Launched last year as part of a regular offering at all Automechanika trade fairs, Truck Competence aims to highlight the products and services available to operators and service providers involved with maintaining and servicing truck and bus fleets. Among the companies which specialise in commercial vehicles that have already confirmed attendance are SAC Trucks, Truck & Bus Components, Euro Truck Spares and Africa Truck Parts.
The Truck Competence conference will look at the latest technologies for trucks and buses and how these developments affect aftermarket servicing and repairs, as well as other topics affecting running costs. Speakers will include Andre Cilliers, chairman of the Institute of Road Transport Engineers (IRTE); Gavin Kelly, technical and operations manager of the Road Freight Association (RFA), who will deliver a presentation on future demands on the organised transport industry; and Walter Roux of Max T Solutions, who will speak about leasing and servicing truck and bus tyres. There will also be a presentation on the rapidly changing technology being used in the latest trucks and buses and the effect of these developments on the automotive aftermarket.
Significantly, this year much greater emphasis is being placed on South Africa being the "gateway to Africa", with an increase in the number of potential buyers from African countries expected. There will also be a special focus on all aspects of training related to the automotive aftermarket industry, and this will include a spray painting competition.
The Innovation Awards, which have become an integral component of the local event, will be run again to bring South Africa's most innovative automotive aftermarket products to the fore, while there will also be a focus on new technologies such as e-Mobility as well as Green Initiatives.
Running alongside the general exhibition will be a programme of professional conferences and workshops. Under the banner of the Automechanika Academy, these will focus on the retail motor industry; the collision repair industry; automotive workshops; engine remanufacturing; fuel and the Truck Competence conference.

Focus on Transport
April 1, 2013
Published by