Another one for the books?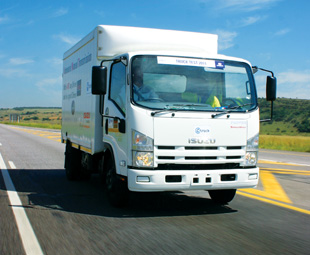 If one company takes the seriousness of the Truck Test programme to new levels, it's Isuzu Truck South Africa. Following its outstanding results in 2013, the company has again entered the test with no holds barred
The Truck Test programme provides original equipment manufacturers (OEMs) with the platform to show what their vehicles can do in the real world, compared to their ideal, simulated performance on the HTM TransSolve programme. But there is more value in this than the simple numbers game, and Isuzu Truck SA knows that all too well.
"For Isuzu Trucks, it reaffirms our brand values of fuel consumption, information and product knowledge, while also advising non-truckers on how trucks operate and giving fleet decision-makers a neutral view of product performance," says Tiny Daya, product and application engineering manager at Isuzu Truck SA.
"It shows customers that the OEMs taking part in this competition are not scared to make their fuel consumption and vehicle performance figures available – good or bad – versus their market competitors," he continues. "I think it shows that we have done our homework in ensuring that we put our best products into the marketplace."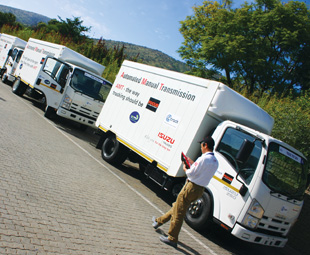 And, this year, those products covered each of the four sub-categories of the test. The Isuzu NMR 250 entered vehicles in the 5 000 to 6 000 kg V-rated category; the NPR 300 in the 6 000 to 7 000 kg category; the NPR 400 in the 7 000 to 8 000 kg category; and the NQR 500 in the 8 000 to 9 000 kg category. Importantly, each of the vehicles was fitted with Isuzu Truck's Automated Manual
Transmission (AMT).
"Our goal was to show customers that fuel consumption does not increase with AMT compared to manual transmissions – the AMT still uses the manual transmission, only the gear shifting is controlled electronically," Daya notes.
In accordance with the Truck Test rules, all Isuzu's trucks were standard; but the company ensured that they – and their drivers – were well prepared for the test. Each truck was ready about four weeks ahead of the test date and then driven for about 10 000 km to ensure that all mechanical parts were run-in. "The advance planning to get the body builder to meet our schedule was critical," says Daya. "Route scoping was then done and all drivers had to spend a few hours behind the steering wheel," he continues.
Taking the wheel were members from the company's engineering and sales departments: John Wood, export area sales manger; Ian Porter, fleet sales manager; and Deon Wilken, Martin Smuts and Johan Coetzee from Isuzu Truck SA's engineering department. "We learned a lot about our competitors' trucks, and we all had lots of fun," smiles Daya.
"Our team was well-prepared and it was great to see their excitement over the three days. This was the first time that some of our staff had been involved in truck testing, so they saw and learnt a great deal from what is involved. Once the results have been released, they will now be able to confidently discuss Truck Test 2014 with customers and dealer staff."
Looking to future tests, Daya would love to see 6×4 freighters in the spotlight, or some construction-type testing (where the difficulty is the amount of time spent idling), all with more OEMs taking part.
But speaking of those results, Daya says Isuzu Truck SA is very confident that it has achieved very positive numbers, especially considering all the N-Series vehicles were equipped with AMT. "We do believe that AMT is the way to go in order to achieve good fuel consumption and to improve driver performance," he says.
In closing, Daya says: "We loved that Isuzu Truck SA has a model that could take part in every segment of the test. This shows that we are able to provide a solution to every customer, and that we have AMT across the board in our N-Series trucks. No other competitor has this range of product in the MCV segment."
Focus on Transport
May 1, 2014
Published by