Are you allowed to tow that? AA urges you to check
With schools across South Africa closing for just under a month next week on Friday, June 24, the roads are expected to be busy with people heading towards their holiday destinations. Many families will be using this break for a mid-year getaway, and are expected to take trailers, boats or caravans with them.
According to the Automobile Association of South Africa (AA), many drivers might not be aware that their current driving licences may not allow them to legally tow these trailers. While passing your driver's test allows you to legally use the roads, it doesn't automatically qualify you to tow.
In 2000, the government changed to the credit-card type driving licences and all code 08 licences were automatically converted to EB code licences. Since then, all new standard driving licences issued are only code B licences.
This means that a Code B licence allows a motorist to tow a light luggage trailer weighing less than 750 kg (fully laden). To tow a heavier trailer, caravan or boat, a code EB licence is required.
"This change has led to some confusion, with many people still assuming that a driving licence automatically allows them to tow any sort of trailer; but code B drivers, who are towing trailers heavier than 750 kg, are doing so illegally," the AA warns.
South African law does not make provision for a simple upgrade from the code B to the code EB licence, and motorists who want a code EB licence must retake the learner's licence test and repeat their driver tests, with a trailer weighing more than 750 kg. While all testing stations should be able to accommodate these tests, it is unclear how many actually do.
The AA further warns that towing illegally leads to insurance headaches in the case of an accident, such as claims being declined.
"We urge everyone to check their licences before setting off this holiday to make sure they are legally allowed to tow and, if they aren't, to make arrangements to ensure they comply with the regulations," the AA says.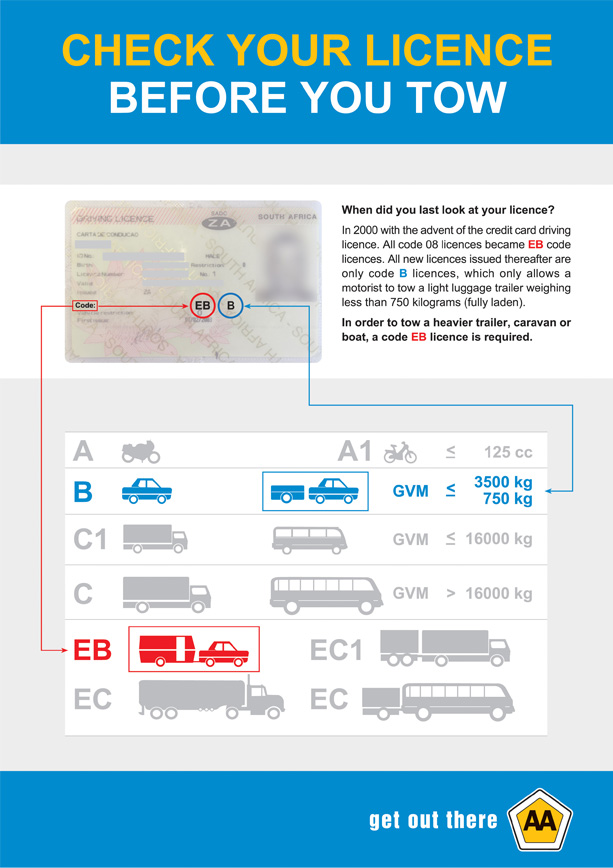 Focus on Transport
June 15, 2016
Published by