FRANK BEETON reports on important bus news from overseas
Back in 1968, when on a visit to Switzerland, I observed electric single-decker trolleybuses in service that were based on modified Volvo B59 bus chassis. At that time, there was still a demand for trolleybuses from countries having abundant, cheap electricity resources, and the simple solution was to remove the rear-mounted diesel engine and gearbox from a low-slung city bus chassis, and replace them with an electric motor. This was then coupled, by drive shaft, to the conventional "live" rear axle, and was also used to power a compressor to provide air pressure for the brakes, door operation, etc.
The overhead current collection equipment (trolleys and associated wiring) was then mounted on the bodywork, and other superfluous hardware such as fuel tanks and cooling systems were removed from the bus. Some of these "converted" trolleybuses were utilised in articulated bus train configurations, while others ran solo.
In more recent years, the concept of hybrid and alternative driveline buses has gained momentum. Volvo Bus has sold more than 1 000 hybrid buses, and has also been active in supplying alternative fuel vehicles. However, most hybrid solutions include some use of an internal combustion engine, either to drive the vehicle, or recharge the batteries, when longer distance operation is required.
While all-electric buses seem to offer the most natural progression from the old trolleybus principle, recent trends have favoured the use of hybrid driveline vehicles and alternative fuel engines to reduce emissions in public transport operations. However, in lighter vehicles such as cars, the "plug-in" concept, where the vehicle's batteries can be replenished by plugging into national electricity supply grids, has gained support, and Volvo has decided to adopt this methodology with its hybrid buses.
Field tests of plug-in hybrid buses commenced in Volvo's home town of Gothenburg, Sweden, during May under the auspices of Vottrafik, the city's public transport service provider. Based on the well-established 7900 Hybrid model, the three test buses were equipped with roof-mounted collector gear, to engage with an overhead power supply rail situated at the route terminus, when the vehicle is stationary. This enables a six- to ten-minute recharge of the vehicle's enlarged battery pack, before it resumes duty.
These buses have an operating range of seven kilometres under electric traction, but this can be extended further by switching to normal hybrid operation, and bringing the on-board five-litre diesel engine into play.
For reference, the basic Volvo 7900 Hybrid specification includes an optimised four-cylinder diesel engine developing 161 kW, a 120 kW I-SAM electric motor/generator, Volvo I-Shift 12-speed automated gearbox, double-reduction portal rear axle, beam front axle and electronically controlled regenerative disc brakes. The parallel hybrid system allows the bus to operate exclusively on electric power at lower speeds, and then utilise the diesel engine progressively at higher speeds, or for recharging the batteries.
Another eight-vehicle plug-in hybrid demonstration project is planned for 2014 in Stockholm, and Volvo intends to use both of these trials to confirm the levels of energy and emissions savings that can be realised. The practical experience gained in these exercises, together with inputs derived from passengers, drivers and surrounding residents will lead up to the future commencement of serial plug-in hybrid bus production.
Ashok Leyland's flat floor
Those South African bus operators still having a preference for front-engined suburban and commuter buses should be encouraged by some of the news that has been emanating from overseas markets in recent times. The latest news that suggests a more secure future for front-engined full-size buses comes from India.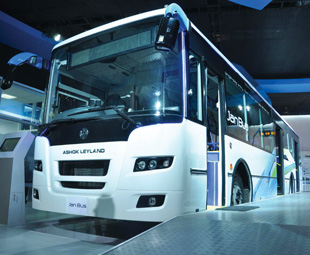 During February's International Bus and Utility Vehicle Show in New Delhi, Ashok Leyland introduced two new Janbus models, which provided a slightly different perspective on front-engined bus design. In pursuing a single-step entry and constant floor height of 650 mm, the company has opted for a completely built-up configuration, employing integral, chassisless construction. This eliminates the use of the cranked frame that was traditionally used for low-floor designs, which normally led to the positioning of longitudinal seats over the axles and consequent problems for bodybuilders trying to maximise seating capacity.
The Janbus range consists of a 12-metre city bus, with 2×2 seating capacity of up to 43 passengers, with five possible doorway locations, and an eight-metre Midi version optimised for feeder services into BRT system networks.
The city bus specification includes a 175 kW (235 hp) diesel or CNG engine driving through a six-speed manual or "Leymatic" automated transmission, to a "live" rear axle, and full air-suspension incorporating a "kneeling" function to further facilitate passenger movements. The Midi version is powered by a 90 kW (120 hp) diesel engine, and is also available with a CNG-fuelled option.
While the integral construction route may not be universally popular as some operators prefer exercising their own choice of bodybuilder, there can be no doubt that the layout benefits offered by this design, combined with the less technically demanding front engine location, will provide food for serious thought.
Focus on Transport
July 1, 2013
Published by