Now here is something completely different. If only more manufacturers out there (ignoring GM for the moment) had something like this as their idea of a bakkie! GAVIN MYERS can hardly hide his excitement.
"This magazine needs a bit more spice every once in a while," I thought. "A bit more lunacy, something completely bonkers in the mix… A Chev Lumina SS Ute in Light Brigade, perhaps?" After all, it has just received a nip and tuck.
And then one day, I stumbled upon some spy pics of a (barely) camouflaged BMW M3 bakkie, of all things, doing testing laps at the Nürburgring Nordschleife! The first thing that went through my mind was: "A bakkie lapping the Nürburgring? An M3 bakkie! What the…"
Either someone's calendar was about two weeks too early for April Fool's, or they have a heady combination of both way too much time on their hands, and Photoshop experience, I surmised. Still, I can't say I wasn't intrigued, because BMW did in fact produce something similar in the 1980s just for the fun of it…
My mind felt like a 8 400r/min, 309kW V8 as it very rapidly went from intrigued to pure excitement when the media release detailing that this was in fact a real vehicle pinged into my inbox. Yip, that was a real vehicle testing at the 'Ring – what BMW calls "the world's first high-performance pickup". Now here was a bakkie launch for which I would consider selling myself to attend!
Aerodynamics and the suspension have been fine-tuned for this vehicle. According to BMW, the wind tunnel at the BMW Group's Aerodynamic Test Centre showed a drag co-efficient on par with that of the BMW M3 Coupé, while the kerb weight undercuts the M3 Convertible's by around 50 kg. If you want some sun and remove the Targa roof (did I forget to mention that?) a further 20 kg will be saved (you know, to help the four-litre V8 with the half-ton load on the back) while at the same time lowering the car's centre of gravity. Oh yes, it will also hit 300 km/h!
And it's no meek gimmick either; it has some real world capability. It's the first M3 ever to come with a trailer tow hitch, the load bed is clad in a high-grade structured aluminium sheeting, and the rear-axle load capacity, as mentioned, is up to 450 kg. Or, as BMW puts it: "It provides the biggest cargo capacity ever offered on a BMW M vehicle. In terms of the unit of measurement generally applied to premium automobiles, that gives the loading area of the BMW M3 Pickup the capacity to carry up to 20 standard 46-inch golf bags."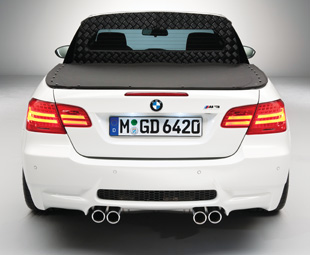 Oh yes! To hell with golf carts (probably the best thing about golfing, anyway)! Give me one of these and I'd take up that poor excuse for a sport any day (or become a caddy, don't really mind), if I could make the little pathways linking the holes my weekend racetrack, the greens my personal skidpans, and arrange the hole-flags to make gymkhanas on the fairways!
Sadly, though, it is essentially a gimmick. It will remain an exclusive one-off. But all is not lost, because it is certified for use on the road (making it officially a truck, say BMW – I'd imagine in the American sense of the word…) and it at least will be put into service as a workshop transport vehicle for BMW M GmbH.
Here, finally, is a car – sorry, bakkie – in the vein of the legendary Lumina SS Ute, from a manufacturer that would no doubt put it to shame (not that it's a bad vehicle at all, it's awesome, but c'mon). Did someone say 'shootout'? Now that would be completely bonkers! If only…
Focus on Transport
May 1, 2011
Published by