In his monthly review of global news for local truckers, FRANK BEETON reports on the launch of a new series of Chinese Bei Ben trucks, investigates a new form of all-wheel drive technology, notes some signs of recovery in the American truck market, details some new DAF multi-wheelers, and ponders on the EU's attitude to Mergers and Acquisitions…

Back in 2007, Global FOCUS provided some background to the Chinese PowerStar trucks that had first entered the South African market two years previously, and were becoming an increasingly familiar sight on local roads. Following extensive research, we established that these vehicles are known, in China, as "North Benz", and were manufactured by the North Benz Heavy-Duty Truck Company Limited, a 1988 joint venture between Inner-Mongolia First Machinery Group Corporation (FIRMACO – that's their vertical arrowhead emblem on the radiator grille), China North Industries Corporation (NORINCO) and Daimler-Benz of Germany. Marketing of the product commenced in 1996 through the Baotou North Benz Group Corporation and started off as a license-built version of the Mercedes-Benz NG-80 truck series.
The original co-production agreement involving Daimler-Benz was terminated in 2003, after which production continued with 100% Chinese content, but with a cab still recognisably derived from the NG-80 design. North Benz' models for domestic Chinese military and civil consumption were produced in two, three and four-axled all-wheel-drive configurations, and some were equipped with vee-form Deutz diesels, of both liquid and air cooled types. In 1996, a joint stock company, Baotou North Benz Heavy Duty Truck Company Limited, was formed, and this expanded operations considerably over the following three to four years. Additional factories were established in Yantai (to build buses and coaches), in Penglai − both in Shandong Province − as well as a third facility acquired through a merger with Chongqing Tiema Heavy-Duty Truck. In addition to South Africa, North Benz products have been exported to Angola, Cuba, Thailand, Sri Lanka, Indonesia, Pakistan, Oman, Syria, Mongolia, Egypt and the Sudan.
Assembly and distribution in South Africa, of Weichai/Steyr-engined Powerstars was initially handled by the Super Group, but, during 2010, following a protracted negotiation process, a controlling interest in the local operation was acquired by the China North Vehicle Corporation (aka Norinco Motors). Norinco, who are the owners of the Bei Ben Truck Company in China where Powerstar products are built, also took ownership of the Jet Park and Pietermaritzburg facilities that were being utilised for the marketing and assembly of the products in South Africa. This development provided much needed stability to the local operation, following Super Group's 2009 announcement that it was scaling down its involvement with Powerstar, and has provided a firmer platform from which more aggressive marketing can now proceed.
A clue to which direction expanded participation in the local market might take, has been provided by the announcement last November that a new range of Baotou Beiben heavy duty trucks, known as the V3 series, had been launched in China. The line-up consists of truck-tractors and tippers carrying an all-new in-house forward control cab design and featuring power ratings of 300 hp (225 kW) and above. A typical model highlighted in the launch announcement was the ND4251B32J7 lightweight truck-tractor, powered by a Weichai Power WP12 11,5-litre Euro III-compliant diesel developing 470 hp (351 kW), driving through a Shaanxi Fast 12JS200 TA 12-speed manual transmission. The V3 line-up also reportedly includes compressed natural gas-fuelled models using Weichai's 9,7-litre Euro III-compliant CNG power unit.
Up until the present, Powerstar's involvement with the local market has been mainly focused on construction vehicles, with the available power outputs topping out at 420 hp (309 kW). A short-lived involvement with MAN-derived Shaanxi products, which appeared to be more aimed at general transport applications, fell away prior to the Norinco buy-in, leaving a gap in the local product range. The availability of more powerful engines in the V3 line-up may well present a renewed opportunity for this gap to be filled.
A different kind of all-wheel-drive
Once upon a time, when a manufacturer wished to design an all-wheel-drive vehicle, there was only one logical way to do it: introduce a transfer case into a conventional driveline, and power the undriven axle(s) by means of gears, shafts, universals, extra differentials and differential locks. While this method was well proven over more than half a century, it had the disadvantage of adding a great deal of extra cost, mass, complication and expense to the standard execution. While we, in South Africa, normally associate all-wheel-drive with operation off the tar, involving mud, soft sand or rocky underfoot conditions, there are numerous places in the world where enhanced traction capability is dictated by the presence of snow and ice on hardened road surfaces. Some of these scenarios only require intermittent use of AWD, bringing into question the desirability of more conventional solutions, and vehicle manufacturers have now started to introduce "part time" AWD technology which does not add anything like the mass and fuel consumption penalties associated with mechanical 4WD configurations. This development has been greatly facilitated by the recent arrival of hybrid and electrically-driven vehicles, greatly accelerating the development of individual wheel motors, which provide suitable alternative technology, at least for the less severe types of low-traction conditions.
When MAN introduced its short-haul TGS heavy-duty truck range in 2007, it offered the Hydro Drive system for the first time. These trucks had conventional mecha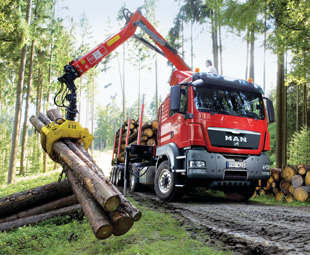 nical drive to the rear axle or bogie, but were also equipped with hydrostatic drive motors on the front wheels, which could be energised by the simple activation of a dash-mounted switch. Used in conjunction with rear axle diff locks, this technology provided access to effective short term AWD operation at greatly reduced mass and cost. Understandably, other manufacturers were quick to see the benefits of such a system, and over the past few months Renault Trucks introduced its own version into the Kerax on/off-road range, using Poclain hydraulic motors made in France.
Now it has been reported that Renault's family partner Volvo has been evaluating the use of this system on its FH16-660 flagship in Swedish forestry applications.  Far from being "light duty", this operation regularly involves moving 74-ton loads up steep and slippery forest tracks, and the hydrostatic front axle drive technology has been introduced in the interests of extending drivetrain life (uncontrolled frequent slippage of mechanically-driven wheels can cause accelerated wear of differential components). A successful outcome of this exercise is likely to rapidly spread the use of this technology to many other parts of the world where trucks are called upon to operate in slippery conditions.
US Truck Market Recovers Somewhat in 2010
The market for medium- and heavy-duty trucks in the United States showed a welcome recovery in 2010, following the substantial collapse in annual volumes it had suffered a year earlier. After reaching total sales of 298 424 units in 2008, the total market plunged by 33,1% to 199 686 units in 2009, before recovering by a margin of 9% to finish the 2010 calendar year on 217 702 sales. Of the individual segments, the premium payload Class 8 category (Gross Vehicle Mass ratings over 15 tons, dominated by 6×4 truck-tractors) improved in volume terms by a margin of 13% over their 2009 performance, with the Daimler Group (Freightliner, Western Star) leading the individual manufacturers' rankings in this class. One segment down, in Class 7 (trucks with GVM ratings from 11,8 to 15 tons), volumes were off a further 1,9% in the year-on-year comparison, with Navistar's International brand leading the sales race in this segment during the past year.
Of the smaller payload segments, Class 6 (8,9 – 11,8 tons GVM) returned a significant improvement of 32,5% in the year-on-year comparison, with Navistar International products also reigning supreme in this category. Both Class 5 (7,3 – 8,9 tons GVM) and Class 4 (6,4 – 7,3 ton GVM) groupings were led by Ford products, with the latter faring the worst of all in terms of segment performance, with volumes that were 39,2% off compared to the 2009 total. The somewhat erratic behaviour of the individual segments during 2010 may have been influenced by the final demise of Daimler's Sterling brand (formerly known as the Ford Louisville line), and General Motors' withdrawal from the medium truck business. Observers noted that, at year's end, Isuzu was performing strongly in Class 5, and among total imported trucks, Freightliner was gaining momentum in Class 5, while International had moved ahead in Class 4 throughout the year. These moves may well indicate that other manufacturers have moved rapidly to fill any gaps that may have appeared as a result of corporate withdrawals, but that the final segmentation pattern has still to emerge.
New four-axle DAFs with tridem bogies
DAF Trucks NV, the European flagship operation of the American-owned PACCAR Group, has introduced two new four-axled rigid variants of its popular CF85 truck series. Designated FAK CF85 and FAQ CF85, these 8×2 models deviate from the usual pattern of European eight-wheelers by having tridem rear bogies, and not the more familiar close-coupled twin steering front axles associated with the long-standing British tradition of four-axle configurations. The main comparative benefit of this type of layout is that it can provide improved mass distribution with shorter wheelbase lengths, local "bridge formulae" permitting, whereas the more usual two-plus-two layout requires a fairly long distance between the front and rear axle units to ensure that the two steering axles carry their full share of the payload. The absence of a second drive axle also contributes to a reduction in tare mass.
In the latest DAF lineup, the FAK designation denotes a single front steering axle, followed by a tridem set comprising a steered single-tyred leading axle, a single mid-mounted driving axle with dual tyres, and a dual tyred trailing axle. Both the leading and trailing bogie axles are lifta
ble, in the interests of reducing tyre wear when the vehicle runs unladen, or partially laden, while this facility can also be utilised to improve short-term traction when slippery underfoot conditions are encountered. Identified target applications include hook-lift, chain or skip container handling, with or without rear-of-cab extendable hydraulic crane. Manufacturers' Gross Vehicle and Gross Combination Mass ratings of up to 35,5 tons and 50 tons, respectively, are available for this variant.
The FAQ configuration differs from its FAK sibling in also having a steered, single-tyred axle at the extreme rear of the tridem set, providing the best possible solution where manoeuvrability in confined spaces is the key consideration. Typical applications suggested by DAF include gully emptier (vacuum tanker), hydraulic platform, refuse compactor, and milk collection tanker. Maximum rated GVM for the FAQ has been set at 36 tons. Both versions are available fitted with day, sleeper or Space Cabs, and are powered by versions of PACCAR's in-house 12,9-litre MX engine family, rated at 360 hp (265 kW) or 510 hp (375 kW).
Will the EU spoil the (truckers') party?
"Mergers and Acquisitions" has been a consistent theme in the global truck manufacturing industry for most years of its existence. Although some readers may well remember the events of the 1950s, when a number of globally successful British truckmakers developed cannibalistic tendencies, the process of rationalisation had already become established among North American brands well before World War II. In research carried out in 2001, it was established that more than 2500 separate manufacturers had participated in this industry since 1886, and, while the 11 major participants still active at that time have had their ranks swelled by a number of very significant new players from India and China, it is highly unlikely that the total number will ever again amount to more than double figures.
Over the past few years, our "M & A" attention has been mainly focused on European-based groupings. With Volkswagen vigorously pursuing global motor industry leadership, it was inevitable that there would be ripples on the commercial vehicle side of the business. Following a long and sometimes acrimonious process, VW eventually took control of Scania, and secured the major shareholding in MAN. It then sold its own Brazilian truckmaking business to MAN, and it seemed that the German truckmaker was being groomed to head up VW's trucking interests. However, late last year, speculation emerged that VW was about to exchange its MAN shares for an increase in Scania equity, thus effectively making the Swedish company the partner in control! This hadn't happened at the time of writing.
Meanwhile, in rumours not entirely unrelated to the still unfolding VW strategy, Daimler was said to be harbouring ambitions to absorb a newly-packaged Fiat Industrial SpA, with truckmaker Iveco identified by most observers as the main prize. These rumblings were given added credence because, by adding Iveco's share of just more than 9% of Europe's heavy duty truck market to Mercedes' own volumes, the immediate threat to Daimler's over-16 ton GVM market leadership, posed by some future combination of MAN and Scania volumes, would be neutralised. When we reported these rumours, however, we did caution that the European Union's zealous antitrust-sensitive competition watchdogs may have been less than enthusiastic about the idea.
So, we were not surprised to read, during January, that the European Commission had been paying surprise visits to a slew of truck manufacturers, citing suspicions of possible antitrust violations. Their net was cast very wide, and reportedly included Daimler AG, Volvo AB, MAN SE, Scania AB and Iveco, who all acknowledged the visits and searches, and promised their full co-operation with the EC investigation.
When considering the possible outcomes of this still-fluid situation, it is important to remember that the costs of participating in major First World truck markets, with their plethora of environmental and safety compliance regulations, have become very onerous indeed. As these requirements have tightened, achieving compliance without pushing up truck operating costs has become more technically challenging, and has moved way beyond the scope of bolt-on solutions. The situation has often been exacerbated by out-of-phase timing between the implementation of similar (but not always identical) standards in the USA, Europe and Japan. This scenario works increasingly in favour of those manufacturers who can amortise their costs over the largest possible volume of vehicle sales, and in order to achieve this, grouping together has become an attractive strategy. Unfortunately, groups with high concentrations of business in geographically limited areas, such as Europe, find their co-operative adventures more under the regulatory spotlight, and considerable official discouragement emerges. While perhaps understandable in a European context, this "supervision" places restrictions on the options available to European manufacturers, and could compromise their global positions.
---
Global FOCUS is a monthly update of international news relating to the commercial vehicle industry. It is compiled exclusively for FOCUS by Frank
Focus on Transport
March 2, 2011
Published by