The best way to minimise injury from an accident is to prevent the accident from occurring in the first place. CLAIRE RENCKEN finds out what some leaders in the trucking industry have on offer in terms of safety systems.
Recently, the Council for Scientific and Industrial Research (CSIR) released its 10th State of Logistics Survey, reporting that in 2013 road accidents involving freight vehicles cost the economy R15 billion. Improved safety features in the vehicles can help curb this cost and, more importantly, save lives.
Volvo is traditionally associated with impressive safety offerings. Its trucks are no different. The philosophy behind its active truck safety systems is definitely preventative, rather than reactive, in terms of potential road accidents.
Turning and changing lanes are risky manoeuvres on the road. The blind spot on the passenger side is large enough to hide a car. Lane-changing support keeps a constant eye over this area with the help of radar. If there's anything in the blind spot, the driver is alerted via a lamp at the rear-view mirror.
With the Electronic Stability Program (ESP), each wheel is braked individually for full control. Since braking power can quickly be redistributed, the risk of skidding is reduced and braking is both safer and more controlled. ESP is now also available on Volvo's 4×2 and 6×2 rigids with air-suspended bogie (RAD-A4 or RADT-A8).
In terms of cab safety, in the event of a serious accident, Volvo also has things covered. If a collision or a roll-over occurs, the cab frame has to be able to absorb the resultant massive forces. All Volvo FMX cabs have undergone the renowned stringent Swedish crash-safety tests, as well as South African barrier tests, which simulate a collision with another truck.
The cab interior is also designed to reduce the effects of a collision. The instrument panel is rounded and has no sharp edges. The steering wheel and pedals collapse if they're subjected to considerable force, and all the cab accessories are crash-tested to ensure that they don't loosen and cause injury to the driver in the event of a collision.
The seatbelt can be attached to the seat instead of the cab wall. This is particularly useful in rugged terrain, where the belt might otherwise jump about and, therefore, sit incorrectly on the driver. The Volvo FMX is also available with an optional airbag.
Mercedes-Benz Trucks also offers state-of-the-art and benchmark safety systems in its trucks, such as:
• CD radio with Bluetooth hands-free connectivity
• Telligent Lane Keeping Assist
• Telligent brake system with Anti-lock Braking System (ABS) and Anti-Slip Regulation (ASR)
• Cruise Control
• Voith Retarder
• Telligent Stability Assist
• Telligent Proximity Control Assist
• Active Brake Assist 2
• LED daytime clearance lights
• Hill-Assist function
Two innovations in the pipeline from Mercedes-Benz Trucks are Active Brake Assist 3 and Attention Assist. Active Brake Assist 3 is an enhancement to Active Brake Assist 2, with added features. It starts evaluating the traffic situation in front of the vehicle as soon as the vehicle drives off. In addition, it can detect stationary obstacles and can reduce the consequences of rear-end collisions, or completely avoid such accidents, through prompt initiation of full braking.
Attention Assist is a system that monitors the attention paid by the driver on the basis of various parameters. It is based on the Lane Keeping Assist system. The steering wheel is also extended by a steering wheel angle sensor. This system is activated each time the vehicle is started, or after 30 minutes with a running engine. It's purely an assistance system and does not intervene actively in driving operation.
Scania focuses heavily on driver support and safety in order to minimise road accidents. Alexander Taftman, product and marketing director at Scania South Africa, says: "The driver is the most important component in any transport operation. A driver who enjoys his job and feels at ease will perform better. This has an immediate impact on road safety."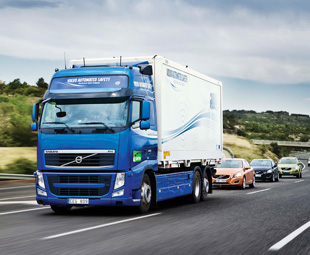 He explains that, thanks to generations of thorough research, design and testing, Scania vehicles have proven to be exceptionally safe in all laboratory and real-life conditions. "This is in no small part due to the wide array of innovative safety and support systems in each Scania vehicle.
"These developments have allowed us to offer consistently improved driver information, visibility and vehicle response systems with each passing year. Sophisticated braking, electronic stability sensors and camera display units are just a few examples of our commitment to increasing road safety," Taftman adds.
Scania Driver Support is a real-time support system that coaches drivers with hints and feedback to refine their driving styles. This innovation, which is now standard on new Scania long-haulage vehicles specified with a retarder, electronic braking systems (EBS) and a GRS gearbox, helps drivers maintain the skills obtained during driver training. It focuses on key factors that heavily influence safety and economy.
The general perception about Chinese manufacturers may, in the past, have been that they were not renowned for their safety systems. Some of them are, however, trying to rectify this. Paul Richardson, national sales manager of the Truck and Bus Components CC at Dongfeng Africa, explains: "All of our trucks have (and have always had) full air brakes. We have also had ABS as standard since 2010. Our cabins are the first Chinese ones to comply with European safety regulations."
When selecting a fleet management system, for safety systems specifically, businesses should ensure that certain features and functionality are included, based on their unique requirements.
Various telematics companies provide these kinds of solutions. According to MiX Telematics, these can include video trip replay functionality, which includes all events and violations, allowing for trip analysis and effective driver debriefing on return. In fact, data shows that monitored drivers are less likely to be involved in accidents. They drive more slowly because they know policies are enforced and they are aware of the device's presence in the vehicle.
Resource Tracking, a local provider of fleet management software, recently announced a partnership with Crashboxx Telematics, a United States-based developer of advanced crash solutions for fleet and insurance cars. The partnership will see Resource Tracking bringing various Crashboxx offerings to the African market.
Kobus van Zyl, managing director, Daimler Trucks and Buses South Africa, rightly points out: "An active safety system in commercial vehicles is only one element of the solution. This is where the relationship between a commercial vehicle manufacturer and the fleet owner comes into play.
He adds: "We need to work together to ensure that the vehicles we put onto the road have adequate safety systems, that they are roadworthy and well maintained, and that the drivers are both well trained in using the vehicle, and well taken care of in terms of their health and well-being."
Focus on Transport
August 1, 2014
Published by