The Tata Evolve limited edition, which is based on the Xenon XT model, has found favour with many buyers looking for higher-specification, double-cab pickups at a reasonable price, so an additional limited exterior colour choice has been made available.
When this model was introduced earlier this year, it was offered only in white. The exterior of the Evolve limited edition features a roll-over bar behind the cab, side steps, a front nudge bar and a tow bar, as well as unique badging and a special decal package. The alloy wheels have been revised as an additional distinguishing feature.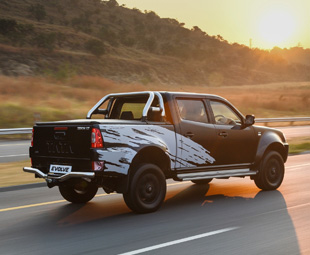 The big change to the interior is leather trim for the seats, while the Evolve logo also appears on the interior floor mats.
"The Tata Xenon Evolve limited edition model has proved to be an excellent example of the way in which Tata listens to input from its customers and dealers," says Kyri Michael, the CEO of Accordian Investments.
The Evolve limited edition is offered as a 4×2 model at the retail price of R269 995. A 4×4 model is also available on special order.
Focus on Transport
June 22, 2016
Published by