Brazilian buses and South African befuddlement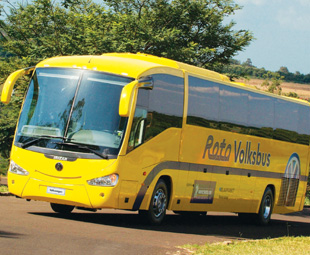 FRANK BEETON reports on Brazil's ailing bus industry and the possible implications for South Africa
In recent years, we have become accustomed to Brazil being an important supplier of buses to the world market. The South African market, in particular, has been drawing chassis and complete bus requirements from Brazilian sources for some time.
This has primarily been because the Brazilian industry has remained committed to the design philosophy of a traditional chassis and separate body bus and coach, while many other manufacturing countries have adopted the integral (monocoque) construction method.
Importantly, the Brazilian bus market has also continued to demand the availability of front-engined, ladderframe bus chassis, which is a design layout favoured by many South African operators.
Brazil's ability to continue building vehicles to these favoured design criteria has been enabled by a healthy domestic market, and those of a number of neighbouring South American countries that have been happy to follow the Brazilian example.
However, since the Brazilian domestic economy went into recession at the beginning of 2015, demand levels have been slashed, with the market for bus bodies having declined from 16 978 units in the first half of 2013, to only 5 235 units in the first six months of 2016.
Sales of bus chassis also declined by a margin of 41,2 percent from 9 658 units, during the first half of 2015, to just 5 683 units in the first six months of 2016.
Fortunately, the bodybuilding industry's healthy export business has helped to stabilise the situation by regularly returning sales of around 1 800 units for each January to June period since 2013.
Export efforts have undoubtedly been supported by the falling foreign exchange value of the Brazilian real, while the bus industry's extensive use of locally procured components has served to reduce its exposure to cost increases related to imported content.
Of the chassis manufacturers, Mercedes-Benz led the standings during the most recent reporting period (January to June 2016), with 54,7 percent of the available sales, followed by MAN/Volkswagen with 16,22 percent, and Agrale on 16,17 percent.
Of the body manufacturers, Caio-Induscar led the domestic sales race during the same timeframe with 33,7 percent penetration, followed by Marcopolo (27,1 percent) and Neobus (13,5 percent). Marcopolo was the clear leader among bodywork exporters, having accounted for just more than 50 percent of total shipments.
South African importers and operators have a significant vested interest in the survival of the Brazilian bus industry; for continued availability of favoured products, and the parts to keep them operational.
Potential sources for front-engined, ladderframe bus chassis have diminished in number, and local users must rely on sustained demand in markets such as South America and India to ensure that these products remain available.
For this reason, a number of local boardrooms are sure to be keeping a close watch on the Brazilian economy, and hoping for early signs of revival.
Focus on Transport
November 4, 2016
Published by