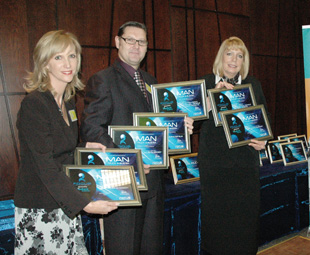 In the run up to November 2010's Excellence Awards banquet, WesBank and FOCUS hosted an immensely successful breakfast event in Fairlands, Johannesburg, to announce this year's finalists.
Our industry rocks! In a nutshell, that was the verdict of Ian Byers, managing director and founder of Scott Byers. Speaking at the FOCUS on Excellence Awards breakfast, hosted by WesBank, Byers noted that players within our industry could hold their heads high. "Companies within this industry are generally doing an excellent job. You are up there with the top companies elsewhere in the world," he told guests at the breakfast.
Byers, whose company conducted the exhaustive research process that culminates in the announcement of the finalists, said the company had taken the research process to a whole new level.
There are two important innovations this year:
•  Only companies that achieve at least 10% of the vote can be finalists.
•  FOCUS has been able to share the percentage vote that the finalists have achieved.
General manager WesBank Corporate, Gerald Burton, addressed the high-level gathering, and pointed out that the company was delighted to be once again sponsoring the FOCUS on Excellence Awards (this is the third consecutive year of sponsorship). "As an organisation that celebrates expertise and know-how, this is an ideal opportunity to strengthen existing business relationships and form new partnerships," he noted.
"We believe that the local transport industry is the best in Africa and on par with any country in the world. It is a privilege to honour those
companies that are doing an outstanding job in this sector. Those of you who are involved – whether as nominees, finalists or winners – are truly world-class institutions.
"Our support of the FOCUS on Excellence Awards demonstrates our commitment to being a value-adding stakeholder in this vibrant industry. The industry is of huge importance to the South African economy, one that touches the lives of every South African, be it delivering basic product or safely transporting passengers," he told guests.
According to Burton, the company identified the commercial vehicle market as an opportunity for growth eight years ago. "By combining our passion for this business, together with partnering with OEMs and dealers, we have managed to ensure a formidable and sustainable business model in the commercial vehicle industry," he said.
Also speaking at the breakfast, FOCUS editor Charleen Clarke said how pleased she was at having introduced this annual event onto the calendar, and was also satisfied about convincing the sceptics that this was a visionary concept.
"I'm immensely proud of the high quality standards in the industry, and that the players within this industry perform at world-class levels. To achieve a scorecard of over 90% is really something special – particularly in the categories of best sales, best service support and best parts support. And every finalist in those three categories achieved this rating," said Clarke. "Along with the rest of the finalists, they need to be congratulated. It is a huge honour to be a finalist; it confirms that these companies are doing a world-class job."
The FOCUS on Excellence Awards 2010 ceremony will be held on Tuesday, 9 November, at the Barnyard in Broadacres, Gauteng.
Focus on Transport
October 1, 2010
Published by