Bus business bounces back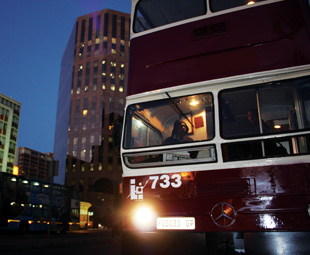 The bus side of public transport took a knock in 2009, but things are on the up-and-up once more. JACO DE KLERK takes a look at some "never-say-die" industry players to see how they've weathered tough times and are moving forward.
Contrary to what you might think, the commuter bus industry didn't take a knock due to the economic downturn of 2008/09 … This in itself would have led to more people using the industry's services. Bronwen Dyke, spokesperson of Golden Arrow Bus Services (GABS), explains.
"Golden Arrow primarily transports commuters to and from work. When the cost of living rises many commuters turn to public transport as it is more expensive to travel by private vehicle. The bus industry is, therefore, inherently economically anti-cyclical." In short, public transport picks up when the economy fades …
What then happened in 2009 that led to the commuter bus industry's decline? "In 2009 the Division of Revenue Act (DORA) was implemented. It shifted the subsidy from being passenger-based to a kilometre-based structure," Dyke points out. "This not only reduced the subsidy allocation itself, but placed severe constraints on the expansion of services – despite increased passenger demand."
She adds that services were, therefore, significantly reduced at the time, while expansion remained limited. But all is not lost, however. "During the 2008 to 2009 period, passenger numbers declined, but began to steadily increase again in 2010," Dyke reassures. "This growth pattern has continued since then."
Everything isn't all sunshine and roses, however, as there are still some hiccups for Cape Town's oldest bus operator. "Golden Arrow operates on over 1 300 unique routes and there are a myriad of challenges associated with such a large footprint," Dyke tells FOCUS.
She continues: "These include obvious issues such as traffic congestion, roadworks and a lack of policing on the dedicated N2 bus lane. There has also been a significant increase in passenger demand along all of our routes, which we have not been able to fully meet due to the fact that the necessary operating licences for additional buses have not been granted by the Provincial Regulating Entity."
Some other challenges also arise from industry developments. "The transport industry worldwide is undergoing a period of rapid change, particularly in terms of technological advancement and growing environmental concerns," Dyke points out.
"The challenge is to find the perfect balance in terms of keeping services affordable, ensuring that service levels are constantly improving and using technology as astutely as possible, while making every effort to limit the environmental impact of operating within the transport sector."
She adds that the introduction of other operators in the Mother City's greater metropolitan area poses a unique challenge, as GABS has been the major bus operator in this region for over 150 years. "For the first time Golden Arrow is no longer the only operator in the metropolis," Dyke relates. "There are already four other operators; namely Table Bay Rapid Transit, Sibanye, Transpeninsula and Kidrogen."
But GABS isn't letting this get it down. "Technological advances are of great interest to the company and we are constantly monitoring trends and measuring current best practices against new developments worldwide," she explains. "Our fleet has also undergone an aggressive recapitalisation programme and this is ongoing."
Dyke continues: "The reliability of the newer vehicles has assisted us to reduce our breakdown ratios but has increased our training requirements dramatically. For example, servicing new buses requires knowledge of computer-based diagnostic programmes. We have therefore had to re-train those employees, who were skilled in older technology vehicles, to enable them to maintain the newer vehicles equipped with modern technology."
But bus operators aren't the only industry players embracing the future. The City of Johannesburg (CoJ) is stepping up to the plate. The metropolis is planning to replace more than one third of its Metrobus fleet with modern, low-floor and dual-fuel, green buses. It also aims to convert non-specialised and shared services to green modes of transport.
A pilot project is being run linking the inner city to the Johannesburg Market Biogas Project that is being developed. According to communication from the City, Johannesburg intends to become a leader in green transport by focusing on some aspects of the green value chain.
This includes the development and commercialisation of biocrops and waste resources; such as green and domestic waste, as well as waste oil, to be used as biogas feedstock for transport applications. However, a raw product doesn't mean much on its own.
The CoJ also aims to improve skills development for the alternative fuel transport sector and to implement the infrastructure needed for alternative fuel supply, distribution and dispensing.
It also intends to develop, produce, implement and maintain energy-efficient technology – which includes fuel filters, gas conversion kits and fuel additives – for both public transport and private vehicle sectors. (Please read "Public transport: Earth's salvation?" in our Bus Stops section for more on the CoJ's green developments for public transport.)
The bus side of South Africa's public transport system is facing new challenges as it has to keep up with the latest in environmentally friendly developments, but – as past events have shown – it can weather tough storms and is open to embracing the future.
Dyke points out: "As South African roads become more congested, public transport will become a more attractive option and, if current trends prevail, we will continue to see people opting to use public transport rather than private vehicles."
Focus on Transport
February 1, 2014
Published by