Retirement age differs around the globe, but generally people get out of the rat race before they reach 70. However, JACO DE KLERK discovers that – after 75 years – instead of getting out, Thermo King is keeping things cooler than ever before
The festivities got underway on August 22, at the Dainfern Golf Estate, in Johannesburg. This was fitting, as Rainer Muhlschlegel, Thermo King's director for Middle East and Africa, explains: "It is actually quite appropriate that we're celebrating the company's birthday on a golf course, because Thermo King's history started on one."
He adds that 75 years ago, in 1938, Jo Numero – Thermo King's founder – was playing golf with one of his friends, who happened to have a meat factory … "While they were on the golf course one of the meat factory's employees came running up to the owner and said 'well, we've just lost another load of meat'," relates Muhlschlegel. "At the time they were using ice to cool the meat, which melted when the truck broke down, on its way to Chicago from Minneapolis."
Then the factory owner exclaimed with frustration (I guess): "Is there anyone who can design a fridge for me?"
Muhlschlegel continues, "Numero took up the challenge and together with his chief engineer – Fred Jones – developed the first transport refrigeration unit, which started the whole industry."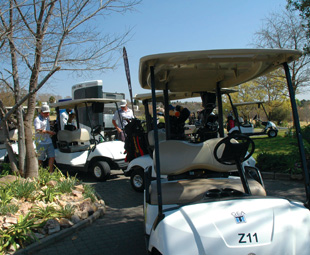 So Thermo King's staggering 75-year history started out with a revolutionary concept that changed the food and pharmaceutical transport industries (what a base to build from!) "That was the Model A; we're now in the Ses and Ts," says Muhlschlegel with a smile.
And the alphabet letters keep on coming. "We have come out with a number of new products that are making a good impact on the market," he points out. "In terms of long-haul trailers, we launched a new generation of our SLXe model, in October last year."
What about the Ts? "In the last two-and-a-half years we've brought a complete new range of the truck units into the market. The series was completed at the beginning of this year with a unit specifically designed for the dairy industry – the T-500 or T-Dairy," Muhlschlegel explains. "This has been extremely well received here in South Africa, where we have sold most of these units."
Peter Meroi, Thermo King's sales and service manager for southern and east Africa, adds: "These units complement the initial launch of the T-Series, which can now be used from 10-m trucks down to 4,5-m trucks – so the family is complete."
New additions will also be joining the range soon, as Muhlschlegel points out: "Within the next few months we will launch a new vehicle-powered unit suited to small delivery vans – the Ce-Series … So we're constantly changing, improving and developing."
However, it isn't all about the products, as Muhlschlegel explains when answering the question on what sets the Thermo King brand apart from the competition: "Our dealer network. Any technical product is only as good as the service and parts back-up that you can provide … And we have the most extensive dealer network worldwide."
Locally Thermo King is represented by GEA Refrigeration Africa (GEA), which celebrated half a century last year, with the two organisations sharing 48 years of history, since 1965. "It has been a very rewarding and fruitful cooperation between the companies," says Muhlschlegel. "GEA is an excellent company and definitely one of our top dealers."
Meroi adds: "GEA is working in a demanding market and we feel the company has really stepped up to the challenge, building and maintaining itself to deliver excellent services to our clients."
And, GEA is doing this in true Thermo King fashion, as Ronnie Meechan, general manager of GEA's transport division, explains: "We're ranked as a platinum dealer, which means we adhere to all the criteria that Thermo King sets out, for example; branding, marketing and administration."
As a reward for its hard work, GEA was presented the Truck Dealer of the Year Award last year. Here, over 200 dealers were judged on the type and number of units they sold, as well as the different industries in which they did business. "For example, globally the dairy industry is very small, but we took the biggest market share in this field through one of our projects," Meechan points out, "for which we received the Best Practice Award."
He continues: "Our business is about people and relationships, especially the relationships with our clients. I really do feel that a culture is built on the value that we add to each other's businesses in the long run."
And Thermo King and GEA are in it for the long run. "Thermo King came into the country in the 1960s and has stayed – through the tough times and as part of GEA," emphasises Meechan.
He adds that, similar to any other industry, there are a lot of competitors that come into the market … "Some stick around, some leave and some come back again, but, in the long run, Thermo King has shown, through GEA, that it has got the maturity and stamina to stick around through the tough times. That can't be done by us as a company alone – it is done with the support of all our people and our clients."
So it is all about partnerships … And the partnership between Thermo King and GEA will continue to grow. "We've seen many different leaders in both companies throughout our history," says Meechan, "but the one thing that has remained constant is the tight relationship between the two companies."
For the future, this partnership is set to bloom into Africa. Muhlschlegel points out that South Africa is by far the most developed in terms of refrigeration transport on the continent; however, there are other countries that have practically no units. "So we are moving into those, as Africa is filled with developing markets with substantial growth rates."
It is therefore one of Thermo King's top priorities to enhance its African footprint. Meroi says: "The continent is very dynamic and quite diverse. So you have to take the different countries as individuals – you can't take it as a whole – and you have to approach each one in a different style strategically as well."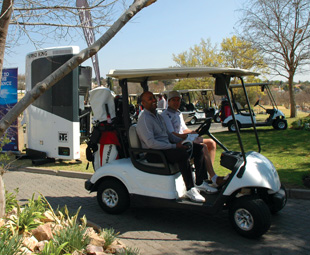 Muhlschlegel adds: "We are already represented in 17 countries, but have decided to develop the business in South Africa's neighbouring countries and in some countries to the north, together with GEA." The companies are already operating in Dar-es-Salaam, Tanzania and Namibia – with local branches in Johannesburg, Durban, Port Elizabeth, Bloemfontein, Nelspruit, Richards Bay, George, Boland, Newcastle, Worcester and Polokwane.
So Thermo King and GEA definitely have an extensive South African footprint, with their treads rising on the rest of the continent. "A product is only as good as the network behind it," re-emphasises Muhlschlegel, "and I must say GEA has been very supportive of Thermo King and a very good partner over the years."
He adds: "We have a great opportunity to develop the team and continue the legacy of Thermo King here, so that they can look forward to the 100th anniversary."
It will be interesting to see what innovations, relationships and future prospects the next 25 years will deliver … But, with Thermo King and GEA at the helm, refrigeration transport will continue to evolve in South Africa and abroad.
Focus on Transport
September 1, 2013
Published by