Clearing Europe's arteries
As Asia starts to wade ever deeper into Europe's automotive waters, the European Commission's Trans-European Transport network has started to gain momentum. THINUS VAN ROOYEN reports.
With a meagre growth index of 0,2 percent as of August 2013, Europe's current economic woes are still leaving a sour taste in the mouth of its transport and logistics industry. With factors such as high fuel prices creating a visible limp in commerce in general, the crucial realm of public and private heavy road transport in Europe has not been left without its share of cuts and bruises.
Where the independence of high-end European manufacturers was once uncontested, recent joint ventures and mergers between European companies and the rapidly expanding Asian competition is becoming more commonplace.
With the Volvo Group's successful acquisition of 45 percent of the newly subsidised commercial vehicle division of the Dongfeng Group (DFG), Volvo has become the largest manufacturer of commercial vehicles in the world, with a combined annual volume of 320 000 and 98 000 heavy and medium trucks respectively.
Alongside more examples; such as the significant 2012 merger between the Daimler group and the growing Asian low- and medium-end manufacturer, Foton, various Chinese companies, such as the Great Wall Motor Company (GWM), have begun expanding into Europe.
Recent plans by GWM to construct its own factories in Bulgaria also suggest that the presence of Asian motoring manufacturers in Europe will soon become cemented.
Parallel to GWM's aggressive invasion of the European market, agricultural heavy vehicles from companies such as Foton and Dongfeng have become established in the United Kingdom and Germany in recent years, making it seem like only a matter of time before this trend seeps into the heavy-vehicle road freight market.
The long-term results of these ventures have paved an unclear path for the future of the heavy vehicle market and industry in Europe. With a growing number of shamelessly cloned Asian doppelgängers of older European and Japanese vehicles being imported, the impact that these vehicles will have on Europe's ever-rising emissions and safety standards remains uncertain.
Growth for both Asian and European manufacturers notwithstanding, the simple fact of the matter is that transport and logistics can literally be seen as the lifeblood of any economy, and therefore anything and everything should be done to alleviate some of the financial backlash and disheartened attitudes that have fallen upon the shoulders of the European transport industry.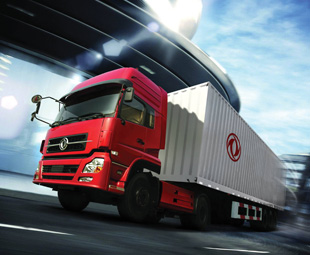 Statistically speaking, more than 44 percent of all goods are transported via roads in Europe, with a great deal of manufacturing processes relying heavily upon on-time delivery. Thus, free flow of traffic is not only a necessity should one wish a fresh carton of milk at one's doorstep every morning, but also an absolute must if you don't want that milk to be sour.
Because the flow of this lifeblood has become clogged, millions of potential euros and productive man-hours are lost every day, and it would not take a great deal of effort to figure out the further effects of this on the Europen economy.
The good news is that a recent venture by the European Commission, known as the Trans-European Transport (TEN-T) network, has begun a long-term campaign to unite all the Europen transport networks under a single banner.
According to the European Commission's website, vice president of the Commission Siim Kallas says: "This is a historic agreement to create a powerful European Union (EU) transport network across the 28 member states.
"This agreement will connect Eastern and Western Europe and replace the current transport patchwork with a network that is genuinely European. This is a major step towards building a new transport network that will be the backbone in boosting growth and competitiveness in Europe's single market," he continues.
Despite national freight transport still making up an average of 67 percent of all transport in Europe, almost a third of all transport still takes place across borders, with a small 1,2 percent of total transport taking place in the form of cabotage.
Clearly, the necessity for standardising and easing the connections of road networks in the EU is a matter of some importance.
Alongside the need for the free flow of traffic, there are also steps being taken to keep road safety at the standard it needs to be to sustain the wellbeing of thousands of professional truck drivers.
From the truck driver's perspective, this means being paid sufficiently for their labour, having more secure rest areas, better road safety and decent working conditions. (Yip, some of these conditions are not exclusive to Africa!)
Therefore, in line with the 2003 initiative to formalise the training of truck drivers, Europe has recognised the need to make truck driving an appealing career choice, with supplementary training in safe and eco-friendly driving being a must for anyone looking for a career on European roads.
By creating a universal standard, as well as creating and cementing new links in route chains, the TEN-T network aims to ease traffic congestion, speed up transport for both the private and public sectors and create new and standardised road and rail systems for the whole of Europe.
However, it does seem that the act of unclogging Europe's transport arteries will not come without its (quite literal) price. Having been unanimously agreed upon by the European Commission, Council, and Parliament, it is estimated that the cost of the total TEN-T network will be a staggering €550 billion (R7,15 trillion), until the year 2020.
However, with initial success stories such as the recent opening of the new North Rail Terminal in the British port of Felixstowe, the TEN-T initiative has generally been well received, and promises to have a positive effect on both rail and road infrastructure throughout Europe.
Focus on Transport
August 4, 2013
Published by