Construction in the limelight
Billed as "the must-attend trade fair for the mining and construction industry on the African continent", Bauma Conexpo Africa 2015 took place at the Johannesburg Expo Centre Nasrec between September 15 and 18. FOCUS was there.
While the organisers projected that more than 20 000 visitors would attend the show, it was quieter than expected – with 14 300 visitors from 75 countries. Nonetheless, 616 companies from 42 countries occupied the 68 000 m2 exhibition space.
A few members of the commercial vehicle industry were in attendance, offering a variety of solutions for the construction and mining clientele. These included Fuchs Lubricants, Loadtech, MAN Truck & Bus South Africa, Martin Trailers and Scania South Africa.
The overall feeling was that, although the number of visitors seemed low, the people visiting the stands were "the right people".
"We've been pleased with the show this year," says Alexander Taftman, product and marketing director, Scania South Africa. "We have had a number of enquiries and deals off the stand."
Of course, the "yellow metal" is always the star of a Bauma expo, and there was much activity in this sector too. Babcock International, known to our readers for representing the DAF Trucks brand, also represents Volvo Construction Equipment, Winget, Tadano, Volvo Penta and, in South Africa, is the exclusive distributor of Shandong Lingong Construction Machinery (SDLG).
SDLG launched its B877 backhoe loader to Africa at the show. Already hugely popular in the Middle East, since its launch at the end of 2014, the SDLG B877 is an 8,4-t, side-shift backhoe loader designed for all-day operation. It is remarkably versatile, whether using the loader or the excavator, and has the power and manoeuvrability to handle most jobs in this weight class.
It is fitted with a turbocharged 70 kW Weichai engine that, together with the efficient SDLG hydraulic system, provides 60 kN breakout force. The B877 can be equipped with a variety of attachments and tools to handle an even more diverse range of tasks, including a multi-purpose front bucket as standard.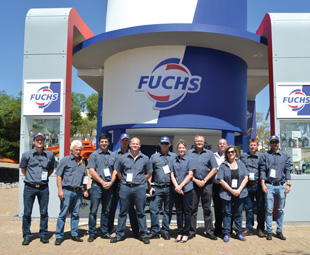 "This is a challenging market at the moment with a decline in the mining sector. With more focus being put on construction, however, the B877 backhoe loader is an ideal solution for small contractors and other construction customers. We expect the model to be as popular here at Bauma Conexpo Africa as it has been in other regions," says Stefan Bach, SDLG business manager for Africa.
Co-locating with Bauma Conexpo Africa was the first IFAT Environmental Technology Forum for water, sewerage, refuse and recycling solutions for the mining and construction industries. Big news at IFAT this year was the launch by Goscor Cleaning Equipment of its HPVR-1000 Recycler, Combi and Mobile Vacuum Trailer.
Locally engineered and produced by Vaal-based Highpoint Vacuum, the HPV-1000 is claimed to be a first for South Africa. The Recycler is a combined vacuum and suction truck with a water recycling system used for cleaning sewerage and storm drains.
The machine's capability to recycle jetting water can save up to 20-million litres of water per annum. It holds 6 000 litres of clean water and has a 10 000-litre suction tank.
The mobile vacuum trailer can be easily towed behind a pick-up truck allowing easy access to any industrial or mining site.
Focus on Transport
October 1, 2015
Published by