Daimler sets up in Rustenburg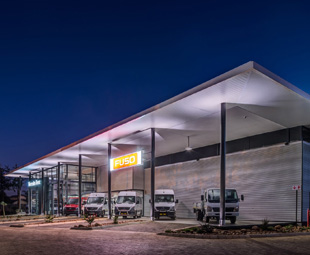 Daimler Trucks & Buses and Mercedes-Benz Vans have opened a new commercial vehicle dealership in Rustenburg. The dealership, Maemo Motors, offers a comprehensive sales and after-sales service for Daimler Trucks & Buses' (DT&B) Mercedes-Benz Trucks, Vans and Buses, as well as Fuso Trucks.
"The North-West Province is known for its mining activities and we are anchoring Maemo Motors as the foremost commercial vehicle dealership to support this function. This is our way of confirming our confidence in the local industries and the long-term economic outlook in this particular region," says Kobus van Zyl, executive director of Daimler Trucks & Buses, Southern Africa.
Established at a cost of R52 million, Maemo Motors is situated just outside of Rustenburg's main central business district, with easy access to the N4.
Located on a 18 554-m2 site, the 3 582-m2 Maemo Motors building boasts 14 work bays and an impressive 940-m2 parts distributed national inventory (DNI) store. Customers can enjoy an on-site bistro, while the sales and after-sales team will occupy the administrative block.
In addition, Maemo Motors has taken the environment into account and incorporates a number of "green building" features such as: solar-panel power generation; borehole water utilisation; motion-sensing lighting; natural-light optimisation; and low-water-use gardens.
Focus on Transport
July 14, 2016
Published by