In his monthly review of global news for local truckers, FRANK BEETON examines an important strategic direction change at Detroit Diesel, notes the power options for Ford's American Transit, describes a new International truck with an "old" name, and previews Mercedes' new joint venture van

The name "Detroit Diesel" will resonate with many of our readers. Some will remember the bellowing two-stroke V6 and V8 power units that started becoming familiar on South African roads from the late 1960s in various International, ERF, Atkinson and Diamond T trucks, often paired with Allison automatic transmissions. These engines were also standard equipment in most contemporary American buses. Other readers will be aware of the more recent global success of Detroit Diesel's four-stroke Series 60 engine, which was to be found locally in some of Freightliner's premium hauler models.
The General Motors Engine Division was founded in 1937, and built many thousands of lightweight, two-stroke diesels for use in landing craft, tanks, road-building equipment and standby generators during World War II. Renamed Detroit Diesel Engine Division in 1965, it merged with the Allison Division in 1970 to form the Detroit Diesel Allison Division. In 1988, when Penske Corporation bought a portion of Detroit Diesel, it was reconstituted as an independent operation. Finally, in 2000, the then DaimlerChrysler AG acquired the company from GM/Penske, merging it with the MTU Friedrichshafen and Mercedes-Benz industrial engine operations to form DaimlerChrysler PowerSystems. In 2006, Daimler Trucks North America absorbed Detroit Diesel on-highway engines, adding the engine manufacturer to its portfolio which also contained the Freightliner, Western Star and Thomas Built Buses enterprises.
Subsequently, it was announced that Detroit Diesel engines would not be supplied to vehicle manufacturers outside of the Daimler family after 2006, and that the company would be the start-up manufacturing location for Daimler's Heavy Duty Engine Platform global engine family from 2007. Intended to eventually replace eight separate ranges of engines manufactured by Detroit Diesel, Mitsubishi Fuso, and Mercedes-Benz, the worldwide HDEP family kicked off with a 14,8-litre unit built at Redford, Michigan, for fitment in Freightliner products. The six-cylinder in-line HDEP family has subsequently been extended to include 12,8- and 15,6-litre displacement variants, with a smaller displacement version still expected to emerge, and will eventually cover the power spectrum from 185 to 480 kW (248 to 644 hp), with up to 3 000 Nm of torque.
The name "Detroit Diesel" was completely unambiguous, but there has been increased global demand for alternative fuel engines, which don't necessarily sit comfortably under a "diesel" nameplate. This may have been one motivator for a strategic rethink, but on October 15, 2011, Daimler Trucks North America took the game a considerable step further by unveiling new "Detroit" branding for all its powertrain-related components, indicating that the abbreviated name would be used for axles and transmissions as well as engines. Subsequently, more details have been revealed concerning Detroit Axles, which includes single drive, tandem drive and steering units covering the mass rating spectrum from 2 700 kg to 20 900 kg. Key features include needle-roller bearing-equipped steering knuckles, and an off-set design in the tandem drive units providing improved angles for the inter-axle shaft.
Then, on March 22, details of Detroit Transmission's initial offering were announced. This emerged as a 12-speed automated lightweight aluminium gearbox, with a choice of direct or overdrive gearing. Design features include two-pedal operation, helical gears, a kick-down facility, Hill Start Aid, Eco Roll efficient coasting, cruise control, and driver selectable shift modes. It seems likely that this transmission has its origins in the latest Mercedes-Benz PowerShift unit used in the new Actros long-distance hauler for the European market.
The use of generic Detroit branding for powertrain components fitted to in-house products seems a little perverse at first glance. However, on deeper reflection, a possible strategy rationale becomes clearer … it appears to have its roots in the American tradition of "kit truck" manufacture. Historically, operators would make their choice of chassis, be it Kenworth, Peterbilt, Freightliner or whatever, and then spec the rig out from the component catalogues of Cummins, Detroit Diesel, Caterpillar, Eaton, Rockwell, Spicer et al – arriving at the mix most favoured for their particular operational circumstances. However, in recent years, the choices available to truckers has been severely reduced by Daimler's "ring-fencing" of Detroit Diesel, Caterpillar's exit from the "loose engine" business, and efforts by truck manufacturing groups to vertically integrate their products using componentry sourced from in-house global resources.
Daimler Trucks North America has been no past tradition of Freightliner or Western Star-branded engines, transmissions or axles. Trying to introduce components carrying these names may have seemed too radical a step, and using "Daimler" as a generic name could have provoked unwelcome patriotic responses from certain US-owned competitors! Very little is seen as more American than the name Detroit, and once the "Diesel" suffix had been dispensed with, this would have presented as a suitable appellation for everything downstream of the Freightliner or Western Star nameplate. In a way, this also preserves the American tradition of differentiated labelling of the truck and its major components.
The rolling out of Daimler's global truck manufacturing strategy has become an absorbing story, exhibiting a commendable degree of transparency in most of the decisions implemented thus far. The integration of operations in markets as diverse as the Americas, Europe and Asia, without disturbing the previous balance in such a way as to erode the already established business platforms, presented an enormous challenge, but progress made to date seems to have been devoid of any potentially fatal errors. The ultimate benefit of global groupings, which relates to cost savings through the sharing of development and production costs across the greatest available volume of sales, can only be realised by the widespread rationalisation of products, or, at least, components – and Daimler seems to be reaching this objective with the minimum of disruption.
America to get a Diesel Transit
Another global strategy in progress is Ford's re-awakening of interest in its commercial vehicle business. Although firmly at the lower end of the payload spectrum, the Transit integral van is an important part of this strategy, and Global Focus has been following news of its internationalisation with interest. The latest item to emerge concerns the engine options that are to be made available to American buyers following its 2013 model introduction. The base power unit will reportedly be Ford's 3,5-litre EcoBoost direct-injection turbocharged V6 petrol engine, but there will also be an as yet undisclosed diesel option. This will be the first time since 2009 that Ford has offered a diesel power choice in its American "full-size van" model. In that year, the 6,4-litre diesel option on the E-Series van, which the Transit is due to replace, was discontinued.
Initial indications are that the European members of the new Transit family will use variants of the 2,2-litre Duratorq TDCi diesel engine. The recently revealed Tourneo Concept, precursor to the new Transit line-up, was powered by a 115 kW (155 hp) version, while other power ratings, at 75 kW (100 hp) and 93 kW (125 hp), are expected to be made available to Transit buyers. Speculation in America is that the 6,7-litre diesel used in the heavy-duty F-Series pick-up may be used, but it seems the American version will require substantial surgery and adaptation to accommodate the sort of engine displacements contemplated here.
It has also been stated that the American version of the Transit will be driven by its rear wheels. This confirms that rear-, front- and all-wheel drive variants of the global family will co-exist, allowing each market area to select the variant, or variants, of its choice. This spectrum of drive options will be carried over from the current Transit family, and the availability of alternative driveline configurations seems to be becoming increasingly entrenched as standard practice among European integral van manufacturers.
Return of the Loadstar
The erstwhile International Harvester Company manufactured and marketed a series of trucks named "Loadstar" from 1962 until 1979. Most were of a semi-forward control configuration, with some engine intrusion into the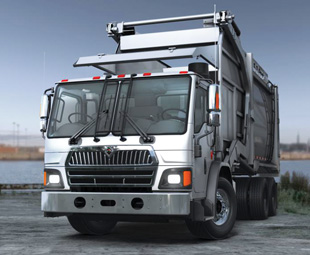 cab, although forward control (cab-over) models were also available in North America. Loadstars were built in Chicago, but also surprisingly, at Doncaster, in the United Kingdom. The bonneted models were quite popular in South Africa, in spite of a legal payload disadvantage when compared with competitive British forward-control units. They were normally offered locally with a choice of large-displacement petrol V8 or Perkins 6-354 diesel engines, although top-of-the-range single or tandem-drive models could be had with a Detroit Diesel 6V53N two-stroke diesel driving through an Allison MT42 fully automatic gearbox.
The name has lain dormant since then, but it was inevitable, with Navistar International's nomenclature system, that it would eventually be revived to join WorkStar, PayStar, TranStar, TerraStar et al constellation. This happened late in March, when the new LoadStar (note the new form with a capital "S") "work truck" series was announced, and it has emerged as a fairly spectacular product. Despite the North American market's well-known preference for conventional (bonneted) trucks, there are still some applications for which forward control models are more suitable, including the waste, concrete pumping and aircraft refueling duties for which the new LoadStar was created. In fact, the LoadStar's configuration is appropriately described by its manufacturer as "lightweight low cab-over engine", where most of the crew accommodation is provided forward of the engine. Gross Vehicle Mass ratings range from 16,8 tonnes to 30 tonnes.
The cab is also interesting in that it is of stainless-steel construction, claimed to be an industry first for cab-over designs. This recognises the potentially corrosive environments in which the truck may be tasked to work. Other features include a multiplexed electrical system, variable depth chassis frame rails, optimised cab space with increased seat and steering wheel movement, wide 90o door opening, and 40 degree front wheel steering cut angles. The LoadStar will be made available in 4×2 and 6×4 versions, equipped with Meritor or Dana Spicer steering and drive axles. Power options include Navistar's range of 10-, 11- or 13-litre MaxxForce diesel engines, while a Cummins Westport ISL-G compressed natural gas fueled unit will become available in 2013. Transmission choices include Allison's 3000, 4000 or 4500 Series full automatics.
Mercedes' joint van
As we have noted before, European motor manufacturers are involved in a number of van-related joint ventures. These are typified by the Mercedes-Benz Sprinter and Volkswagen Crafter, which have common structures but differentiated powertrains; the Sevel joint venture in Italy, which builds Fiat's Ducato; Citroen's Jumper; Peugeot's Boxer; and the GM Europe/Renault/Nissan co-operation which produces the Vivaro/Trafic/Primastar and Movano/Master/NV400 ranges. In the smaller one-tonne payload class, the SevelNord plant near Valenciennes in France produces Citroen's Jumpy, Peugeot's Expert and Fiat's Scudo light vans.
In May, 2010, a wide-ranging strategic co-operation agreement was signed between Daimler AG and the Renault-Nissan Alliance. Based on a relatively small 3,1 percent cross-shareholding of Renault, Nissan and Daimler equity, this was stated to encompass technical, product and production co-operation including the joint development of new rear-drive small vehicle architecture, the cross-supply of power units, and small van model product exchanges. Longer-term objectives included the sharing of modules and components between Mercedes-Benz and Nissan's luxury brand Infiniti, corporate co-operation in the US, China and Japan, and joint technology development relating to electric vehicles.
The significant issue for Global Focus in this agreement relates to "small van product exchanges". Prior to the agreement, Mercedes-Benz had nothing smaller than the Vito/Vivano family, while Renault had its Kangoo, and Nissan the NV200. Daimler clearly had a priority to fill this gap in its product line-up, and therefore included the item in the agenda when the partnership with Renault-Nissan was on the table. The small van segment in the European market has recently grown to around 700 000 units per annum, so it's important that leading commercial vehicle manufacturers participate in this category. During February this year, Mercedes-Benz announced that its Citan would be unveiled at September's IAA Commercial Vehicle Show in Hanover.
The model name is a combination of "City" and "Titan", giving a clear indication of the urban environment in which the new van is intended to work. It is to be offered in panel van, crewbus and mixed-use variants, with optional lengths and payload capacities. Diesel, petrol and electric drive versions are included in the product plan, and the vehicle is to have an electronic stability programme as a standard feature. Although technical detail was limited in the initial product information, it was stated that the Citan would become available for sale in Europe during the autumn of 2012.
As we went to press, Mercedes-Benz released official information and images of the new Citan. Watch out for the next edition of FOCUS, when we will bring you more in-depth details – Ed.
---
Global FOCUS is a monthly update of international news relating to the commercial vehicle industry. It is compiled exclusively for FOCUS by Frank Beeton of Econometrix.
Focus on Transport
May 2, 2012
Published by