No, the headline of this article is not referring to that state of intoxication that allows us to ignore the small voice in our heads telling us not to do something and we do it anyway, or, even to the various Dutch brands of beer that have been launched in South Africa. It refers instead to Dutch truck manufacturer, DAF, which has recently (and bravely) launched a new dedicated head office in Benoni. The premises will also act as parts distribution centre and Johannesburg retail operation
This is the first step in DAF's planned strategy to develop a following in South Africa, as it has already done in Europe and the USA. "This represents a significant investment and demonstrates Babcock's commitment to establishing DAF as one of the leading brands in the region following our appointment as the exclusive distributor for DAF Trucks in July," says Babcock chief executive officer for Africa, Roger O'Callaghan. It is planned that DAF premises will be opened in Cape Town and Durban in 2011, with Durban already housing a satellite parts distribution centre.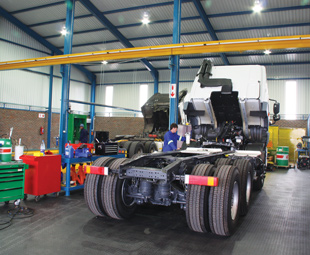 Ron Bonsen, member of the board of management of DAF Trucks NV and director of marketing and sales, has faith that DAF has the potential to compete in the tough South African market. "The establishment of the new dealer premises in Johannesburg perfectly underlines the ambition if Babcock is to position DAF as one of the leading truck brands in South Africa. DAF's success in the distribution of construction equipment provides extensive experience to realise ambitious sales volumes with our popular CF and XF heavy duty tractors and to achieve class-leading service levels," comments Bonsen.
The 8 200 m2 premises includes 1 063 m2 of office space and 1 368 m2 of warehouse, workshop and driver accommodation area, suitable for the expected growing expansion of the company in South Africa. The on-site driver accommodation area is particularly useful for trucks that remain on the premises overnight for repair.
The parts distribution centre stocks a complete parts inventory for DAF Trucks, with parts needed regularly always being available on the premises. Several less frequently needed parts are also kept on site, so that in cases of emergency these can be supplied immediately. The site's close proximity to OR Tambo International Airport means that parts can be delivered countrywide with ease.
The workshop facility can accommodate up to 16 tractor units and is equipped with a five-ton capacity overhead crane. Roadside breakdowns can be handled immediately with the field service technicians available on call 24/7 through a national call centre.
As well as these amenities the premises house a training centre which will provide driver training for Babcock and customer employees as well as technical, mechanical and electrical training by DAF-trained instructors. January 2011 will see the commencement of the first Manufacturing, Engineering and Related Services SETA (MERSETA) accredited apprentice diesel technician training programme.
Focus on Transport
February 1, 2011
Published by