Endless possibilities for success
The past two years have certainly been eventful for the Volvo Group, as the company successfully launched new products for Volvo Trucks, Renault Trucks and UD Trucks during this period. Torbjörn Christensson, president of Volvo Group Southern Africa, is the man tasked with making sure everything happens according to plan
The Volvo Group is one of the world's leading manufacturers of trucks, buses, construction equipment, as well as marine and industrial engines. The Group also provides finance and service solutions, and sells its products in more than 190 markets around the world.
As the president of Volvo Group Southern Africa, Christensson looks after the various brands within the stable in 21 markets in the southern and eastern African region.
Volvo Group SA has a comprehensive dealer network for its various brands across the region, with a growing footprint to serve and support fleet owners where they operate. There are more than 70 dealers that represent UD Trucks, Volvo Trucks, Volvo Bus and Renault Trucks (or a combination of the brands) at sites across southern and eastern Africa.
"All the brands within the Volvo Group are equally important to us. We believe that the respective brands have unique product offerings with specific characteristics and capabilities that appeal to a definite set of customers," says Christensson.
The company is also continuously investing in the enhancement and expansion of its dealer network across the region. "With dealers and branches already present all along the major routes and trade corridors in southern and eastern Africa, fleet owners are able to get complete support from us," says Christensson.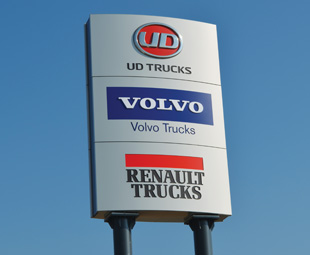 "We are seeing a lot of economic growth potential in the region, and we believe that if you want to increase your market share, your aftermarket service has to be outstanding."
Christensson has a long involvement in the automotive industry and specifically with Volvo for the past fourteen years. He has strong aftermarket focus and was Volvo's service director for Europe, with a responsibility for the more than 1 100 workshops in the region.
Prior to being appointed to his current position, he was the MD of Volvo Denmark; a market which sells in excess of 1 500 units per year. Christensson has been the president of Volvo Group Southern Africa since April 2012.
"I strongly believe that you have to be service orientated, and, if you get that right, your customers will stick with you through the good and the bad times," Christensson notes.
"Fortunately, I believe that this has been one of our Group's strong points over the years; building relationships with customers and providing them with customised solutions that suit each of their unique requirements."
Volvo Group this year opened its new Regional Distribution Centre (RDC) in Boksburg, Gauteng. This new facility now incorporates the parts warehousing and logistical services for the various Volvo Group brands operating in southern Africa. It was established at an investment of approximately R60 million.
The more than 52 000 parts housed in the new RDC include: stock items for Volvo Bus, Volvo Construction Equipment, Volvo Trucks, Volvo Penta, Renault Trucks and UD Trucks.
"The merger of our various capabilities enables us to better support the company's future growth within southern and eastern Africa," explains Christensson. "It is a strategic investment in our future and will enable us to support our customers more efficiently, especially in light of the significant volume growth our brands have experienced over the last number of years."
Christensson adds that the real differentiator in a highly competitive market is the people at the Volvo Group. "I am priviledged to work with some of the most experienced, skilled and passionate people in the industry. They are truly committed to the success of our customers' businesses and they live our values and commitments every day," he says.
"I simply love working and living on this wonderful continent; the possibilities are endless and are turned into real successes every day," he concludes.
Focus on Transport
December 4, 2015
Published by