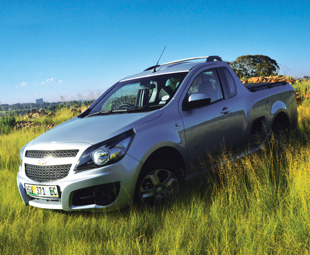 Having received minor upgrades for the 2015 model year, Chevrolet's Utility 1.4 Sport passes through DEON VAN DER WALT's hands.
One thing South Africans love, as much as a braai and rugby, is a bakkie. The South African half-tonne bakkie segment used to be a playground for the Opel Corsa, Nissan 1400, Ford Bantam and its relative the Mazda Rustler, as well as the Fiat Strada.
Today, however, only two exceptionally successful players remain in this segment. The Opel Corsa has evolved into a more refined bakkie, while the popular Nissan 1400 evolved into the NP200. Both have stolen the hearts of South Africans.
Our test bakkie was a high-spec, yet still tough, Chevrolet Utility 1.4 Sport. I have to admit that, on initial encounter, I wasn't very impressed with any specific aspect of the bakkie. One of the first things that troubled me was that, although it is branded a Sport model, it didn't look the part.
It looks similar to other Utility models only with flashier rims, sport badging and an interestingly shaped spoiler on the roof. The Chevrolet Utility 1.4 Sport also boasts 15-inch alloy rims. Overall, it is a very good-looking bakkie – although, personally, I wish it stood out a bit more.
Looks and flash don't stop it from being a good half-tonne bakkie, however, and it is a worthy successor to the Corsa …
The interior is put together using a tough, scratch-resistant plastic, and has a modern feel to it. True to Chevrolet form, the Utility 1.4 Sport also has rotating air vents and an abundance of hiding places.
Unfortunately, the lidded cubby on top of the dashboard has been lost on the Sport model, due to the addition of an infotainment screen for the revised sound system. Behind the fold-down seats is an impressive amount of storage space, making it the perfect place for items such as a modestly-sized toolbox.
The Chevrolet Utility 1.4 Sport has a series of upmarket features inside, which can rival those of compact sedans. It features an on-board trip computer, a manual air-conditioner with an electronic interface, and a new radio/CD player – which upholds the Sport's premium standards with USB and auxiliary input, as well as Bluetooth connectivity. The sound system's clarity and sound quality are excellent.
The USB port is rather awkwardly situated, which is probably why the owner's manual recommends using a USB extension cable. Although there is a clock, it was a chore finding it, as it is buried within the trip computer. I also found reading the speedometer a bit tricky, as the figures are squashed into a somewhat small space.
Driving this bakkie was generally a pleasure, but the occasional hiccup did arise. While the gearbox and clutch were as smooth as silk on the road, engaging reverse gear was sometimes difficult and a source of slight frustration.
The 1.4 Sport delivered overall good performance in town. When pulling away or steering it into a turn, it felt like a "sporty" bakkie. The 1,4-litre engine produces 68 kW at 6 000 r/min and 120 Nm at 3 200 r/min. I thoroughly enjoyed the low-end torque the engine offers.
After a mix of some "sporty" driving, as well as being stuck in peak-time traffic, I managed to get the fuel consumption down to 8 l/100 km, which is admirable considering the manufacturer claims 7,2 l/100 km.
The Utility 1.4 Sport has a payload capacity of 713 kg – the smallest in the Utility line-up. It comes with Chevrolet's five-year/120 000 km warranty and roadside assistance as well as a five-year anti-corrosion warranty
The Chevrolet Utility 1.4 Sport was a joy to drive around town, with plenty of character and the spirit of the old Corsa running through its veins. While the price of R193 700 might seem a bit high, this bakkie is aimed more at everyday life – but can still be used to deliver goods to a client.
While some might feel the slightly cheaper Club version would be the one to go for to get the best mix, the Sport does it in style.
*Deon van der Walt is the South African Guild of Motoring Journalists' bursar student. He recently spent a month with FOCUS, where he was exposed to the local commercial vehicle industry.
Focus on Transport
April 16, 2015
Published by