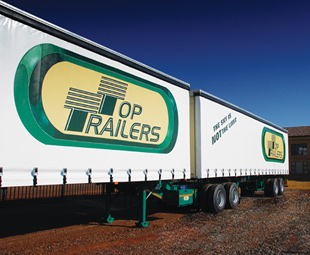 Being selected by customers as a Focus on Excellence Award finalist is a notable achievement. Receiving a nomination while navigating turbulent economic waters, however, is particularly impressive. FOCUS finds out how Top Trailers managed to accomplish this.

The trailer market in South Africa has grown substantially over the last few years. In 2000, around 3 000 trailers were sold in this country. By 2008 this number had skyrocketed to 9 000; a very substantial increase.
But, while the demand for trailers in general did undoubtedly increase, a large portion of this increase was specifically attributable to a sudden demand for tipper trailers. The rising commodity prices – combined with a sudden emergence of many small to medium enterprises within the mining industry – created a very large market for tippers that increased overall trailer sales substantially.
Top Trailers – established in 2002 – joined the scene just in time to take advantage of this growth. By 2004, there was a very big demand for tippers, and Top Trailers was able to benefit successfully from this.
"When the company was established, it focused primarily on flatdeck trailers," explains Gerry O'Connor, sales and marketing manager for Top Trailers. "But when the market for tippers suddenly expanded, we became very involved in that market."
And the company soon distinguished itself through its innovative trailer designs. Top Trailers' design team was foremost in the creation of slopers, side tippers and the Sliding Bin Rear End Tipper.
"Our designs allowed us to dominate the tipper market. As a result of this, we started to focus more on that side of the business. We didn't leave the flatdeck market by any means, but tippers became our biggest sellers," explains O'Connor.
Towards the second half of last year, however, things changed. Commodity prices plummeted, the global economy came to a grinding halt and demand for tippers dropped off dramatically.
"Demand for commercial vehicles and trailers in general were – and still are – greatly affected by the global economic crisis," asserts O'Connor. "But, due to the crash in commodity prices, the tipper market was especially hard hit.
Tippers – Top Trailers' biggest sellers – were suddenly not in demand, and the company needed do adapt to this change quickly.
"The nature of the coastal market didn't change dramatically, although demand was obviously reduced," says O'Connor. "Our inland operations – specifically in Gauteng and Mpumalanga – had to be adapted to remain competitive in the new market. We had to return our focus to flatdeck trailers; a market that remained far more active than the tipper market because it was linked more to the consumer market than that of commodities."
To accomplish this, Top Trailers converted two of its main factories that were used for making tippers, for flatdeck trailer construction and started focusing the majority of its operations on the flatdeck market.
"The company's management has well over 20 years' experience in the flatdeck market, so it was really a question of returning to our roots when demand for tippers slowed down," says O'Connor. "Although we still produce tippers, our focus is once again on flatdeck trailers. So Top Trailers really has gone full circle over the last few years; we're once again primarily a flatdeck trailer manufacturer."
And, according to O'Connor, that's what makes its Focus on Excellence nomination so satisfying. It has only been the last 12 months since Top Trailers refocused on the flatdeck market; yet, the company is already receiving this recognition from the industry.
How did it manage to accomplish this? What is the secret to the company's triumphant return to the flatdeck market?
"I believe that the secret to the company's success – both in the tipper and the flatdeck market – lies in its designing and engineering expertise. We are able to offer solutions to specific problems," explains O'Connor. "If a customer approaches us with a specific need, we will go out of our way to supply them with a solution."
Indeed, Top Trailers prides itself on its ability to provide clients with trailers for specialised applications. It has a dedicated line that is used exclusively to produce specialised trailers such as low-beds, timber units, walking floors, brick carriers and sugarcane trailers.
In addition to providing unique and innovative design solutions, it is also consistently improving and refining the design of its standard trailers.
"We are always trying to improve our existing trailers. Specifically, we try to improve their payload capabilities by reducing their weight," says O'Connor. "By doing this we give our customers an edge. Sometimes a slight increase in payload can make a significant difference."
According to O'Connor meeting – and exceeding – customers' demands is a priority for the company. Because of this, Top Trailers not only tries to deliver an excellent product, but also goes out of its way to provide a level of service and support that is not often found in the trailer industry.
"We aren't interested in simply selling trailers. We want to establish a relationship with our customers. That's why after-sales service is so important, you have to be able to assist operators in keeping their vehicles on the road," asserts O'Connor.
Ultimately, Top Trailers offers a high-quality, proven product that it backs up with excellent service and support. And for this reason, operators have selected it as a Focus on Excellence nominee.
"At a basic level – regardless of industry – people buy from people. And because of this, trust and respect are very important. It isn't simply about doing business, it's about establishing relationships. Customers need to know that if they have a problem, someone will be willing to listen and do something about it," concludes O'Connor.
Focus on Transport
October 1, 2009
Published by