EXCLUSIVE: Behind the Great Wall
FOCUS was recently invited to China by Commercial Vehicle magazine to judge the country's first Truck of the Year competition, and meet with the who's who of the world's largest commercial vehicle market
Countless flights and meetings, 16-hour working days, test drives of four of the country's leading trucks, numerous factory tours, lots of excitement and some "interesting" dishes … this is the story of my visit to China.
While the purpose of my trip is primarily to judge the finalists in the country's first-ever Truck of the Year competition (I'm one of only two international judges, so it's a huge honour), I will also be gaining a fascinating insight into this market, thanks to meetings that are planned with a number of senior officials at leading truck companies.
FIRST STOP: FOTON DAIMLER, BEIJING
The trip kicks off in Beijing, home to Beijing Foton Daimler Automotive (BFDA), a 50/50 joint venture between Daimler and Chinese manufacturer Foton Motor. The company has produced Auman-branded trucks in Beijing since July 2012, and it's now one of China's top five truck manufacturers.
Last year, the Auman EST (EST stands for Energy Super Truck) debuted at the IAA in Hannover. The launch was a seriously big deal, because it was the result of a four-year research and development programme, which was strongly influenced by European standards and trends. Not surprisingly, the Auman EST is the first finalist in the Truck of the Year competition, and so, along with the other judges, I will be taking it for a spin.
The Auman EST, which is yet to be launched in China, is powered by a 12-litre Foton-Cummins ISGe5-460 engine or a 12-litre Euro-5 Mercedes-Benz OM 457 engine. The vehicle that we're testing features the former, paired to a 12-speed ZF TraXon automatic transmission.
At first glance, we're all hugely impressed by this truck tractor, which is clearly a leap forward for the Foton Daimler team. The design is a foretaste of the potential and future of the Chinese truck market; it's the poster child of this sector and has a lot of presence on the road.
The cab is extremely spacious (possibly the most spacious within this sector) and the interior has a decidedly premium feel. The environment is very welcoming; we like the interior materials that have been utilised. Furthermore, the interior feels clean and uncluttered; it's almost akin to Nordic design from this perspective.
Fit and finish are very good throughout and most European truck drivers would feel right at home in this cab. In fact, the truck, itself, would not look out of place on the highways of Europe. The seat and sleeper bed feel comfortable.
The cab tilting is done electrically, which is very good. It's not easy to climb up and wipe the windscreen though; there is no handle to grip. The steps are quite high, but they can be used with relative ease. The exterior storage bins are useful (there are three of them). However, if the driver isn't quite tall, he won't be able to access the very rear of the topmost storage bins.
The interior is very good; the ergonomics are excellent. So, too, is the build quality. It's a pity that you cannot check the oil pressure electronically and from inside the cab (this needs to be done manually).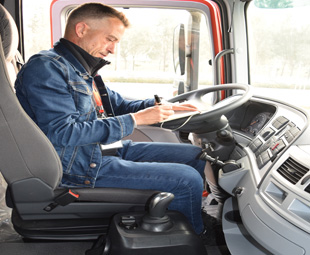 The automated gearbox is perfectly mated to the 331 kW Foton-Cummins powerplant. The powertrain and driveline are a big step forward within this market, and they are ideal for the more demanding (and better informed) Chinese customers. This really is a premium truck, but it offers all the ability and know-how of a tried and tested, reliable workhorse, too. It is a case of premium meets practicality.
The truck feels great at highway speeds; it is stable and visibility is very good. The steering is precise without being overly sensitive. The transmission is impressive; it's very intuitive, however it is located on the floor, which isn't ideal. It would be better if it was located on the steering column.
There obviously isn't a clutch, but the brake and accelerator pedals are faultless. I find the braking excessively harsh, but I'm told that this is in keeping with Chinese trucks. The vehicle is stable on the road, but there is a little bit of body roll.
The Auman has a suitably sophisticated suspension and good accompanying road-holding ability. It also comes with a very long list of safety and security equipment, including ABS, ASR, ESP, emergency brake assist, lane departure warning, tyre-pressure monitoring, theft protection, follow-me-home lighting and a load sensor. This truck is the shape of things to come in Chinese trucking!
SECOND STOP: FAW JEIFANG, CHANGCHUN
FAW Jeifang is our next port of call; we spend lots of time at its impressive headquarters, which is like a little town. FAW Jeifang is part of the massive FAW Group Corporation, which first surpassed the one-million annual sales figure in 2005.
The headquarters is still located on the same very spot where China's first automotive company, First Automotive Works, was formed on July 13, 1956. The Chinese people still describe Changchun as "the cradle of the Chinese automotive industry". At the time, the state-owned company relied on assistance from the former Soviet Union, but today it can more than stand on its own.
FAW hasn't only grown its expertise over the last 61 years; its model range has burgeoned, too. In stark contrast to the rather rudimentary medium truck that it built back in 1956, FAW produces a whole range of light-, medium- and heavy-duty trucks for most applications.
It also makes buses and luxury tourist coaches. Incidentally, I'm fascinated to discover that the medium truck that was launched – the CA10 – was produced for a whopping 30 years without any change!
We spend some time behind the wheel of its impressive heavy-duty truck, the J6, which isn't a finalist in the Chinese Truck of the Year competition because it will be replaced by the J7 at the end of 2017. However, the consensus is that the J6 is a world-class truck, a sentiment which is apparently shared by Chinese truck operators, given the fact that it sells faster than hot cross buns at Easter.
I notice that most of the trucks in the yard are red, and I enquire why this is the case. "Oh, that's because our customers are very patriotic. Red is the most popular colour ordered, because of our flag," one of the FAW staff members tells me, with much pride.
We also have a one-on-one with Hu Hanjie, president of FAW Jiefang, who tells me that he was present at the opening of FAW's factory in Coega, South Africa, in July 2014. "We want to express our heartfelt thanks to the government of South Africa for welcoming us to your country," he comments.
Hanjie says he's pleased by the company's achievements in South Africa thus far. "Our results in your country have been good. Our share of the market is growing steadily. We are currently achieving a market share of around five percent and I'm sure that this will grow.
"Thanks to the hilly terrain, you need 13-litre engines for your country, and we will bring these to South Africa. These engines are ideal for the typography of South Africa," he points out. Hanjie adds that he would definitely like to use the plant to produce vehicles for neighbouring countries that employ right-hand drive trucks.
South Africa isn't the only African country on FAW's radar. "We have assembly plants in Kenya and Ethiopia, too. The assembly plant in Kenya, which produces about 500 to 800 trucks a year, has a long history and our market share there is very good. We are attaching great importance to the Nigerian market, too. I also think that North Africa holds considerable potential," he says.
Returning to commentary on the Chinese market, Hanjie reveals that FAW is much more than just a producer of trucks. "We have a responsibility to shape the future of transport in China – because we're the largest truck company in my country. As such, we have a lot of social responsibility on our shoulders, too. We need to encourage the use of environmentally friendly products, for instance.
"We are working hard to make our products more fuel efficient. 'Green' trucks are already becoming more popular in China. We recently took part in an exhibition in Hong Kong, where we showed an electric truck. So far we have developed seven and 16-t electric vehicles. We are also working on fuel-cell vehicles. We are going to make an important contribution to the new-energy segment in China.
"At the same time, we need to provide more job opportunities for current and prospective employees (the company currently employs 23 000 people). It's important that we benefit society as a whole," he stresses.
According to Hanjie, the Chinese market is changing rapidly. "In China, most customers are individuals and not fleet operators, but we are now seeing more companies with bigger fleets emerging, as is the case in the Western world.
"They are putting more focus and attaching greater prominence on the ability of the truck. The efficiency of the trucks is becoming more important. Of course, price is a key element and our customers are very price sensitive, but now they are also looking at lifetime costs, residual values and the cost of repairs," he reveals.
I comment that it's fascinating how fast the company has developed in the last 30 years. "That's true," Hanjie agrees. "Whereas we produced a single model – the CA10 – for 30 years, we now have a full range from two to 55-t trucks. We're also launching new trucks all the time. In 1986, we launched our second-generation truck, and now we're on the sixth-generation, the J6. With each generation, the performance and quality of the truck has been greatly improved.
"We want to be a leading truck manufacturer, not only here in China, but also globally. We now have almost 1 000 sales and service agents in China alone, and we have produced 6,6-million commercial vehicles to date. Our history may not be as long as the European truck manufacturers – but it's a proud one nevertheless."
Speaking of Europe, is he eyeing this lucrative market? "Not right now. This is a very mature market with many global and well-known manufacturers. I went to the IAA and exchanged ideas there. We will first put more effort into developing the market in Russia and then we will try to break through from Eastern Europe. We will need to do more studies of the market there. For the moment, this is not a target market.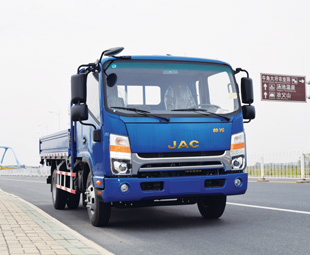 "We also need more time to focus on emission legislation. We are shifting from National 4 to National 5, and Europe is on Euro 6 already. So we're not ready to enter that market. The European market is only under consideration for the very distant future…" Hanjie reveals.
Other export markets will play an increasingly important role in the company's future. "We're only exporting 7 000 units a year. By 2020 we want to achieve exports of 25 000 units a year," he notes.
Watch out world, FAW is coming!
THIRD STOP: JAC, HEFEI
Next up is Anhui Jianghuai Automobile Company, which, for some unknown reason, is abbreviated to JAC. It's based in Hefei, an utterly fascinating city, because it's developing so fast. It's literally one building site after the next…
We're not here to study architecture, however, and we kick off with various plant visits. While the truck production lines are impressive, we're blown away by the JAC Navistar engine plant – because it looks as clean and clinical as a modern, state-of-the-art hospital. The plant was established in 2014, at a cost of RMB 2 billion (R3,84 billion). It produces 800 000 engines and 200 000 gearboxes a year.
We meet with Stacy Ding, regional director of the light commercial vehicle department at JAC International, who tells me that the state-owned company is keen to enter the South African market – again.
"South Africa is a strategic market for us and we are trying to find good partners in your country. Of course the exchange rate is not favourable, but we are planning to re-enter the South African market with pickups and trucks. We have already sent vehicles to South Africa for homologation and testing," she reveals.
While its Frison bakkie is also destined for South Africa, Ding is especially keen to offer its N Series to South African customers. "Since 1990 we have exported 200 000 N Series models to more than 130 countries, within South America, Asia, Africa and Middle East," she reveals. Since the N Series is the second finalist in the Chinese Truck of the Year competition, I will be driving it later.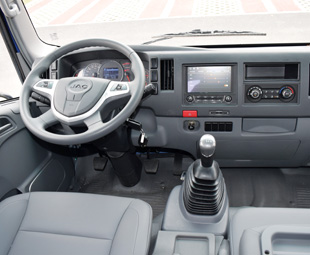 The biggest export market for JAC is Algeria. "A CKD plant is currently under construction in that country. They will produce 20 000 vehicles a year – comprising N Series and the X200 light-duty truck. We have been number one in this market for five consecutive years," she reveals.
Egypt is the second-largest market. "We have been active in this market since 2006 and we generally sell around 1 000 units a year," Ding reports.
Angola is JAC's third-largest export market, although Ding concedes that it's terrible now. "That market is dead! It used to be such a good market for us. In 2007, we sold 1 000 light-duty trucks there!" she reports.
Like FAW, JAC doesn't have any immediate plans to enter the European market. The only exception to this rule is Romania, where JAC is represented by a dealer.
JAC's biggest competitor in many markets is Isuzu, which is fascinating because its N Series looks just like the Isuzu of the same name. It's interesting to discover how the reputation of the JAC has improved over the years – versus Isuzu.
"Back in 2011, we used to price our trucks at 50 to 60 percent of the Isuzu price. Now it's 90 percent. That's because our reputation has grown. The resale value of our products is much better than it used to be, too," she adds.
Later, I experience the N Series first hand, and I'm pretty impressed!
Given the fact that vans aren't favoured within the Chinese market, light delivery vehicles, such as the N Series, play a critical role within the world's biggest commercial vehicle market. JAC is the second-biggest player in this market and, after driving the N Series, it is easy to understand why.
This is a market segment where customers want to get a lot without making a substantial investment. They want a durable, reliable, practical, efficient and robust workhorse – and that describes the N Series to a tee. JAC delivers on all these fronts with the N Series – and much more, too!
The interior, for instance, is surprisingly well appointed and the fit and finish is better than the norm within this sector. Incredibly, it even has a sleeper! This is something I have not seen before in this sector. The mattress is quite narrow but at least it is there.
It is clear that, with the N Series, JAC wishes to enrich the daily lives of drivers and make their journeys as comfortable as possible. This is evident in the upmarket feel of the switches and controls – this is NOT just a basic workhorse; it's much more than that.
The engine – the JND408D143-52 engine, a 3,2-litre powerplant that produces 105 kW of power and 450 Nm maximum torque – is powerful and torquey and it's ideal for inner-city distribution. We envisage that the total cost of operation will be advantageous and that maintenance costs will be extremely low. The steering is good; it's precise without being overly so. In addition, manoeuvrability is good and visibility is excellent.
On the downside, our test truck revs only to 2 000 r/min (which is obviously not normal) and the brakes are harsh (as is the case with many Chinese trucks).
These niggles aside, we concur that the N Series is the perfect light truck for everyday use; it packs a punch which is way beyond what's expected (or even demanded) by operators. JAC has raised the bar in this segment!
FOURTH STOP: C&C TRUCKS, WUHU
Our fourth stop is the fabulously named city of Wuhu (I sing "woohoo" all the time; the Chinese look at me as though I'm mad). It's the home of C&C Trucks, which is part of the massive China International Marine Containers (CIMC) group.
C&C is a very young company – it opened its doors on December 18, 2010 – but it's known for its innovation. That's why its U480 6×4 truck tractor is the third and final finalist in the Truck of the Year competition. I will be driving it later, but first I tour the factory, which contains a surprisingly high percentage of orange trucks. This is because orange is associated with good luck in China, I'm told.
Then I meet with Eric Qi, director of the international business department, to learn more about the company. Qi tells me that it's still relatively small, employing 1 400 people, but that C&C is achieving much success. "We will sell 6 000 trucks in total this year, which is just one percent of the total local market," he says with a smile. It aims to produce 30 000 trucks annually "in the near future".
The company's unique selling proposition is the fuel consumption of its trucks. "Our fuel consumption is superior to that of other Chinese brands – just 30 l/100 km for a 6×4 loaded to the maximum gross vehicle mass (GVM) of 49 t," he reveals.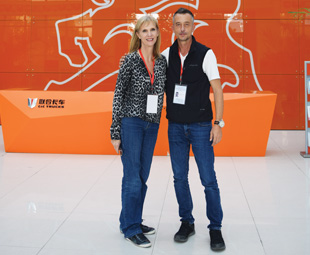 C&C is exporting, too. "This year we have exported 200 trucks to Vietnam and 300 units to Iran (we have eight percent of the market in that country). We've also exported small numbers to the Philippines and Bolivia. We will target Laos, Cambodia, Iraq, Turkey, Chile, Peru and Venezuela next year," he reveals.
The African market, especially Algeria and Ethiopia, are also on the company's radar. South Africa is not a priority right now, because the company only manufactures left-hand drive trucks. "We are planning to develop right-hand drive trucks at some stage and then we can enter the South African market," says Qi.
Later, when I drive the C&C U480 6×4 truck tractor, I hope that this happens sooner rather than later – because this truck tractor really shows the potential of the Chinese commercial vehicle industry. It is hugely impressive for a company that is extremely young (it didn't even exist eight years ago).
The development of such a mature heavy-duty vehicle in such a short period of time is nothing short of phenomenal.
Starting from the newly developed engine, which is one of the most powerful within the Chinese market at the moment (yet also remarkably efficient at just 30 l/100 km), to the refreshingly innovative design of the exterior and interior of the cab, the C&C truly demonstrates China's prowess within this sector of the transport industry.
We're also very impressed by the vehicle's driveability and the sophisticated handling of the U480 (which wouldn't be out of place in a European truck). And we're impressed by the fact that the cab was designed in Turin (as such, it combines European design with the unique flavour of the Chinese market).
It is the first Chinese truck to get ADR authorisation (so it is approved for the transportation of hazardous goods).
Also noteworthy is the very low level of vibration, noise and harshness of the U480; it surprises and delights in this important area. The driver of the U480 will not tire easily; the interior is extremely comfortable. Drivers will also appreciate the two exterior storage bins; they're very big and offer good access.
A minor niggle is the handle at the A-pillar. It is badly designed in that you cannot get your fingers around it, so you cannot grab it properly when you're entering or leaving the vehicle. If I was the driver of the truck, this would drive me crazy.
Ergonomics are good; you don't have to reach far for anything except maybe the radio, which probably won't be adjusted that often.
The YU6K 12-litre engine delivers 353 kW (480 hp) and 2 200 Nm of torque.
The vehicle dynamics are surprisingly good – in fact, they are excellent. The steering is very good. It is active and responsive and you don't need to correct all the time when on the motorway. We can see that C&C is a manufacturer that is determined to break boundaries. The designers and engineers don't shy away from making bold moves and innovating within this segment; the instrument cluster is a good case in point.
As we all know, the Chinese automotive industry is one that is constantly changing and transforming. C&C is well placed to succeed within this competitive market, because it moves at the dynamic pace of a start-up company.
FINAL STOP: AWARDS BANQUET
The Auman EST is named the 2017 Chinese Truck of the Year. It's a deserving winner, I think, but actually all three finalists are impressive in very different ways; they're all winners in my mind…
Here are some facts I gleaned while in China:
• There are about 13-million truck drivers in China. There is a shortage of drivers, because it's not considered to be a desirable job. A driver earns about 10 000 Yuan (R19 235) a month.
• Foton Daimler sold 200 trucks online in two seconds during a recent shopping festival.
• In 2016, 3,65-million commercial vehicles were sold in China (according to Statista, a leading statistics company).
• The Chinese truck industry is advancing rapidly! For instance, Foton has released China's first super truck with an autonomous driving system.
• Over 40 percent of trucks on China's roads are running empty.
• Transport and logistic costs in China are high: 18 percent of gross domestic product versus eight percent in Europe.
Unpacking the competition
The Chinese Truck of the Year is judged by a jury comprising professionals from the commercial vehicle media, engineers, truck operators and members of the International Truck of the Year jury. For the 2017 competition, those jury members comprised Charleen Clarke (FOCUS) and Vassilis Daramouskas (Troxoi & TIR magazine, Greece). The evaluation criteria cover the fields of innovation, efficiency, emissions, safety, driveability and comfort. The event is organised by Commercial Vehicle magazine, China's leading trucking magazine.
Focus on Transport
April 12, 2017
Published by