EXCLUSIVE! We drive the Hino 500 Series!
FOCUS editorial director Charleen Clarke has just returned from Japan, where she drove the new Hino 500 Series Wide Cab. Although she was part of a group of journalists visiting Hino, Clarke was the ONLY journalist permitted to drive the new truck, which will be available in South Africa at the end of 2017 (local production starts in November). As such, we are able to bring you this EXCLUSIVE report on the new range…
Hino South Africa has requested that we don't go into too much detail, since the local press launch only takes place later this month. However, we can tell you that one of the outstanding features of the new range is Hino's obsession with quality, durability and reliability (QDR) when it came to the development of the new truck.
The 500 Series Wide Cab is the result of seven years of development and senior Hino officials were at pains to point out that QDR was foremost in their minds. They need not have bothered; this is immediately apparent when one enters and drives the truck. There are no rattles or shakes; the 500 Series is a real quality act.
I really like the new exterior, which looks even more rugged than before. The front is all new, as is the staircase entry step layout (it's much better than the previous in-line steps). The new 500 Series has a range of suspension options (the model I drove had air suspension).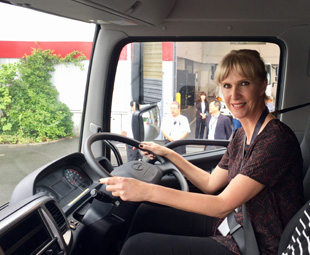 New interior features include a tilt and telescopic adjustable steering wheel, pendulum-style pedals, cruise control, and a new instrument panel.
The interior is very car-like in terms of levels of comfort; the engineers told me that they'd paid lots of attention to the suspension and to improving levels of comfort – and they've undoubtedly succeeded in their quest. The truck I drove, for instance, featured an Isri 6860 seat, which is wonderfully comfortable.
I drove a 6×2 model with the Hino J08E six-cylinder engine. The motor is not new but has been revised; maximum governed engine speed is higher as is the compression ratio. Peak power output of 206 kW is now delivered at 2 500 r/min and torque has been increased by seven percent to 883 Nm at 1 500 r/min.
The engine was matched to a six-speed Allison automatic transmission, which guarantees smooth and seamless full-power shifts for faster acceleration. The truck was carrying a payload of 15 t, and it carried this load effortlessly.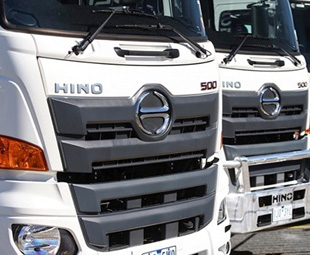 I drove fairly conservatively, but the Hino driver who accompanied me encouraged me to increase my speed as we were going up a hill. The truck did this effortlessly; there is a lot of torque available really low down.
I reckon that operators are going to delight in these new trucks, which promise superior fuel consumption and exceptional reliability. Drivers, on the other hand, are in for a treat. These trucks feel European-like; they're quiet and comfortable, refined yet dynamic.
As stated, we've been asked not to give too many details now. However, you can expect 4×2, 6×2 and 6×4 models in the range. And we're pleased to report that big improvements have been made in the areas of safety (both active and passive).
ABS and a driver airbag will be standard, for instance, which was not the case with the predecessor. Futhermore, easy start is being incorporated – meaning you can stop on an incline with a full load and then pull off, and the truck won't roll back (even in the case of a manual transmission).
Look out for the September issue of FOCUS, which will contain a full report on Clarke's trip to Japan and a report on the local launch by Gavin Myers.
Focus on Transport
August 3, 2017
Published by