Extra-heavy vehicles dominate market
During the first half of 2011, 12 manufacturers reported a total of 5 674 sales to NAAMSA in the EHCV category. FRANK BEETON takes a look at these kings of the road.
Extra heavy commercial vehicles, in the context of vehicle sales reported to the National Association of Automobile Manufacturers of South Africa (NAAMSA), are defined as those with gross vehicle mass (GVM) ratings of 16 501 kg and above. This categorisation embraces the heaviest two-axled, and all the multi-axled trucks sold in the local market, and is made up predominantly of truck-tractors, although there are also considerable numbers of rigid freight carriers, tippers, dumpers, refuse compactors, tankers, skip loaders and truck mixers, as well as some highly specialised units such as concrete pumpers and heavy fire appliances. Their operational profile usually involves payloads in excess of ten tons, and they are to be found plying the long-distance linehauls on the country's trunk road system, or on relatively short distance tasks, related to heavy distribution, construction or service delivery duties.
Extra heavy commercial vehicles (EHCV) are currently the numerically dominant segment in the overall truck market over 3 500 kg GVM, and, during the first six months of 2011, EHCV sales accounted for 44,2% of all vehicles sold in this market. This premium payload category has occupied the premier position continuously since the third quarter of 2010, and this dominance reflects the extreme dependence of the South African economy on road freight, as many of these vehicles are performing long-distance tasks which would, in a rational business environment, be the province of rail transport. In terms of broad applications, 70,9% of all EHCV sales in this period were truck-tractors, reinforcing this point, while 18,6% were rigid freight carriers, 7,5% tippers, 3% truck mixers and 1% fire appliances.
During the first half of 2011, 12 manufacturers reported a total of 5 674 sales to NAAMSA in the EHCV category. Leading the field as volume supplier with 1 946 unit sales and 34,3% penetration, was Mercedes-Benz South Africa, whose constituent brands Mercedes-Benz, Freightliner and Fuso accounted for individual market shares of 20,4%, 11,1% and 2,8%, respectively.
This was followed by the Volvo Group at 921 units and 16,2% market share, made up of Volvo Trucks (13,5%) and Renault Trucks (2,8%), and the MAN Group, whose MAN (11,5%) and Volkswagen (1,4%) brands combined to produce 735 unit sales and 13% market share.
The rest of the market was accounted for by Scania (608 units/10,7%), UD Trucks (496 units/8,7%), Navistar International (394 units/6,9%), Isuzu (169 units/3%), Hino (119 units/2,1%), Powerstar (103 units/1,8%), Iveco (79 units/1,4%), Tata (72 units/1,3%) and Babcock/DAF (32 units/0,6%).
Unlike the HCV market, which is currently dominated by Japanese product, the EHCV category has broad international representation. During the January-June 2011 period, vehicles sourced from Europe made up 60,9% of the total, followed by the USA (18%), and Japan (16,6%), while smaller contributions came from manufacturers located in China, Brazil, India and South Korea. This diverse sourcing has largely insulated this category from supply issues related to the earthquake and tsunami that struck Japan earlier in the year, with the result that EHCV sales volumes have been able to respond to increased demand, and experience steady growth through the period.
Product enhancement activity in this area of the market during the first half of 2011 has included upgrades, of both a cosmetic and technical nature, being carried out on the Mercedes-Benz Actros and Axor ranges. Hino has also introduced revised versions of its flagship 700 Series, which include the first local applications of automated mechanical transmissions in this range, and this action is clearly intended to improve this marque's competitiveness in the long-distance linehaul sector.
Volvo's recent promotional focus has rested upon its newly-introduced FMX construction line-up, while DAF's re-entry to the local market in conjunction with the Babcock organization has started to gather sales momentum. Dong Feng has introduced a dedicated 6×4 rigid unit aimed at the forestry sector, while Chinese compatriot FAW has announced that it will be bringing its J6 flagship truck-tractor to this market. Navistar International has replaced its 7600 conventional model with the new Workstar, and will be exhibiting its Global Eagle at the Johannesburg International Motor Show. This model should provide a pointer to future direction in the long-haul market, where this manufacturer's 9800 Series, and its predecessors, have enjoyed a long and distinguished history.
Another recent feature of the local EHCV market has been the successful revival of the Renault brand under the patronage of Volvo Trucks. After a difficult history when it was represented by a number of local partners, Renault now seems to have finally established a firm distribution and support base in concert with its global partner, and is building a platform for future growth. "Hands-on" operator experiences at a number of recent construction industry field days have added momentum to Renault's presence in the local market.
With the recent launch announcement of Mercedes-Benz' New Actros premium hauler in Europe, an important question has arisen regarding the future availability of this model, as well as other Euro 6-compliant introductions from other manufacturers, in the South African market. The OM 471 engine has been developed specifically to operate under the Euro 6 emissions regime that comes into force in January 2013. Provision has been made to "reverse engineer" the installation in New Actros models delivered before that date to Euro 5 standard, but it is highly unlikely that this process could be extended back to Euro 4, or earlier.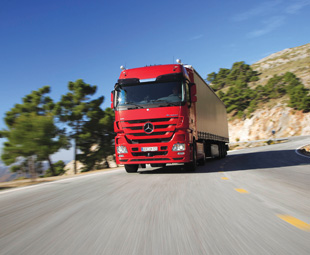 Unless the local fuel industry can make some arrangement to ensure supplies of diesel compatible to at least Euro 5 standards, it will not be possible for the New Actros to operate freely in South Africa. This restriction is also likely to inhibit the local sale of other Daimler Trucks' products using versions of its Heavy Duty Engine Platform global family of engines manufactured by Detroit Diesel in the US, and Fuso in Japan, and any other truck brand restricted to Euro 5/6-compliant power units.
Operators of vehicles in the EHCV category, many of whom are involved in long-distance linehaul operations within and across South Africa's borders, are continuously faced with pronouncements by government that a greater proportion of freight haulage should be transported by rail. This argument would be highly rational if the local railway community were able to offer shippers an efficient service in which the final delivery of goods in transit were to be, at least, predictable. By its own admission, Spoornet Freight Rail is not in this space, and is even struggling to provide the required level of service on the Richards Bay coal line and the Sishen-Saldanha ore route, two dream rail-operating scenarios. Any attempt by central government to restrict the modal choice of local businesses would have negative consequences for the national economy.
The dominant position of road transport in the freight haulage market is not coincidental, neither is it the cheapest mode, either in terms of outright cost, or the impact it exerts on national infrastructure. It is justified, purely by its predictability, and reliability. The simple truth is that, when rail operators, be they private or public, can offer the appropriate level of service and cost-effectiveness to the local business community, there will be no need to influence modal choice by legislation. Pure economies of operation will do the job, but, until then, trucks will continue to reign supreme!
Focus on Transport
September 1, 2011
Published by