Truck Test 2013 challenged manufacturers to put their best to the test. FAW took up the challenge with four fantastic vehicles.
FAW has been an active player in all sectors of the southern African market for over 20 years and, according to Leon du Plessis, FAW national marketing and sales support manager, the company is set to rapidly expand its activities. Truck Test 2013 therefore presented the ideal opportunity for the company to present its products to a wider industry base. "Hopefully with acceptable showings in our first 'test' as a bonus!" laughs Du Plessis.
FAW entered four vehicles into Truck Test 2013; two 13.180FL (GVM of 13 500 kg) models and two 16.240FL (16 000 kg GVM) models – one of each fitted with an aero kit.
Du Plessis says the 16.240 has a good power-to-weight ratio and excellent torque characteristics. "Some of our clients utilise its highly-favourable gross combination mass – hooking it up to a trailer and using it as a very cost-effective 15-or-more tonne total payload freight combo," he notes.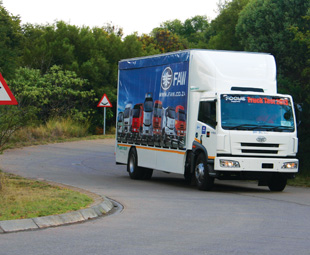 The comparison between FAW's standard vehicles and the units with aero kits also proved very interesting: "The performance of the aero kits provided a definitive operational benefit on the units we had fitted them to. Given real-time conditions on inter-city routes, this solution could prove to be cost-effective in the long run," says Du Plessis.
FAW's drivers also attracted a fair bit of attention – in particular Ann Phoba, the only woman driver on the test, who drives concrete mixers for one of FAW's large clients. "I believe she created quite a stir because of her gender," laughs Du Plessis. "She regularly outshines our client's male drivers!"
This being FAW's first venture into Truck Test, none of its drivers had any experience with the format or concept. But that didn't stop Harris Moodley (regional technical manager at FAW), Johan Viljoen (FAW driver trainer), Abraham Mudau (FAW Isando driver) and of course, Phoba.
"All the drivers are very experienced with a variety of our products," says Du Plessis. "The drivers all commented on the ruggedness of the Gerotek test track, and found this aspect of the test very demanding! But, all found their experience of the test as a whole to be very interesting and rewarding."
Truck Test 2013 did pose a few challenges for the FAW team: "Largely due to time constraints, none of our vehicles could be optimally run-in and none of our drivers could test the units on the routes beforehand," notes Du Plessis, who is of the opinion that, because of this and the diversity of the drivers, the results FAW achieved are believable and indicative of what a typical operator could expect day-to-day and, importantly, can only be improved upon.
"We all know that, irrespective of all the 'standard' conditions of a test of this nature, no eventualities in our industry can ever be completely covered or planned for," he points out. "We do believe, however, that the Truck Test concept – and the execution thereof – is of great value to the original equipment manufacturers (OEMs) and operators, and should offer unique perspectives on our products from a typical operator's point of view.
"We found the FOCUS Truck Test to be a fascinating and very rewarding event, particularly because it was the first time that we have taken part. We also believe that the test illustrated our overall competency in a highly contested end of the market," says a confident Du Plessis, putting out a challenge to other market players. "All our colleagues must watch this space – we are serious in our attempts at growing our markets, continually improving our specifications and providing ever-improving, competitive and cost-effective products for our clients."
Truck Test 2013 has certainly proved the merit in that.
Focus on Transport
May 1, 2013
Published by