WILLIAM GEORGE speaks to some South African companies that make use of some of the best-selling light commercial vehicles (LCV) in their fleets
CVs make up an important part of South Africa's automotive industry and are widely used for commercial purposes. In many cases they are perfect for small and medium enterprises (SMEs).
According to the National Association of Automobile Manufacturers of South Africa (Naamsa), 13 774 new LCVs were sold during July – an improvement of 231 vehicles compared to the 13 543 units sold during July 2016.
RAM Hand-to-Hand increases its fleet with Ford
South African courier company, RAM Hand-to-Hand Couriers, has strengthened its nationwide fleet using Ford panel vans, which are used to make local, in-town deliveries. RAM recently added 44 Ford Transit Custom panel vans to its fleet, which now totals 207 vehicles.
According to Greg Snodgrass, Ford LCV brand manager: "The Transit Custom's most valuable asset for couriers is that it is much bigger than it looks. The short-wheelbase (4 972 mm) model has 6 m3 of cargo space and can carry items up to three-meters long, or three pallets, whereas the long-wheelbase model (5 339 mm) can carry even more."
RAM Hand-to-Hand Couriers modifies all its Ford Transit Custom panel vans to ensure they meet the requirements needed to perform as fully fledged courier vehicles.
Fleet manager, Sampie Bosman, says: "Dents and bumps are some of the most common issues for courier vehicles. The Transit Custom is therefore fitted with smart multi-piece front and rear bumpers, which help to keep repair costs down. Reliability and durability are also crucial for courier vehicles and the Ford Transit Custom has been designed with this in mind."
Bosman says: "We have had a long relationship with Ford, and we chose the Ford Transit Custom panel van because it drives really well. The driver has good visibility all round, it looks good, and Ford has a good reputation – it suits our brand."
Volkswagen (VW) Caddy provides flexibility and variety
The fourth-generation VW Caddy was introduced in South Africa last year. The division head of VW Commercial Vehicles, Jaco Steenekamp, says the Caddy range is a preferred choice by SMEs in South Africa because the vehicles are spacious, affordable and safe.
The Caddy panel van offers a load capacity of 3,2 m3, and the Maxi panel van offers a load capacity of up to 4,2 m3. "The Caddy sells more than 200 units per month, with a market share of over 80 percent," says Steenekamp. "VW has seen a slight increase of Caddy sales since 2016," he adds.
VW supplies fleet vehicles to courier companies such as DHL South Africa and British American Tobacco South Africa. DHL has been using VW vehicles (including the VW Caddy, Crafter 35SWB and Crafter 50LWB) in its fleet for four years.
Nick Mabua, fleet manager at DHL South Africa, says: "Vans from VW are very reliable and easy to repair. VW also offers very good aftersales support. Parts turnaround time is good and service priority is given to DHL vehicles because VW understands our business."
Mabua adds that DHL Courier uses 192 VW Caddy panel vans that operate in Johannesburg, Cape Town and Durban.
Isuzu enhanced to suit South African consumers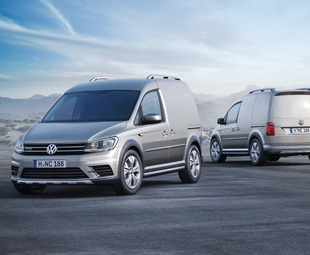 Tim Hendon, brand manager at General Motors South Africa, says the Isuzu KB vehicles sold in South Africa undergo an extensive localisation programme that involves several important modifications to cater for local conditions.
"We are one of a very small group that runs a localisation programme. Some of these modifications include using a thicker gauge steel in critical areas on the vehicle to enhance strength. This includes additional tailgate hinges, which can handle a big Free-State farmer and his 40-kg bag of mielie meal as he offloads it," he says.
Fleet owners tend to prefer Isuzu's KB250 range. Leading the range in terms of sales is the KB250 (LEED) Fleetside model, which sold 2 198 units in 2016, and 1 567 this year to date.
Hendon notes that model preference for use in fleets depends on the application, but the KB's reputation was borne from the KB250 range.
"Fleet owners typically want a no-nonsense vehicle solution with low operating costs. They want a vehicle that does not break down or require excessive servicing. They also want choice when it comes to comfort and safety features," Hendon says.
Isuzu supplies several companies with fleet vehicles including: The Courier Guy and Intertown Transport.
Grant Tomlinson, MD of Intertown Transport, says that the company has been working with Isuzu for more than 25 years. For the past five years it has been using only Isuzu vehicles, ranging from trucks to bakkies, for its fleet business.
"We have 200 Isuzu vehicles in operation. They are reliable, and if we have a problem, it gets fixed on the same day. Isuzu makes a plan," he maintains.
According to Tomlinson, Isuzu has helped support its business in many ways. This support includes maintenance and lending Intertown Transport vehicles, which the company may purchase at a later stage.
"Sometimes Isuzu lends us one of its vehicles while our broken-down vehicle is being repaired," Tomlinson says.
The type of vehicles used depends on application and the region in which the business operates. Recently, Intertown Transport asked Isuzu to modify some bakkies to suit its fleet business needs.
When choosing vehicles for a company's fleet, it is crucial to look at the nature of the business, consider the needs of the company and whether the vehicles will be able to provide safety, low operating cost, and will be able to adapt to different operations. In addition, the vehicles need to assist in increasing productivity, reliability and sustainability of the business.
Focus on Transport
September 20, 2017
Published by