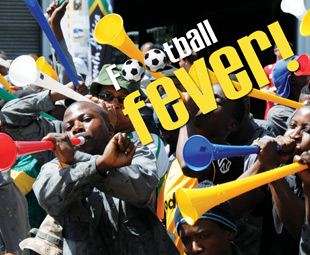 While many FOCUS readers will be able to watch World Cup matches live at stadiums, the event is not quite as accessible to the millions of South Africans in outlying areas who cannot necessarily share in the hype and buzz of the event. The People's Bus aims to change that. CHARLEEN CLARKE dons her football jersey, grabs a vuvuzela and has a blast…
So white men can't dance? Rubbish! I spotted a worker from MAN's Olifantsfontein bus and coach factory boogie quite brilliantly. His moves were something special to see as he swayed to the music, gyrating his hips like an exotic dancer and grinning from ear to ear.
Of course, he was (quite literally) following in the footsteps of his black colleagues, who had already delivered a pretty good rendition of the diski dance.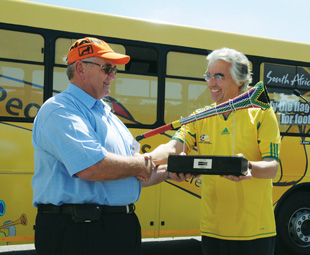 Now, I'm sure you're wondering why FOCUS is reporting on dancing? What on earth does that have to do with buses, coaches or trucks? Plenty… As we all know, this is the year when the World Cup comes to South Africa. It's the year of the diski dance, vuvuzelas, Football Friday; and bus and coach deliveries galore.
One such delivery was the handover of the People's Bus. This ever-so-clever concept aims to bring all the hype and excitement of the World Cup to the millions of people who won't be able to watch a live match at a stadium.
The bus (a MAN Lion's Explorer), driver, fuel and insurance have all been sponsored by MAN – a decision lauded at the launch by Paul Bannister, acting chief executive officer of the International Marketing Council. "The World Cup isn't about being a Zulu or a Tswana; it's about being a South African. This event will truly bring all South Africans together. But, until this point, we have not been able to reach out to all South Africans. That's changed with the People's Bus. We now have a vehicle that can take us through the next 150 days. We can take the World Cup to the people; we could not have done this without MAN," he noted.
According to Bannister, "many corporates talk about what they do for the country, but not many of them get off their tush and actually do something practical. Well, you can look yourselves in the mirror and say 'we have done something'," he told the hundreds of vuvuzela-blowing, dancing MAN staff members present at the handover. "I would like to challenge the rest of South Africa to do what MAN has done here today."
So what exactly has MAN done? Well, the company has produced a highly innovative, eye-catching bus; a vehicle that will appeal to ardent soccer fans and also those who have only a casual interest in the sport. It all began six weeks prior to the handover, when the team at Olifantsfontein started converting a 64-seater bus shell.
"It was a real team effort," management board member for business development at MAN Truck and Bus, Ray Karshagen, explains. "The project was primarily the responsibility of our research and development department, but we all came up with ideas."
One of Karshagen's ideas, for instance, was a mini-cinema at the back of the bus, which is equipped with 10 seats, a 42-inch plasma screen and a DVD player. Other interior features include football tables and a Bafana Bafana mailbox. Fans can write messages of good luck, which will be posted on the national team and Brand South Africa websites.
There are lots of other innovative features, too. We loved the national anthem on the back of the bus, the astro-turf flooring and the fact that all the teams are featured on the walls of the interior (visitors to the bus are given snippets of information on each team). We also thought the branding was something special; it's bright and cheerful. Graffiti was responsible for the exterior of the bus, and the company did a commendable job.
After the official launch of the vehicle, the staff at MAN were taught the diski dance (lest you're a World Cup ignoramus like me, this is a special dance mimicking football moves that Brand South Africa is promoting during the event), and then the People's Bus left for its tour of duty.
It will now visit over 50 towns and cities – from Dullstroom to Upington – as well as major sporting and cultural events. Its first port of call was the neighbouring Tembisa township, where we parked and then entertained hundreds of animated school children.
I've been faithfully wearing my authentic (and therefore madly expensive) Bafana Bafana jersey each Friday. However, truth be told, while I was delighted to see bus and coach orders being placed, I had not actually started getting excited about the World Cup.
That was before I went to Tembisa with the People's Bus. Now I definitely have an incurable case of football fever… 
Focus on Transport
March 1, 2010
Published by