Ford expands local production
Ford Motor Company is investing R2,5-billion (US$ 170 million) to expand operations at its Silverton Assembly Plant in Pretoria, South Africa, to produce the all-new Ford Everest alongside the new Ford Ranger.
"The R2,5-billion investment reaffirms the importance of these markets as part of our growth strategy across the Middle East and Africa," says Jim Farley, Ford executive vice president and president of Europe, Middle East and Africa. "It further reinforces South Africa's position as a strategic export base for Ford Motor Company."
The Silverton facility joins facilities in Thailand, India and China as a production hub for the Everest. Initial production will commence in the third quarter of 2016.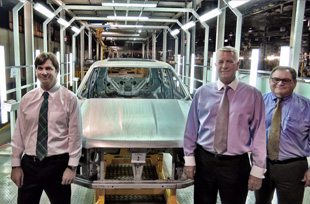 The Silverton Assembly Plant features state-of-the-art automation utilising Ford's global manufacturing processes, and will be equipped to produce 10 000 Everests per annum. These models will be sold locally and exported to markets across sub-Saharan Africa.
Part of this investment has been directed towards the production of the new Ranger, which is already running at maximum capacity at the Silverton Assembly Plant – with domestic sales and export demand at an all-time high. The locally built Ranger is exported to 148 countries.
"As we continue to grow our business in South Africa, we are committed to improving the skills of our employees and creating new opportunities within the company and the broader supply chain.
"It is only through the dedication and commitment of our work force, suppliers, dealers, union and government partners that we have been able to secure this investment and expand our operations, thereby broadening our footprint in Africa even further," concludes Jeff Nemeth, president and CEO of Ford Motor Company, Sub-Saharan Africa Region.
Focus on Transport
April 7, 2016
Published by