Free transport for those paying homage to Madiba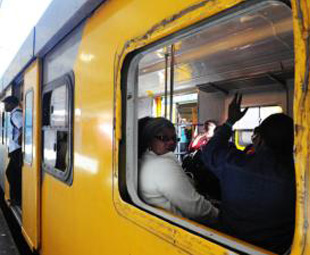 The City of Johannesburg paid tribute to the memory of the father of the nation, Tata Nelson Rolihlahla Mandela, by providing free public transport to those that made their way to his National Memorial Service on Tuesday, December 10. "Although he belonged to all South Africans – and indeed to all freedom-loving people worldwide – Johannesburg held a special place in his heart," states a press release issued by the city.
Lisa Seftel, executive director of the City of Johannesburg's Transport Department, says: "We decided to provide free public transport because the national government felt that Madiba was a man of the people and that all people should be able to attend his funeral."
Rea Vaya didn't have any normal services, while Metrobus ran some limited routes – similar to those that they operate on Sundays. Putco endeavoured to run normal services, along with those for the National Memorial Service.
But Johannesburg's public transport didn't come to a halt as tens of thousands of people were transported throughout the day (from as early as 05:00) on Rea Vaya buses, Gautrain buses, Metro buses, Putco buses and taxis to FNB Stadium and other public viewing areas across the city – namely Ellis Park, Orlando and Dobsonville stadiums.
The press release continues: "The first people to enter the stadium filled the higher seating blocks while singing freedom songs. All through the morning, as each new group of mourners entered a fresh song was heard and people danced in the soft rain. It was a memorial, but also a celebration – the passing on of the giver does not nullify the gift."
While making his way to FNB Stadium, Prince Bongwe stood in the rain at the Thokoza Park Station while waiting to board a Rea Vaya bus. "Mandela is like a father; he fought for our freedom and for the country," he said. "The whole world is celebrating his life with us. The way Mandela did things touched everyone and that's why so many are coming. His passing is a great loss for everyone."
Another mourner, Lifie More, said: "Today is history being made. He was such a big man and this is why I'm going, to pay my last respects and encourage the other youth to do the same. We should encourage people to continue his legacy."
Focus on Transport
December 12, 2013
Published by