From horse shoes to trailer big boots
Schmitz Cargobull, one of the biggest trailer companies in the world, made big news in this country earlier this year when it acquired 33 percent of South African trailer maker, GRW Holdings. This year it is also celebrating its 125th anniversary. CHARLEEN CLARKE travelled to Altenberge where it all began
The origins of Schmitz Cargobull can be traced back to February 8, 1892. That's when a chap by the name of Franz Heinrich Schmitz was issued with a very special document from the local authorities. This certificate stated: "The blacksmith Franz Heinrich Schmitz from Altenberge in the district of Steinfurt, born on 15th November 1856 in Altenberge, has obtained the grade 'good' before the undersigned board of examiners, in the examination for certification of ability to operate a horse-shoeing business."
We don't know how Schmitz actually obtained that grade, but one thing is certain: that's when the massive company now known as Schmitz Cargobull was actually conceived.
It's unclear what the Altenberge-based company's name was back then – because documents relating to these years are rare. The heading "Reparatur-Werkstatt" (repair workshop), "Eisenwaaren-Handlung" (hardware trader) and "Düngemittel" (fertiliser) can be found on an invoice from 1905.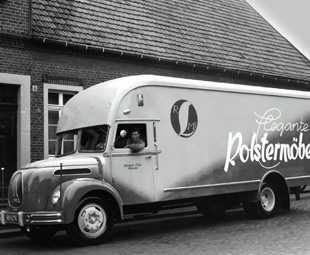 An invoice from 1909 shows the company name "Heinrich Schmitz, Altenberge, Lager in landwirthschaftlichen Maschinen u. Geräthen" (Heinrich Schmitz, Altenberge, agricultural machines and equipment in stock). Franz Heinrich Schmitz did eventually register a company name – FA Heinrich Schmitz – at the district court of Burgsteinfurt on October 8, 1934; the founding year was, however, given as 1892.
While the early name was uncertain, as Andreas Schmitz, the current CEO of the company, says, it is clear that Franz Heinrich Schmitz had "a good nose" for the international transport and logistics business – even back then. "The roads were both hilly and bumpy and, when travellers took a break, he would take care of the horses' shoes and the damaged iron rims on the wooden wheels of the wagons," he explains.
Franz Heinrich Schmitz's business owned a forge, which – in time – provided other services, too. For instance, it also traded in agricultural machinery and ironware.
Once freight transport became motorised in the 1920s, the company started manufacturing trailers. Reflecting this, the company name was changed to Heinrich Schmitz Maschinen- und Fahrzeugbau (Heinrich Schmitz Machinery and Vehicle Construction) in 1932. Around 75 people were working for the business at that stage.
Heinrich Schmitz Maschinen- und Fahrzeugbau had an interesting way of doing business. Records from 1935 indicate that it offered "two-percent discount if two trailers are ordered, four percent for three trailers and delivery in three weeks".
The company introduced innovation after innovation – from semitrailers in the early 1930s to the Schmitz self-steering axle, which was launched at the IAA in Berlin in 1937.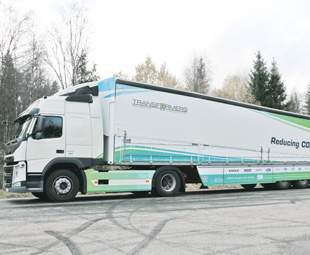 In 1943, the company changed hands, but, of course, it remained in the Schmitz family. Josef and August Schmitz, the founder's two eldest sons, took over the reins. August was responsible for sales and customer service; Josef took care of product development and also ran the factory.
For some reason, both brothers were extremely camera shy; while there are hundreds of photographs of Schmitz trailers from their era in existence, there are hardly any photographs of Josef and August.
This was an extremely difficult time for the business; following the end of the Second World War, trailer production was banned. There was still demand for the company's trailers, as a 1946 letter from Hentze & Co, a freight forwarding firm from Gütersloh, confirms.
In it, Hentze & Co requests permission to buy trailers, but this was declined, with one Theodor Rox replying: "I regret to inform you that trailer production cannot be resumed, solely trailer repairs are permitted." It was those trailer repairs that kept the company alive; in 1946 it still employed 71 people.
In 1948, the brothers registered a second company: Schmitz-Anhänger Fahrzeugbaugesellschaft (Schmitz-Trailer Vehicle Manufacturer Association). It ran alongside Heinrich Schmitz Maschinen- und Fahrzeugbau, which was responsible for administrative affairs. In 1949, the Federal Republic of Germany was established and, soon thereafter, trailer production recommenced.
The 1950s was a decade of dynamic development in Germany; gross national product increased by 80 percent between 1952 and 1960. In 1955, the millionth Volkswagen Beetle was produced.
Meanwhile, under the motto "Schmitz-Anhänger vollenden jeden Zug" ("Schmitz trailers pull off every move"), the trailer manufacturer from Münsterland produced hundreds of trailers, semi-trailers, box bodies, tippers, tankers and tracking units in Altenberge.
It was also successful in the export market. By 1961, the company employed 300 people, produced more than 300 trailers a year and boasted an annual turnover of DM10 million (the DM doesn't exist anymore, hence the lack of a conversion to rands).
With the Altenberge production facility soon bursting at the seams, more plants were opened in Berlin (1967) and Vreden (1969). Heinz Schmitz (son of August) and Peter Schmitz (son of Josef) took over at the helm in the early 1970s.
Bernd Hoffmann (who was initially responsible for marketing and was eventually chairman of the board) joined the team in 1974, and played a significant role when it came to opening up international markets.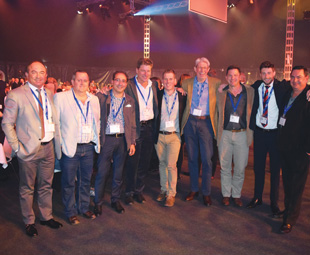 This was a very turbulent time for the German commercial vehicle industry. Within a few years, many household names ceased to exist. Krupp ceased truck production in 1968, MAN acquired control of Büssing in 1971 and Hanomag-Henschel was taken over by Daimler-Benz in 1974.
In 1975, Magirus-Deutz was acquired by Iveco. Opel, the largest producer of light trucks in the German Reich, ceased production of its hugely successful Opel Blitz in 1975, and then stopped building trucks altogether. Most trailer companies faced tough times, too.
Meanwhile, Schmitz-Anhänger was enjoying unprecedented growth. The oil-producing nations were experiencing a boom; the price of oil was going through the roof. They had money to spend and, as such, they were Schmitz-Anhänger's saviour.
The company sold hundreds of low-loaders, heavy oilfield vehicles with winches, dump trucks, tankers, silo trailers for grain transport and insulated reefers to countries such as Saudi Arabia, Iran, Iraq, Egypt, Oman and Libya.
In 1977, Schmitz-Anhänger employed more than 500 people. In 1986, this number had risen to over 1 000. It employed more than 2 000 people by 1992. Turnover increased tenfold to more than DM250 million between 1970 and 1990 – with the company becoming Germany's largest trailer manufacturer.
The market changed fundamentally when the project business with oil-producing countries dried up, with German reunification in 1990, and the creation of the European single market in 1993. Management decided to make a radical shift and focus on "growth through sacrifice".
With this in mind, the so-called Genesis project was launched in 1994, whereby Schmitz-Anhänger focused on the most profitable areas of its business. From then on, it built only trailers with platforms and tarpaulins, box bodies and tipper bodies or container chassis.
Through process-driven industrial production, the lead time per vehicle was reduced from five weeks to five days and production hours from 190 to 35. The concept worked: 5 100 vehicles were manufactured in the 1992/93 business year and 17 000 a year by 1998/99, with turnover reaching almost DM1 billion (DM944,3 million).
The company was renamed Schmitz Cargobull in late 1998, with shares divided equally between the three families of Peter Schmitz, Heinz Schmitz and Bernd Hoffmann.
Peter Schmitz was chairman of the board from 1999 to 2003, followed by Bernd Hoffmann up to 2008. Long-time manager Ulrich Schümer then became chairman of the board of Schmitz Cargobull, until a member of the original Schmitz family, Andreas Schmitz, again took over the reins in 2016.
He is passionate about the group's future development in the age of digitisation and globalisation. Speaking at the trailer maker's 125-year celebrations, he announced the formation of a new digital company that will be launched within the next three months. Schmitz Cargobull will invest more than €15 million (R238 million) in the new company.
Today Schmitz Cargobull has six plants in Germany and plants in Spain, Lithuania, Russia, China and Turkey. It employs 5 700 people, who produced more than 57 000 vehicles in the 2016/17 business year. Annual turnover exceeds €2 billion (R32 billion). Its tentacles reach as far as South Africa, via its interest in GRW.
Not too shabby for a company that started out fiddling with horses' feet.
Focus on Transport
October 20, 2017
Published by