Daimler is continuing the local expansion of its Fuso range of vehicles with the addition of a second Indian-built product – the FJ 16-230. GAVIN MYERS finds out more
Forget past perceptions of Indian-built products – Daimler Truck and Bus South Africa is clearly hitting the right notes with the vehicles introduced from the Daimler India Commercial Vehicle (DICV) operation.
Just last year, it launched the smaller FA9, which, following a customer and dealer trip to the plant in Chennai, India, has gained good momentum.
"We launched the FA9 with some aggressive sales figures in mind. We can report that today we have doubled on those," says Kobus van Zyl, executive director, Daimler Truck and Bus South Africa.
Like the FA9, the new FJ 16-230 fills an existing gap in the Fuso range; it fits into the pecking order after the heavy-weight Fighter and before the extra-heavy Super Great. (The FA9 slots in after the medium-weight Canter and before the Fighter.)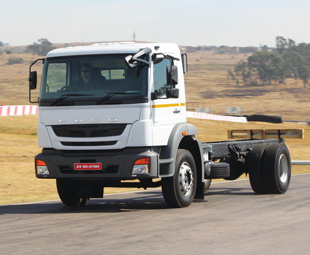 "We see huge potential in the FJ16. This is a key product for the Fuso range in the future," says Naeem Hassim, head of Fuso Trucks Southern Africa.
What's on offer? The FJ 16-230 is aimed at typical urban distribution, rentals, courier and small, micro and medium enterprise needs. It is rated at 16,6-t gross vehicle mass and has the capacity to handle payload of up to eight tonnes, depending on body configuration.
The chassis frame has been shot-peen blasted and powder coated to prevent corrosion. Reinforced cross members have been added to optimise loading in different applications.
The vehicle has been designed to be manoeuvrable in town – with a small turning circle and high scrub radius – as well as to be able to hold its own off the beaten track – thanks to high ground clearance and a standard-fit electronic differential lock.
The rear axle is a heavy-duty, full-floating single-reduction hypoid design. The parabolic front suspension has an anti-roll bar to improve stability, while the rear suspension is a heavy-duty multi-leaf design.
"This allows for better performance and fuel consumption as well as the ability to handle both on- and off- road heavy-duty applications," says Harry Makitla, product manager, Fuso Trucks Southern Africa. "Our customers want vehicles that are reliable and give good performance on the road," he adds.
Speaking of which, the FJ 16-230 features a Daimler-sourced, 6,37-litre, six-cylinder powerplant. This is rated at a Euro-3 emissions level and produces an output of 170 kW at 2 200 r/min and torque of 810 Nm between 1 200 and 1 600 r/min.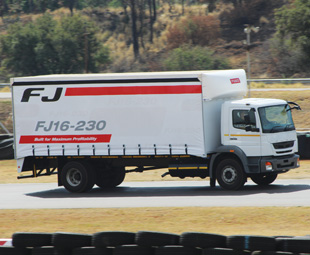 To aid reliability, the individual fuel pumps are oil-lubricated, which reduces wear. "Should one of the injectors or pumps fail, the vehicle will still run. This way we can prevent breakdowns and the vehicle can get to a workshop under its own steam," Makitla suggests.
The 4×2 drivetrain is fitted with a six-speed manual transmission geared for 90 km/h and gradeability of 38 percent. The dry, single-plate, hydraulically actuated clutch offers 3,5 mm of wear and features a wear indicator.
Automatic gearboxes are currently in development. Power take-off is standard. Braking is fully pneumatic and the auxiliary braking system is by way of a standard-fitment engine brake.
We were able to test numerous bodied and un-bodied examples on launch – in a variety of dynamic handling and manoeuvrability tests – and can report that the FJ is indeed a cinch to drive.
"As with all the rest of the commercial vehicles produced at the DICV plant in Chennai, the Fuso FJ underwent rigorous testing and was assessed under the most strenuous driving conditions to ensure maximum reliability," Hassim notes.
The engineers have also done their best to make the FJ16 as easy to work and live with as possible. In an effort to simplify the pre-trip inspection process, an electronic on-board diagnostics system is fitted. The driver can easily use this each morning, or for quick troubleshooting.
A variable green band indicator helps minimise fuel consumption, and an intelligent instrument cluster ensures all vital information is always easily visible. The on-board computer displays information including average fuel consumption and engine run hours, as well as a neutral and reverse indicator.
The cab, itself, is of an extended day-cab design, which features a foldable bunk (it's not a sleep cab) and opening rear windows. Standard air-conditioning and tilt and reach-adjustable steering is fitted. It's a spacious environment and finding a comfortable driving position is easy.
The cab is designed to be as aerodynamic and safe as possible, with a three-piece steel bumper with a secondary heavy-duty steel piece behind. It hydraulically tilts to 67° for easy servicing.
Service intervals are 20 000 km on the engine, 40 000 km on the transmission and 60 000 km for the differential – or 12 months on all, whichever comes first. A two-year unlimited warranty is standard and the short and long-wheelbase versions are priced at R630 000 and R640 000 respectively.
"The FUSO FJ 16-230 was expertly built to be able to handle tough operating conditions experienced in southern Africa, and also to be ergonomic, fuel-efficient and tailored to meet the ever-demanding expectations of our customers," reiterates Hassim.
It seems as though the FJ16 is poised to add to the success created by the FA9. Even better news is that more products from the DICV operation have been promised.

Focus on Transport
September 7, 2016
Published by