Fun in a bus and more serious stuff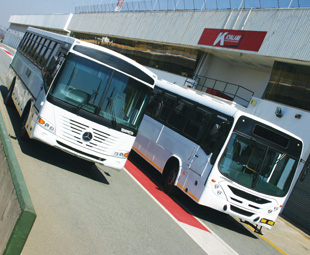 Mercedes-Benz treated its customers and staff to a rather different kind of day at Kyalami Race Track. The aim: to have a whole lot of fun while demonstrating the abilities of its buses. GAVIN MYERS went along for the ride.
Race tracks are not foreign ground to me, but the idea of your average commuter bus racing around one of the country's most well-known tracks (complete with full contingent of passengers) – well, that's new territory. Who would be brave enough to do that?
Mercedes-Benz, obviously. And why not? Being the world leader in bus chassis production has to count for something. The company was keen to show this off at its very first bus and coach track day held in mid-September at Kyalami Race Track in Midrand, Gauteng.
All Mercedes-Benz commuter bus chassis are imported from Brazil, and we're not talking about buses based on truck chassis. These are dedicated bus chassis – and driving around the track, it showed.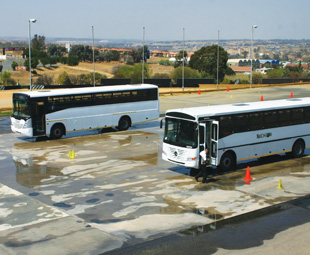 Guests were given the opportunity to sample four vehicles built on Mercedes-Benz chassis OF 1726 and OF 1730, fitted with 194 kW (260 hp) and 224 kW (300 hp) engines respectively. Two were fitted with Marcopolo bodies, one by MCV and one wearing a Busco Predator body. "Climb in; we're going for a ride!" Not your everyday invitation, and not your everyday bus ride.
With a member of the Mercedes-Benz Dynamic Driving team behind wheel, we were able to witness and experience the impressive road-holding, minimal lean angles, overall stability and impressive braking systems of the buses as they went through a slalom and around the rather technical track.
Guests were also able to sample the buses' ease of maneuverability by competing in a parking exercise and were able to put their mechanicals to the test with a series of drag races.
But it wasn't all fun and games – representatives from every area of Mercedes-Benz's bus and coach business were on hand to provide facts and figures.
"After the World Cup, we expected the market to collapse," says Mercedes-Benz South Africa vice president of Commercial Vehicles, Kobus van Zyl. "But we then focused on customers requiring replacements with ready-built buses."
Sold through a dedicated bus dealer network, all aspects of the Mercedes-Benz value chain are offered to heighten the customer experience. From finance (Mercedes-Benz Financial Services has financed over 2 000 buses since 1997) and the company's CharterWay warranty offerings, to genuine parts, after-sales service excellence and even buying from or selling into the second-hand market via the newly launched TruckStore (see page 40), all needs are taken care of.
Mercedes-Benz Bus and Coach Brand Manager Dirk Ansorge concluded by saying, "It is indeed our strength as MBSA that we can offer product and value chain services to customers through our strong dealer network. We are all committed to sustainable partnerships."
Focus on Transport
October 1, 2012
Published by