Our annual Captains of Industry features are usually included in the December issue … But we simply had to make an exception after a wonderful meet-and-greet lunch at the Golden Arrow Bus Services' (GABS) head office, with the company's chief executive officer, Nic Cronjé.
CEOs are usually described as stern leaders who would put you in your place sooner than you can say sir or ma'am. This couldn't be further from the truth when it comes to Cronjé: While he is a straight-shooting leader who speaks his mind, he's also an approachable people person with a wonderful sense of humour.
This became apparent during a lunch on Valentine's Day, held at the company's head office, at which various industry players joined Cronjé and some GABS representatives for a networking lunch. Here the topics ranged from French bulldogs to cricket and President Jacob Zuma's State of the Nation address.
But everyone also "talked shop" as we touched on public transport and delved into each person's background … Cronjé mentioned that this year marks his 35th anniversary with Golden Arrow. So, during a follow-up interview, FOCUS got to know even more about this forthright CEO and his time with the company.
"I was working as the chief research officer, at the National Institute for Transport and Road Research in 1978, developing a uniform management information system for the bus industry, when I met senior staff from Tollgate Holdings," Cronjé tells FOCUS, when asked how he came to work at GABS (one of the Western Cape's oldest and biggest bus operators). "The rest, as they say, is history."
From 1979 to 1992, Cronjé held various management positions in the Tollgate Holdings Group, including general manager and managing director of City Tramways, managing director of Tramway Holdings and director of Tollgate.
From 1992 to 2004, he has served as the executive chairman of Golden Arrow Bus Services, following a management buyout of City Tramways. Since then, he has been the CEO of GABS – which, since 2004, has been a wholly owned subsidiary of Hosken Consolidated Investments (HCI).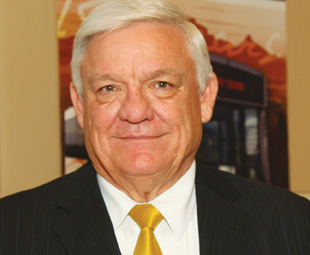 "In 1992, I led a management buyout of City Tramways," Cronjé points out. "In order to do so, we really had to put everything that we had on the line. Success wasn't guaranteed. It was a leap of faith that we had to take, because we believed in the company and its people."
He continues: "Today, 2 600 staff members and approximately 14 000 dependents are taken care of, because Golden Arrow exists. This proves that we made the right decision 22 years ago, and again 10 years ago, when we sold the company to HCI."
But the company doesn't only look after the interests of its employees … "The new executive management and I decided that we would base all our most important decisions on one simple question: 'Will it benefit our passengers?' And today that same question is still at the centre of our operating ethos," Cronjé relates.
"We have an exceptional management team, many of whom have post-graduate qualifications, but, more importantly, all of whom are passionate about getting our passengers where they need to be," he adds.
Cronjé plays a major part in this as well. "I have always believed in playing a very hands-on role in all aspects of Golden Arrow's operations, as well as fostering very strong relationships with stakeholders," he tells FOCUS.
However, Cronjé relies heavily on the GABS team. "Over the years, my management team has really grown from strength to strength and I rely on them as an operational interface," Cronjé points out. "I therefore spend a lot of time working very closely with them and am very privileged that, after 35 years with Golden Arrow, I still wake up every morning excited for the new day and the challenges it may bring."
And the bus industry does present its fair share of challenges. "Our greatest challenge is constantly finding innovative ways to entrench a culture of operational efficiency throughout the company at all levels," notes Cronjé. "Golden Arrow would also ideally like to increase its fleet but, owing to the Division of Revenue Act of 2009 (DORA), the funding is simply not available."
He continues: "The passengers are there and we want to be their transport mode of choice, but the requisite capacity is not in place. In the current economic climate, we also have to do all that we can to shield our passengers from having to carry the burden of rapidly escalating operational costs."
The industry has also changed significantly throughout the 35 years Cronjé has been part of it. "In terms of buses, the basics haven't changed, but the 'bells and whistles' have certainly become a more and more prominent feature," he relates.
"Environmental concerns within the industry are relatively new, but we have had to adapt every facet of our operation to ensure that we are doing as little harm as possible. In this regard, I must say that the unveiling of our first green depot in Phillipi, in 2008, really was a proud moment."
So GABS is tackling its challenges by adapting its operations and keeping abreast of current trends. "It is essential that we are able to adapt to the environment in which we find ourselves and maximise our ability to stretch the resources that we have," Cronjé points out. "Although we're more than 150 years old, we are a very forward-thinking company. Innovation is encouraged and actively sought out at all levels."
This augurs well for GABS, as technological advancements are one of the biggest trends within the bus industry, but there's another trend that Cronjé is more excited about. "What is most exciting is the increasing move away from private vehicle usage and towards public transport," he tells FOCUS. "This bodes well not only for Golden Arrow as a business, but for the industry as a whole."
As for the bus industry's future, Cronjé quips that he doesn't have a crystal ball and that it is very difficult to predict what will happen in the years to come … "But I think we will see public transport becoming more of a talking point. It is my belief that, whatever happens, Golden Arrow can (and should) continue to play an important role in public transport across the Cape Town metropolitan area."
And, with Cronjé at the helm, the company's chances of achieving this look promising.
Focus on Transport
April 1, 2014
Published by