Gavin Myers appointed as editor of FOCUS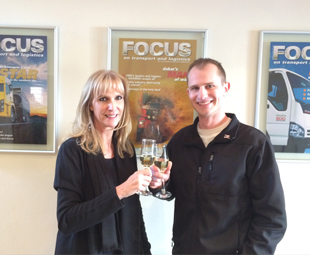 It is with huge excitement that we can announce that Gavin Myers has been promoted to editor of FOCUS on Transport and Logistics!
Gavin joined FOCUS in February 2011 as a journalist. He was promoted to assistant editor just a year later.
Charleen Clarke, editorial director of Charmont Media Global, says that the promotion is richly deserved. "It has been so gratifying to see Gavin grow as a writer and as a person over the past six years.
"When I employed Gavin, I suspected that he had a lot of potential – but he has truly exceeded even my wildest expectations!
"Gavin has matured over the years; when he joined us, he was a young man. He's now wise and demonstrates levels of competence and responsibility that belie his (still tender) years.
"Furthermore, Gavin has developed into a first-class writer, but he has also shown that he's much more than that. He's also a good leader and I have absolutely no doubt that he will take the country's premier transport magazine to even greater heights!
"I know I speak on behalf of the entire FOCUS team and the entire transport industry when I congratulate Gavin on his appointment as editor," she concludes.
Focus on Transport
June 28, 2017
Published by