Global truck families bed down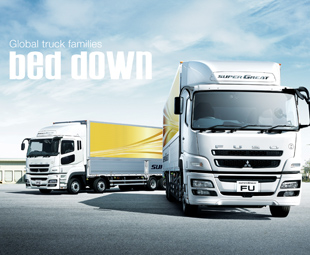 This month FRANK BEETON explores how UD's revised Quon and new Condor PK point to a significant step forward in Volvo's plans for a "global engine family". We take a closer look at Fuso's new super-big "Super Great" (the next step in Daimler's plans for a "global heavy-duty engine platform"?) and the implications for South Africa's Amalgamated Automobile Distributors of China's Beiqi Foton Motor Company joint venture with Cummins.
UD Update
In May – as part of a review of global strategies adopted by the world's major truck manufacturing groups – we looked at prospects for the UD brand (formerly Nissan Diesel) within the Volvo group, particularly regarding the use of standardised engines. We also mentioned sightings of a 4×2 Quon truck-tractor, possibly fitted with a Volvo engine, on test in Australia. And we were spot on the money! An updated Quon, fitted with the Volvo group's new global 11-litre engine, has since been launched in Japan.
In addition – having alluded to plans by the Volvo group to internalise production of its Euro 6-compliant "medium-duty 5- to 8-litre" truck diesel engines from 2013 replacing the current generation manufactured for installation in Volvo and Renault trucks by Deutz AG in Germany) – we can now report on recent statements from UD Trucks that may throw more light on the eventual shape of this "medium" engine family.
But first, the Quon. Spurred on by the latest JP09 emission regulations introduced in Japan in 2009  – and said to be the world's most demanding – UD Trucks has launched a new version of its flagship model for the domestic market. Available in two-, three- and four-axle configurations with single or double drive axles, the new line-up offers the new GH11-designated engine with outputs of 350, 380 and 410 hp (260, 279, and 302 kW), as well as a larger displacement GH13 unit in 450 or 480 hp (335 or 360 kW) truck-tractor applications. Features of the GH11 engine include a lightweight variable-geometry turbocharger, ultra high pressure fuel injection, upgraded urea-based final low emission new diesel system (FLENDS) catalytic reduction technology, unit injectors, and large exhaust gas recirculation unit. The new engines drive through an upgraded ESCOT-V version of UD's 12-speed automated mechanical transmission, featuring a wider ratio spread, no clutch pedal, deceleration control, and economy-boosting early up-shift function. ESCOT-equipped models also incorporate electronic brake control with anti-lock and anti-spin regulation functions. In addition, the revised Quon may be ordered with a multi-purpose display, providing voice and visual driving cues to encourage fuel-efficient driving techniques; and "traffic eye brake" radar-based surveillance to reduce the risk of damage from collisions with slower or stationary vehicles ahead.
However, UD's new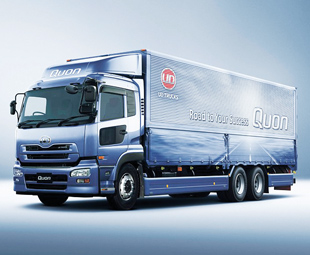 Condor PK model may well be even more significant than the revised Quon. It  introduces the marque's first all-new cab design in the cruiser-weight class since 1993, signalling the revival of in-house engine fitment to this range. As far back as mid-2001, then-financially-compromised Nissan Diesel announced that it was ending production of some smaller-displacement diesel engines, planning to procure power units of between 5- and 8-litre capacity from Hino Motors Limited, beginning in 2003. This strategy did not apply immediately to all export markets. But when Australia adopted its Euro 4-equivalent ADR 80/02 emissions protocol at the beginning of 2008, UD's Oceania operation responded with a revised MK/PK product line-up – adopting domestic Japanese Euro 5 specification best practice.
Although, externally, these vehicles looked very similar to their immediate predecessors, they were fitted with variants of Hino's J05 and J08 engine series, with outputs ranging from 173 hp (109 kW) to 258 hp (192 kW). When Global Focus reported on this development in October 2008, we correctly identified the 2009 Japan emission standard upgrade as an opportunity for the return of in-house power to UD's middleweight truck range. In the interim, of course, the Volvo group had announced the introduction of "global engine families". The subsequent emergence of UD's PK-series truck, with its new GH7 engine, appears to confirm the roll-out of this strategy.
The new Condor PK is described in UD's launch announcement as a "global truck" with an 8-ton load capacity. This is an interesting reflection on Japan's revised drivers' license system which came into effect in June 2007, creating a new medium-truck category positioned between 5 and 11t gross vehicle mass (GVM) – and ending the earlier long-running dominance, in the domestic market, of high-specification four-tonners rated at eight tons GVM. The most visually striking feature of the PK is its new cab, claimed by UD to echo the Quon design; but with a considerably more "edgy" image in this writer's opinion. In terms of technology, the GH7 engine is given major prominence in the launch announcement, together with an all-new version of UD's selective catalytic reduction emission countermeasure to ensure compliance with the latest emission level regulations.
In its press release, UD placed considerable emphasis on the Volvo group's common architecture shared technology concept – so there is every reason to believe that the GH7 engine design will be found behind other Volvo group nameplates, even though it has arrived on the Japanese scene well in advance of the 2013 target date referred to in May's announcement. This may provide additional leeway for in-service testing and development specific to installation in Europe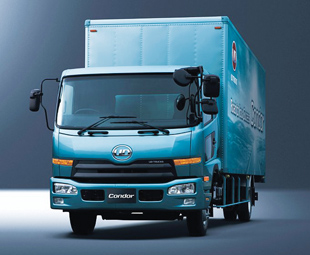 an market products, where the bulk of Renault and Volvo's trucks of equivalent size are sold. The potential group-wide application of the GH7 design warrants a closer look at detailed specifications, which include:
• 6-cylinder in-line configuration, with four cycle operation and water cooling;
• Displacement: 7.0 litres;
• Common-rail direct injection fuel system with turbocharger and inter-cooler;
• Output: 245 hp (180 kW) at 2 500 r/min;
• Torque: 716 Nm at 1 300 r/min.
Both the Condor PK truck and the GH7 engine will be manufactured at UD's Ageo plant located outside Tokyo, and are scheduled to enter Japanese and export markets later this year.
Fuso's new "Super Great"
Readers unfamiliar with the way in which Japanese scriptwriters sometimes use the English language may think that the Mitsubishi Fuso Truck and Bus Corporation (MFTBC) is using too many superlatives in describing the latest version of its extra-heavy truck range. However, it is just possible – that in this instance – "great" may mean "big" in much the same way that "fondle" equals "pet", leading to the urban legend that dogs could once be purchased from a "fondle shop" in early post-war Tokyo!
In fact, the "Super Great" is highly significant in that it is the first of Daimler Trucks' global family products to use an HDEP-based engine outside of the United States. While Daimler had already released substantial information regarding the planned usage and roll-out of its "global heavy-duty engine platform", until now the only hardware to emerge has carried Detroit Diesel's DD13, DD15 and DD16 badging. Preliminary information released in 2006 indicated that the family would comprise four displacement versions from 9.9 litres to 15.6 litres, with outputs ranging from 248 to 644 hp (185 to 480 kW). Common design features now include a six-cylinder in-line layout, with twin overhead camshafts, four valves per cylinder, high pressure electronically-controlled "amplified" common rail fuel injection system, three-stage Jacobs brakes, and the somewhat surprising incorporation of turbo compounding in the DD15 and DD16 variants.
Mitsubishi's version of the engine for the Super Great is being manufactured in Mannheim, Germany, and is designated 6R10. As in the case of recent UD products, its introduction was dictated by Japan's recently-enacted JP09 emissions regulations. It is a 12.8-litre in-line six, sharing its principal dimensions with Detroit Diesel's DD13 version with outputs for Japanese market applications ranging from 350 hp to 420 hp (257 kW to 309 kW). Fuso has dubbed its version of the common-rail fuel system "X-Pulse"; and the engine has a high capacity EGR cooler and a water-cooled variable geometry turbocharger, using Daimler's BlueTec urea-based SCR system.
The name "Super Great" was first applied to Mitsubishi's flagship heavy truck range in 1996, and the new range replaces the previous series which has run since 2007. The domestic Japanese model line-up spans the GVM spectrum from 16 to 25 tons. Features for the range include extended availability of the lightweight 12-speed INOMAT-II automated mechanical transmission with shift-down supplementary brake and two-pedal control – as well as Mitsubishi's driver attention monitoring system, electronic stability programme, active mitigation brake collision-avoidance system, front under-run protection, and ISO specification wheel stud equipment. Additional models are to be developed by MFTBC for selected export markets.
Foton pops up in Australia
The International Truck, Trailer and Equipment Show held in Melbourne during March featured a comprehensive selection of American, European and Japanese trucks that, together, take the lion's share of South Africa's truck market. However, there was one relatively small exhibit that raised quite a few eyebrows – and which, for a number of reasons, should also be of more than passing interest to South African readers. This was the Foton Aumark light truck, manufactured by the Beiqi Foton Motor Company of China and exhibited on the Western Star Trucks Australia stand. Together with the recently announced imminent arrival of Hyundai's HD series, the local specialist transport press immediately identified the presence of this 4.5 t GVM model as part of an emerging threat to Japanese brands' current dominance of Australia's light truck sector. While these new entrants will need to build credibility in the notoriously conservative Aussie market, the general expectation is that their entry pricing levels will be extremely attractive – with definite appeal to smaller operators and service sector businesses, who form the obvious initial target group.
The first point of interest is the product itself. At first sight, it presents as a fairly conventional forward-control light truck chassis with a 4.5 m steel drop-side body. However, the presence of a 2.8 litre Cummins ISF 4-cylinder diesel engine under the cab provides an early glimpse of the new range of light diesels now being manufactured in China at the Beijing Foton-Cummins (BFCEC) engine joint venture plant. The unit fitted to the Aumark on show develops 148 hp (110kW), but the BFCEC plant also builds a 3.8-litre ISF diesel that puts out 168 hp (125 kW). Annual production of this engine family – which features common-rail high pressure fuel injection, rear-mounted timing gears, and some composite components – is planned at 400 000 units. The Aumark's engine drives its rear wheels via a ZF five-speed manual transmission, with other standard features including electric windows, cruise control, air conditioning and a radio/CD player.
Local interest in Foton and its products followed the announcement, on 18 August 2009, that Amalgamated Automobile Distributors (AAD) were holding discussions with Foton Motor Group over the possible introduction of its heavy-duty trucks to the South African market. A joint venture between McCarthy's and Imperial Motor Holdings, AAD was formed to distribute Chery and Foton products in South Africa; but the relationship between the Chinese manufacturer and global market leader Daimler Trucks makes the AAD talks even more interesting. Early in January 2009, it was revealed that the two companies were to set up a 50/50 truck joint venture named Beijing Foton Daimler Automotive. This operation is due to start diesel engine production in 2011, and will commence truck manufacture – at an annual rate of 100 000 units – the following year. Beiqi Foton currently produces its own range of heavy-duty trucks, named Auman, and is expected to continue to offer this product alongside new joint venture-developed models incorporating Mercedes-Benz designs and technology.
A decision by Terry Peabody's Western Star Trucks Australia to form an association with a Chinese manufacturer adds further significance to Foton's presence in Melbourne. The relationship has since  been consolidated in a new local entity named Foton Commercial Vehicles. Australian Peabody is something of an icon in the global truck business, having at one time owned the Western Star company. His current interests include the rights to distribute Western Star and MAN in Australia – a most unusual combination given their separate corporate ownerships within the Daimler and Volkswagen groups respectively. There can be no doubt that the association between Peabody and Chinese trucks will serve as a positive influence on perceptions of these products down-under.
---
Global FOCUS is a monthly update of international news relating to the commercial vehicle industry. It is compiled exclusively for FOCUS by Frank
Focus on Transport
July 1, 2010
Published by