Golden Arrow Bus Services has earned Road Transport Management System (RTMS) accreditation, in so doing writing itself into the annals of South African bus history! CHARLEEN CLARKE joined the celebration …
There was a decidedly jovial mood in the air when Golden Arrow Bus Services (GABS) received its RTMS accreditation. The GABS team was bursting with pride – and for good reason.
While it's far from the first South African company to earn RTMS accreditation (it follows in the tyre tracks of 146 fleets countrywide representing some 8 000 trucks and buses) it owns the largest RTMS-accredited fleet – by far. There are two other bus companies that have earned accreditation, namely Buscor and Intercape, but their fleets (404 and 152 respectively) are far smaller.
The significance of the celebration was reinforced by the presence of the National Minister of Transport Dipuo Peters, who congratulated GABS. "Your certification will go a long way in ensuring that you join government in the fight against the scourge of road crashes and fatalities," she noted at the event.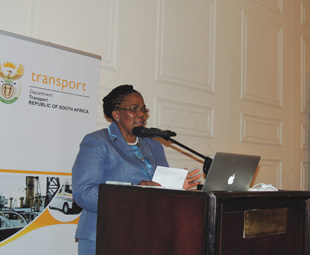 John Dammert, corporate affairs executive of GABS, pointed out that the accreditation had massive significance – especially within the bus sector. "While the RTMS fraternity appears, for now, to be dominated by our cousins from the road freight industry, there is a fundamental element which is a notable differentiator, namely, our cargo is human," he said.
"Just as unemployment, poverty and inequality are the ravages of our society, so too are irresponsible driver behaviour, poorly maintained vehicles and ailing infrastructure the scourges that threaten our roads as a public space," he added.
Dammert stressed that the accreditation had not been achieved overnight. "It is the coalescence of more than 150 years of tried and tested acumen gained from providing bus services to the commuters of Cape Town. We have – over this period – become acutely aware of the risks associated with operating commuter buses as a public service," he revealed.
Yunus Shaik, chairman of the GABS board, also expressed delight at the accreditation, stressing that the company was passionate about safety.
RTMS auditor Oliver Naidoo said that this was extremely obvious. "GABS has already adopted best practices, when it comes to vehicle maintenance and driver performance, that are far more stringent than required by law.
"For instance, the buses were sent for roadworthiness testing every six months long before this became mandatory. GABS services its vehicles at 15 000 rather than at 20 000 km intervals, and its preventative maintenance strategy has seen a significant decrease in breakdowns," he told guests at the function.
Nic Cronjé, who has been at the helm of GABS for 32 years, noted that the RTMS sticker, which will soon appear on every one of the company's buses, affirms that the company is a responsible operator that is serious about road safety and committed to sustainable operational practices.
If I lived in Cape Town, that sticker would truly give me peace of mind. Well done GABS! I wish there were more bus operators in our country like you!

Focus on Transport
June 1, 2015
Published by