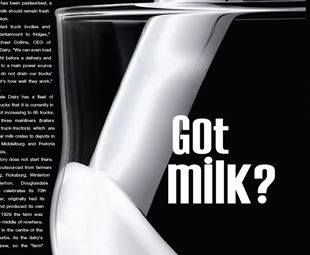 The days of the milk man delivering milk to our doors might be long gone, but we still rely on the delivery of fresh milk to our supermarkets, each and every day, seven days a week, 52 weeks a year.
FOCUS chats to Douglasdale Dairy about maintaining the cold chain and keeping the milk flowing.
As with all produce deliveries, time is of the essence, whether it's vegetables being delivered, or bread. But with milk, there are a few added complications. Keeping dairy cold is vitally important, particularly as it sours easily and supermarkets have the right to reject deliveries.
The advent of refrigerated transport went a long way towards revolutionising the dairy market. Milk crates refrigerated at between 3 and 5 oC are moved from refrigerated warehouses into refrigerated truck bodies, to refrigerated supermarket shelves. The cold chain is maintained throughout, and we have access to fresh milk that lasts longer. In fact, if the cold chain is properly maintained and the milk has been pasteurised, a container of milk should remain fresh for a full 10 days.
"Refrigerated truck bodies and trailers are tantamount to fridges," explains Michael Collins, CEO of Douglasdale Dairy. "We can even load them the night before a delivery and plug them in to a main power source so that they do not drain our trucks' batteries, that's how well they work," he continues.
Douglasdale Dairy has a fleet of 55 delivery trucks that it is currently in the process of increasing to 65 trucks. It also has three mainliners (trailers attached to truck-tractors) which are used to deliver milk crates to depots in Rustenburg, Middelburg and Pretoria on a daily basis.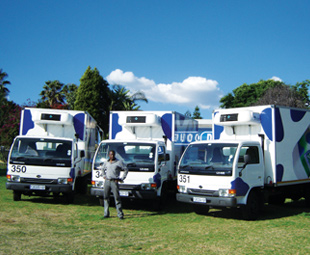 But the story does not start there. Raw milk is outsourced from farmers in Heidelberg, Ficksburg, Winterton and Standerton. Douglasdale Dairy, which celebrates its 70th year this year, originally had its own cattle and produced its own raw milk. In 1929 the farm was literally in the middle of nowhere. Today, it lies in the centre of the northern suburbs. As the dairy's operations grew, so the "farm" could no longer sustain the cattle needed to supply the dairy. Instead, outsourcing to large dairy farmers seemed a far more sustainable solution.
Raw milk still needs to be kept cold, however, and it is here that the cold chain begins. "Farmers pump the raw milk into their refrigerated tanks," explains Collins. "Once the milk is chilled, it is then pumped into tankers specifically designed to carry dairy."
These tankers can range from 10 000 l to 32 000 l in volume, and they are divided into compartments. "Compartmentalising the milk gives us a far greater chance of receiving good raw milk," explains Collins. "For example, if antibiotics are found in one compartment because the milk from a cow treated with antibiotics was not kept removed from the system during milking, the chances are that this milk has only contaminated one compartment, and so the entire load is not lost."
Each and every delivery of raw milk is checked for antibiotics and added water. If either are found, that compartment is rejected. Antibiotic-positive milk can result if a cow that has been treated with antibiotics is still accidentally included in the milking for that day. If the milk is sour for any reason, the compartment is also rejected, although the milk should not sour while it is being transported from the farmer to the dairy, unless there is a breakdown or some other serious delay.
"The tankers are not refrigerated, but they are jacketed to keep the milk as cold as it was when it was pumped into the tanker," elaborates Collins. "On average the milk will lose approximately 1 oC over a 12-hour period. Over the course of the last 18 months, we have only lost one tanker load to sour milk."
Once the raw milk arrives at the dairy, it is pasteurised, separated into the various categories of milk and cream, and packaged. Cold milk is sealed in containers, which are then immediately packed into crates and refrigerated, awaiting transport either that day or the following day.
"Exactly the same thing happens each and every day, it's the nature of our business," says Collins. "Each morning we deliver the milk that was packaged the day before. It's a never-ending cycle, and everything needs to be kept fresh and cold. There is no room for mistakes."
This is why transport and the method of transport are so important. In the case of Douglasdale Dairy's refrigerated trucks, reliable and capable suppliers are a must. The cooling units are supplied and fitted by Transfrig, and the bodies are designed and manufactured by Serco.
"Refrigerated unit capacities change depending on what set temperatures are required based on which perishables are being transported," explains Trevor Holcroft, CEO of Serco. "Depending on the unit, a refrigerated unit is capable of maintaining temperatures down to -30 oC, and the insulation needs to be capable of supporting such temperatures, or it can maintain a refrigerated body at an even 3 oC – which is the ideal temperature for milk products.
"Too cold and the milk will freeze, too warm and the milk will start to sour. It's a delicate balance and the truck bodies play a huge role in maintaining this cold chain."
"The trick is fiberglass-insulated bodies," reveals Holcroft. "Our fibreglass bodies are filled with polyurethane foam for insulation, the thickness and density of which depend on the temperature the body needs to maintain.
"Fibreglass also allows for seamless designs, both outside and within the body," he continues. "The significance of this is particularly important when transporting dairy. Spilt milk will really start to smell bad if it gets into joints and crevices, even if the body has been cleaned properly. Seamless bodies are easy to clean, and there are no grooves where milk can gather. It's a very hygienic form of construction, and meets Douglasdale Dairy's health and hygiene requirements."
The bodies are also tough. Designed to withstand operating requirements, the constant, day-to-day loading and offloading of crates do not damage the smooth interiors of these bodies. Instead, the fibreglass can withstand quite a beating.
"We also fit a sliding rear door instead of the traditional single rear door for Douglasdale," says Holcroft. "A swing door on the rear of a truck tends to get damaged when the truck backs into a loading bay with its doors open," he explains. "Douglasdale Dairy transports its products in plastic crates. The sliding door allows enough handling room while still protecting the door from damage and reduces the amount of cold air loss while offloading."
According to Collins, Douglasdale Dairy transports over three million litres of milk each month, and more than 1 000 crates a day to the depots alone. The soon-to-be 65 trucks completing local deliveries each day transport far more.
"Maintaining the cold chain is crucial to our business," he says. "Pasteurising milk is not worth much if we cannot get that milk to our customers. We need a strong, reliable fleet of vehicles which are integral to our business, and our fleet management by necessity needs to be superb."
Judging by the small localised dairy's growth over the past 70 years, the systems in place are serving it well. The nature of milk means that its footprint can never grow beyond a certain size from the dairy, without opening another dairy elsewhere. But for its size, the small dynamic team operating it, and the fact that now, 70 years later, it is still essentially a family business, Douglasdale Dairy certainly seems to have all the ingredients for a recipe of success.
Focus on Transport
October 1, 2009
Published by