Christo Kleynhans, product manager at Mercedes-Benz Trucks, is quietly optimistic about the brand's performance at Truck Test 2015. GAVIN MYERS finds out what ace the company has up its sleeve.
Mercedes-Benz Trucks has featured in two of the three previous instalments in the Truck Test series, only skipping last year's event as this focused on a segment in which it does not compete. With the running of 6×4 truck tractors this year, however, the company will be entering one of its newest additions to the Actros range.
Mercedes-Benz Trucks had originally planned to enter the Actros 2644LS/33 model. Kleynhans explains: "By
the time the test is run in April, we will have a new vehicle on the market – the Actros 2646LS/33, which will be launched in February. It's pretty similar to the 2644LS/33 originally planned for the test, just with a slightly different driveline."
Kleynhans says it's the vehicle he would recommend for pulling a tri-axle semi-trailer over a long distance. That's the exact reason the company has chosen to enter this combination, running a GRW tri-axle reefer.
"With the introduction of the new model, we have focused our efforts on driveline efficiencies, and we believe it'll be the ultimate vehicle for a 49,5 t combination. From that point of view, we believe it will do very well."
Tasked once again with driving duties is Naveen Sook, technical specialist at FleetBoard South Africa.
This time round, the 6x4s will run along the N4 to Komatipoort. Kleynhans is excited about this route. "Travelling towards Nelspruit, the dual highway lasts for only about the first 100 km, then it becomes a single lane. Traffic will play a much bigger role this time, but it is what truck drivers have to deal with every day.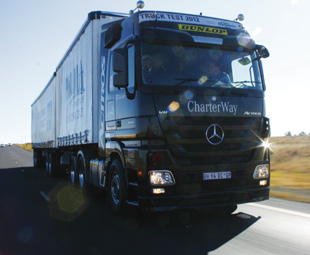 They don't always have the luxury of a highway. There's nothing wrong with this route; it's a great variation from running to Durban.
"There are significant gradients on this route; starting at over 1 400 m above sea level, climbing to 1 800 m and then dropping down to around 600 m, so we expect positive results from this challenging route," Kleynhans continues.
Kleynhans explains that the Truck Test series is very important for Mercedes-Benz as it allows the company to confirm that its products continuously exceed market expectations and, in addition, to observe what its competitors are delivering to the market. "It is good to get feedback from our drivers and observers about our vehicles and those of the competition."
"For example," he continues, "in the 2013 Truck Test we entered distribution-type vehicles – there we learned a lot. We're one of the few European manufacturers left in that market segment, and it was good for us to see that we did very well on fuel consumption and productivity.
Regarding this year's 6x4s, Kleynhans is interested to see what some of the new vehicles, which have entered the market in the last few years, have to offer. "You get facts from the test. It's not just about perception. We are certain that the test will prove that we offer a superior product compared to our competitors, even though we expect them to perform strongly. Everybody wants to do their best and put their best vehicles to the test."
For Kleynhans and the Mercedes-Benz team, Truck Test is a learning experience. "We're looking forward to this test and we're really excited about the new vehicle that we're entering; we believe it will be even more frugal than our current offering. Although it's not a competition, we can at least notice our performance as a market leader," he concludes.
Focus on Transport
February 1, 2015
Published by