Great things happen in small vehicles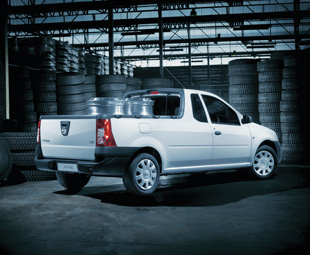 Dynamite comes in small packages. The light commercial vehicle (LCV) sector of the South African market is highly competitive. CLAIRE RENCKEN takes a look at some of the latest offerings and exciting innovations in this sector.
As South Africans, we do love our bakkies. However, the LCV sector encompasses so much more than that – these little workhorses come in many shapes and sizes, ranging from bakkies, to goods vans and people movers. But some trends apply across the board. Pedro Pereira, general manager at Associated Motor Holdings (AMH) Importer, highlights the following issues in the light commercial vehicle sector: "Companies are looking for LCVs with lower running costs. And they cannot afford to have downtime, so reliability is a key issue. Fuel prices are also going up dramatically, which is great for us given our excellent fuel economy, low running costs and reliability."
Of course, one of the challenges facing the sector is that it relies heavily on the performance of the economy, so with the small growth predicted in the economy, sales of LCVs will be under pressure, Pereira explains. But he remains optimistic about the future: "South Africa is buzzing with entrepreneurs and I still believe there is a strong market for LCVs given the number of small enterprises needing LCVs to run their businesses."
One of the impressive vehicles in the AMH Group is the Daihatsu Gran Max. This is a commercial vehicle designed to carry big loads and promote work production. The smart Japanese design ensures that the Gran Max stays reliable and competent.
This bakkie is suited to any industrial business as it can take up to a tonne of weight and has a large load bed of
3,7 m². It also boasts a long wheelbase
and short overhang, allowing for balance and increased strength.
Furthermore, the Gran Max offers a tight turning circle, power steering, impact absorbing bumpers and high performance. The frame of the bakkie takes most of the strain so the longevity of the vehicle is increased.
The Gran Max's features include:
• power steering
• clutch protection mechanism
• 1-tonne carrying capacity
• drop sides
• 71 kW output
• 134 Nm torque
• fuel consumption of 7,5 l/100 km
• air-conditioning
• dual airbags
• anti-lock braking system
• electronic brake distribution.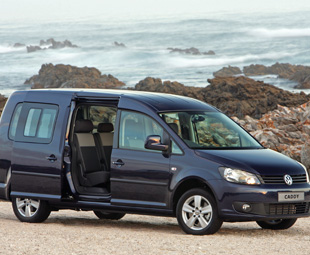 Moving on to an old favourite – whether it's for a quick delivery around town, or a business trip between cities, the Volkswagen Caddy remains a good choice. It's a pleasure to drive, and economical to run, without sacrificing power. From the 1.6i petrol engine with its impressive torque of 148 Nm at
3 800 r/min and a top speed of 164 km/h, to the highly efficient 2.0 TDI engine, you can't go wrong. Add to that exceptional road holding thanks to front and rear stabiliser bars and 195/65 tyres.
The Caddy is designed and built with one goal: to save you money. Thanks to Volkswagen's highly efficient common rail TDi technology that offers you lower fuel consumption, less carbon emissions and unbeatable reliability, the Caddy can boast a combined fuel consumption of just 5,6 litres for every 100 km travelled.
The Caddy includes essential safety features that are all standard such as: four airbags; electronic stabilisation programme (ESP); anti-lock brake system (ABS); traction control system (TCS) and electronic differential lock (EDL); high-level brake light; daytime running lights; front and rear disc brakes; as well as front and rear fog lights. Integrated front fog lights, which improve visibility in poor weather and ensure a high level of safety are an optional extra. The turning lights, integrated in to the fog lights, also give you a larger field of vision at difficult junctions and can help prevent accidents. The inner fog light on the bend illuminates the edge of the road when you are turning off at a speed of 40 km/h or less. Possible dangers can therefore be recognised more quickly for greater safety during the journey.
In terms of rugged bakkies, the ever popular Toyota Hilux also deserves a mention. Priced from R186 700 to
R358 200, the single cabs sport the following features:
• power steering (rack and pinion) on all models
• front and rear mud guards
• load area (mm): 2315 x 1520 x 450
• a five-year / 90 000 km ToyotaCare service plan
The Xtra cabs are priced from R264 900 to R384 100, and the double cabs from R334 700 to R475 900, and of course offer additional features.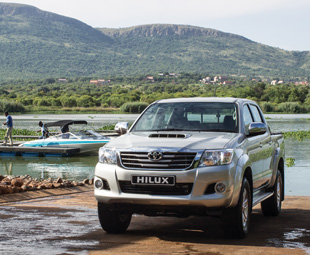 If it's a goods van you're after, the Toyota Quantum panel van is a strong contender. Priced from R285 200 to R338 600, it includes the following stand-out features: tinted windows, load area lashing eyes, immobiliser, central locking and PVC floor covering.
As for people carriers, Toyota offers the Quantum 10-seater bus (priced from R368 900 to R396 400) and 14-seater bus (priced from R383 100 to R399 000). Both have the following to offer: air-conditioning with 16 outlets, safety belts for all occupants, immobiliser and central locking, radio and front-loading CD player.
For a smart investment with hardworking muscle, the Nissan NP200 gets the job done. Highly versatile and functional, the new Nissan NP200 range brings a youthful energy to the Nissan commercial vehicle range. It offers the highest levels of reliability and durability, combined with the lowest possible levels of overall running and repair costs.
The sleek exterior styling projects a no-nonsense attitude. It effortlessly brings together practical ruggedness and modern flair. Besides being a smart business investment, on weekends, this is a robust bakkie that will take your leisure activities in its stride.
The high quality aesthetic appeal offers you the luxury and styling of a passenger vehicle while ensuring that the practicality and versatility, that is consistent with a bakkie, is not compromised. The stylish interior is open and inviting, and offers an array of interior comfort features. The NP200 boasts the biggest interior cabin space in its class with an additional storage area (300 l) behind the seats. Everyday items are within easy reach and the storage areas are logically arranged. Extensive storage capacity includes a glove box, door bins and drink holders under the central console as well as storage space behind the seat for your weekend getaways.
The trim is smart and inviting and the impressive levels of equipment and instrumentation combine comfort with safety and performance. Driver-friendly technology includes an air-conditioner, power steering, audio system and central locking.
Pulling away with an economical and fuel-efficient 1.6 litre engine (8V, 16V) and 1.5dCi engine, the NP200 has the biggest payload in its segment – 800 kg. It also has the biggest loadbox volume in the segment – 1,25 m3 which also comes rubberised as a standard feature. As if all of that wasn't enough, the Nissan NP200 also has the longest loadbody in its class – 1 807 mm.
So there's an LCV for everybody out there. Just make sure you know what the vehicle will be used for, do your homework and make an informed decision – and you can't go wrong. These vehicles might technically fall into the lightweight category, but they most certainly are not lig in die broek.
Focus on Transport
April 1, 2013
Published by