The term "green fingers" has new meaning as the world moves towards more sustainable, fuel efficient and environmentally-friendly ways of doing things. This month, FOCUS looks at a few companies, manufacturers and individuals in the transport sector who are taking this to heart.
How many times have you heard that the world is burning up its reserves of fossil fuels, and that we are killing our planet by doing so? Oil prices are soaring, with extra cost being passed on to the already cash-strapped consumer.
As Veerle Vandeweerd, director of the environment and energy group at the United Nations Development Programme, says: "Fossil fuels are becoming more expensive day by day. We have reached the point at which the cost of producing energy from these fuels exceeds the costs of renewable energy.
"There's also a need to research alternative energy options for the transport sector, such as bio fuels and electric vehicles. The transport sector is a significant contributor to greenhouse gas emissions."
So, what is being done within our industry to help the situation? Well, it's clearly an international, multi-pronged approach: manufacturers are constantly developing their vehicles to use less and deliver more; large companies and operators are becoming more conscious of the situation, employing special technologies and strategies to keep their fuel usage down; and drivers are being trained and incentivised to get the best-possible use and efficiency from their vehicles.
A perfect example is the TNT Express Drive Me Challenge. This worldwide competition for TNT Pick Up and Deliver drivers encourages them to attempt to drive as fuel efficiently and as safely as possible. Each year, TNT drivers from all over the world take part in this competition at national level, undergoing a series of tests and obstacles. The winner of each national round goes through to the global competition. (In 2010, a TNT South Africa driver, together with his co-driver, participated in the global round in Holland and came third in the overall challenge.)
Through this initiative, TNT is creating awareness around fuel efficient driving and allowing its drivers to experience how easy it is to drive both safely and fuel efficiently. This is important since operational vehicles are responsible for more than half of TNT's CO2 total emissions (this includes sub-contractors). Fuel efficiency is measured by relating fuel usage to kilometres driven, while fuel consumption is converted to CO2 using a conversion factor of 2,75 kilograms of CO2 per litre of diesel.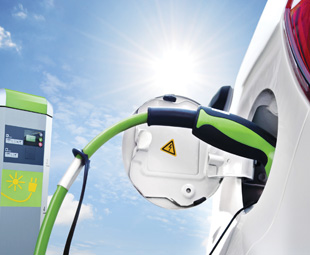 According to TNT, a five percent improvement in fuel efficiency would equate to potential CO2 savings of about 15 kilotonnes for the participating entities, which equates to the average emissions of about 1 700 western European families.
Modern technologies provide an important aid – aerodynamics being one of the most important aspects in this regard. Truck aerodynamic equipment manufacturer Aero Truck states that almost half the energy required to move a truck body at legal speeds is used to overcome wind resistance; as speed increases, so does the vehicle's power requirements. Streamlining features such as airdams and spoilers reduces wind resistance and therefore power requirements and fuel consumption. The British Department of Energy conducted wind tunnel and practical testing, showing that a roof-mounted spoiler and airdam combination reduces drag by up to 23 percent. Fuel consumption is therefore reduced by between eight and 10 percent, says Aero Truck.
Original equipment manufacturers (OEMs) are also picking up the gauntlet and making their vehicles more efficient. Two notable examples this year so far are MAN and Daimler, which are taking green consciousness very seriously both locally and internationally
MAN, with its EfficientLine range of vehicles, backed by the company's global Consistently Efficient programme, aims to reduce total cost of ownership by optimising fuel consumption, limiting a fleet's environmental impact and reducing fleet fuel costs. MAN claims that almost three kilograms of CO2 is emitted from every litre of diesel consumed, but its TGX EfficientLine recorded fuel savings of almost 3l/100 km during the 2011 European EfficientLine Tour.
This year, the company is achieving a similar feat with its TGS EfficientLine, based on the same design principles employed by its European counterpart – reduced aerodynamic drag, rolling resistance, auxiliary power consumption and overall tare mass – which you can read about on page 26.
The company has also been the driving force in helping clients Lafarge Gypsum SA and Sappi SA to improve their payload efficiency. Lafarge is running a "green fleet" pilot programme with two MAN TGS WW 26.440 truck-tractors with low tare-mass teardrop trailers (see
FOCUS July, page 69).
For Sappi and its contracted timber hauliers Timber Logistics Services and Buhle Betfu Carriers, MAN has partnered with trailer manufacturer Afrit to introduce new Smart Trucks to service forestry supply chains in Mpumalanga and KwaZulu-Natal. Powered by the MAN TGS WW 33.480 freight carrier, these "Smart Trucks" allow contract-specific tonnages of raw timber to be delivered to paper and saw mills using fewer vehicles. This smart way of doing things reduces operating costs, fuel consumption, emissions and road damage while helping to ease traffic congestion.
In the lead-up to the IAA Commercial Vehicle show (which will be happening in Hanover as you read this), Daimler Trucks previewed 16 commercial vehicles from Mercedes-Benz and FUSO that would be on show. Daimler says the common goal for all brands in its commercial vehicle line-up is to ensure the highest levels of transport efficiency and environmental-friendliness.
Says Andreas Renschler, Daimler AG Board of Management member responsible for Daimler Trucks and Buses: "Around 90 percent of a vehicle's total costs are generated after its purchase. Fuel costs play a major role here, and their impact is growing; they now account for nearly one third of the total costs. In other words: the end of gas guzzlers is near."
One model previewed was the FUSO Canter Eco Hybrid, which is now in production for the European market. This 7,5-tonne vehicle consumes 23 percent less fuel than its equivalent petrol-engined model, emphasising the benefits of such technology.
It is through shows like the IAA that such technology is shown off, but the show organisers themselves are also taking on responsibility and encouraging the point. Organisers of Automechanika 2012 in Frankfurt am Main (which will have just happened as you read this) have created a "Green Directory" visitor guide, which features 25 exhibitors with particularly sustainable and emission-reduced products. All entries received (57 companies participated) were assessed and scored on their innovativeness and sustainability, from which the 25 were chosen – and green signs in and around the exhibition halls will help visitors to find their way to these exhibitors.
Since 2010, the individual product gaining the most points has been singled out for a special award. This year, the highest score was achieved by Prins Autogassystemen BV with its Prins Direct LiquiMax System, a bivalent fuel system for petrol and liquid petroleum gas.
These are just some of the many examples we are seeing more and more of from various parties in our industry both locally and internationally. From producer to consumer and everyone in between, the world's transport sector is slowly but surely moving into a greener way of doing business. FOCUS hopes to report on many more stories like these along the way.
Green driving habits
In line with its Drive Me Challenge, TNT Express advocates the following tips for economical driving and controlling emissions – which absolutely anyone can do in any vehicle:
• Change your gears in good time, between 2 000 r/min and 2 500 r/min for both diesel and petrol engines.
• If you have to slow down or stop, take your foot off the accelerator in good time while keeping the car in the same gear.
• Check tyre pressure at least once a month; under-inflated tyres increase fuel consumption by up to three percent.
• Look as far ahead as possible and try to anticipate the traffic flow – this will help you to avoid sudden or unnecessary braking and acceleration, and can result in fuel economy gains of 31 percent or more, thereby reducing CO2 emissions.
• Drive at a steady speed in the highest possible gear and low revs (fuel consumption rises sharply over 100 km/h; travelling at a constant speed of 120 km/h, for example, uses 42 percent more fuel).
• If you have to stop for more than a minute, turn off your engine.
• Avoid leaving the engine running to warm up or defrost the vehicle – rather drive away immediately when starting from cold as idling to heat the engine wastes fuel and is not necessary if you drive away gently.
• Use air-conditioning sparingly as it increases fuel consumption by 10 to 15 percent.
• With today's trucks you won't save any fuel by accelerating slowly; rather accelerate to the level necessary to keep up with the traffic flow through all gears at low revs.
• Skip gears to get to the highest possible gear by using a block or skip gear-change method (first to third or third to fifth); you will reach the desired speed more quickly.
• Maintaining a gap between your vehicle and the vehicle in front of you is not only safe, but helps avoid constant braking and acceleration.
Focus on Transport
September 1, 2012
Published by