GUD plays with the big boys!
GUD has long been renowned for producing filters – for passenger vehicles. But now, as CHARLEEN CLARKE discovers, the company intends conquering the heavy-duty market. The man entrusted with this job is Brian Clarke, in his capacity as national sales manager – heavy duty at GUD Holdings, who explains he has a healthy respect for the commercial vehicle market …
Let's start at the very beginning. What does GUD stand for?
We actually don't know! GUD was originally an Australian company, and we've never been able to accurately establish the origins of the name. Going Up Daily – which refers to the sales that are always improving.

Is GUD still owned by Australians?
No, it was purchased by South Africans in the 1960s.
Is G-U-D the correct pronounciation and not GUD?
Correct.
Where were the GUD filters engineered– in Australia or here in South Africa?
Our filters have been developed in South Africa – specifically for African conditions.
GUD doesn't only supply filters – right?
Filters make up the most important part of our business; our range of 1 600 filters covers 3 500 vehicle applications and over 94 percent of the vehicles on South Africa's roads, but we also market Safeline brake pads and Indy Oil.
Do you supply any of the other GUD products to the commercial vehicle operators (other than filters)?
I am responsible for the heavy-duty market in its totality and yes, we are supplying other products too. For instance, we market Indy Oil to transport operators and we are in the process of developing heavy-duty brakes for trucks.
Would it be fair to say that GUD is now attacking the heavy-duty market with real vigour for the first time?
Yes.
Why only now?
We have been producing filters for the heavy-duty market for some time. In response to demand from our customer base, we have begun a programme focusing on this market. We are in the process of growing our range, because this is what the market wants.
As part of this new focus, you have invested substantially in your plant, correct?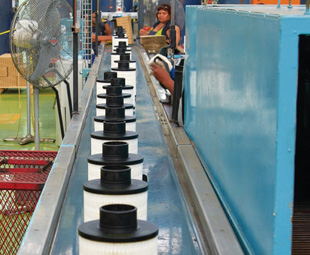 Yes, we have been producing heavy-duty filters all along, but the range was extremely limited. We aim to provide full service kits for vehicles, which will obviously include all the necessary filters required for a particular truck. This has necessitated a R4,3-million investment in a new heavy-duty assembly line at our manufacturing facility in Pietermaritzburg. It will produce filters for vehicles of 3,5 t and larger and will be capable of manufacturing all of the existing air filter types as well as some new designs, including conical-shaped filters.
The new equipment will also be able to produce filters double the size of any heavy-duty filter ever produced by GUD Filters. This facility produces our Proudly South African range of heavy-duty filters consisting of spin-on, radial seal filters, cabin air and nylon petrol filters.
Is the Pietermaritzburg plant the only GUD facility producing filters?
No, we also have a factory in Durban. Both manufacture heavy-duty filters, although the heavy-duty air filter line is located in Pietermaritzburg. We manufacture a huge range of air and fuel filters, fuel water separators, oil filters and cabin air filters.
With the new, extended range, what vehicles can you now service?
All the newest models within the Volvo, Mercedes-Benz and Scania ranges.
Do you supply filters to any of the original equipment manufacturers (OEMs)?
Yes, we supply several OEMs directly and indirectly through our branded filter programme.
What is the branded filter programme all about?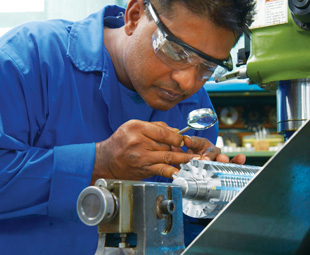 We don't just manufacture our own brands; we also manufacture for major international companies too.
Why should someone buy a GUD filter – as opposed to an OEM filter or a filter from another brand?
GUD only manufactures OEM quality. We are a Proudly South African company, so we create jobs in South Africa and we manufacture in South Africa. We are contributing to the economy.
Do companies care about that?
Yes, they do – unless you are way out on price. We are very competitive, and availability is excellent. Those factors both count in our favour. Plus, we have an extensive distribution network throughout the country, so our filters are always available.
How do you distribute your products?
We have several distribution partners, including Autozone, Midas, Diesel Electric and several other specialist filter outlets. Several African countries – such as Ghana, Mozambique, Nigeria, and Zambia – also carry the brand through various distributors.
Has it been difficult to gain market share within the heavy-duty market?
Certainly. We are competing with OEMs and several other well-established brands in the market. Plus, some operators don't necessarily associate GUD with heavy-duty vehicles. They know the name exceptionally well. They will tell me that they have always used it on their cars. They believe that it is a quality brand, but they were not previously aware that we were players within the heavy-duty market. We are already changing perceptions and raising the profile of GUD within the heavy-duty market; operators are coming to realise that our products are suited to heavy-duty applications.
How does the technology, pertinent to heavy-duty filters, differ from that of filters for passenger cars?
The technology is different because of the demands of modern truck engines and the different types of fuel being used. Truck technology is higher, and the tolerances of the new truck engines make it more important to have a very high-quality filter.
So then how did you ensure that you could deliver product with the right levels of technology?
Expertise and equipment were foremost when we set up the new line. We have a relationship with Mann and Hummel, our German partner, which gives us access to the latest technology. Some of the equipment is imported; some is made locally.
So you're confident that your products can do the job?
Oh absolutely. Take our air filters, which feature perforated and expanded mesh inner and outer sleeves. They boast a single layer of cellulose media, which is used to filter out contaminants, such as dust and sand particles, from the air entering the engine. Our oil filters are powder-coated, providing maximum corrosion protection for the filter.
Our diesel water separators are quality products too, as are our metal-free oil and fuel filters, which are eco-friendly and designed for the modern engine. They contain cellulose and multi-level meltblown media to ensure service intervals are met for all truck and bus requirements. These filters require that only the media cartridge needs replacing. After use, the residual oil or fuel can be removed from the cartridge by pressing the media. The filter can then be incinerated and disposed of, leaving no residue on the environment.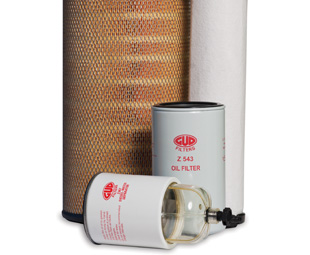 Sounds like you have a quality range on offer. Do you export your products?
Yes, we have received the President's Award for exporting successes. We are one of the biggest exporters of automotive components within South Africa. We export all over the world, with Europe being our biggest market. We have just established an office in Germany, specifically to service that market.
So the weak rand has helped you?
Absolutely. But we do export components. So it's a double-edged sword. We're a net exporter in rand terms though – so a weaker rand does have a benefit to us.
Finally, some people will say that the dinky toy (car) market is very different to the truck market. Are you sure that you have the skills and products to play in this market?
Definitely. I have 18 years of experience in the truck and bus market, so I know the South African transportation industry well. When it comes to the company and its products, we have been competing in the heavy-duty market for some time. It is not new to us. As such, we are well postioned to service the market and its needs.
Good luck and thank you for your time!
Focus on Transport
July 1, 2014
Published by