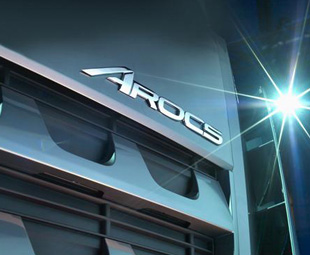 Mercedes-Benz is wowing the market with one new truck after another. In recent months, we have seen and written about the new Actros for long-distance transport and the Antos for heavy-duty, short-radius distribution. Now comes the Arocs!
From 2013 onward, all the truck and tractor units used for on and off-road applications in the construction sector will be known under this new name.
The new dump trucks, all-wheel drive dump trucks, concrete mixers, tractor units and drop-side chassis vehicles are available as two, three and four-axle vehicles with 16 output variants from 177 kW (238 hp) to 466 kW (625 hp).
All the engines have been designed to meet Euro-6 emission standards. The BlueTec 6 engines are designed as in-line, six-cylinder engines and are available in four sizes: 7,7, 10,7, 12,8 and 15,6 litres. The latter variant is very new and comes in the form of the OM 473 engine.
The engine's power will be transmitted by the Mercedes PowerShift 3 automated transmission, which is fitted standard.
The drive configurations offered for the Arocs, range from the 4×2 two-axle version with rear-wheel drive to 8×8/4 with a four-axle vehicle with all-wheel drive and two steering front axles.
Four-axle versions are additionally available, with one front and three rear axles. There is also a wide range of air-sprung vehicles or a load-optimised concrete-mixer chassis with single-tyred drive tandem. The Arocs has seven cabs available in 14 different versions.
There will be a wide variety of new Arocs versions available straight off the production line.
The Arocs will celebrate its customer premiere at the Bauma trade fair, which takes place in Munich during April 2013. Look out for future instalments of GLOBAL FOCUS as we reveal more information.
As the Arocs is only available as a Euro-6, it will still be a while before we can look forward to having it on South African roads. A company spokesman tells FOCUS that it will probably be here in about 2015.
Focus on Transport
December 6, 2012
Published by